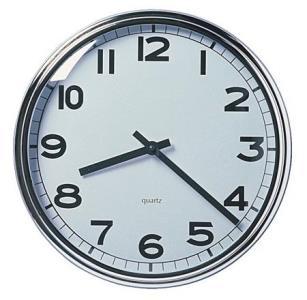 You can often adapt good ideas from the most surprising industries. For example, I have a friend who likes to read webcomics in his spare time, and he's always complaining because his favorite comics grind to a halt while the artists have to deal with life's unexpected curves. You don't see that with newspaper comics, because the artists are contractually required to maintain a buffer: that is, to stay a certain number of comic strips ahead, usually a month or so, just in case they have to take a break... or heaven forbid, want to go on vacation. The best webcomic artists, those who depend on their comics for their bread and butter, do the same. In any business, a great practice is to build in buffers.
Could you get a month ahead? This column and my weekly productivity bulletin (www.TheProductivityPro.com/blog) are both written weeks in advance, just in case I happen to fall ill. My seminars are always finalized a month prior to the event, so the client has plenty of time to duplicate handouts and handle logistics. Each month, break out your calendar and look a month out to determine what you can do in advance, including preparation, directions, and travel.
If not a month, how about a week? What about creating an entire buffer day for your team each week? For example, some companies have No Email Fridays, set aside to get ahead on work. Some teams tell me they don't schedule meetings on Mondays, so people can get organized and get a bunch of work knocked out. Or build in extra time on requested due dates, just in case an unexpected issue crops up.
Buffers can also be daily. Many people like to block off time in their calendars to work. They build in this buffer, because if they don't, someone will schedule meetings with them every minute every day. You can also build buffers into your daily task list by including a few "want to do" tasks that can fall off the list if needed. Rather than lengthen your workday and wear yourself out getting everything done, you can let low-priority tasks just drop off your list. Think of it as kind of like Study Hall in school, where you could just catch up on your homework. If there's no homework--no task that you need to revisit or catch up with -- then you can use the extra time to get ahead a little. Even better, you can push the buffer slot to the end of the day... and then go home at a more reasonable hour if nothing comes up.
So build some buffer time into your month, week, and day. That way, you'll leave yourself room to breathe--and sometimes, a healthy little chunk of personal time.
Where do you build buffers into your life?
© 2015 Laura Stack. Laura Stack, MBA, is America's Premier Expert in Productivity™. For over 20 years, Laura has worked with business leaders to execute more efficiently, boost performance, and accelerate results in the workplace. Her company, The Productivity Pro, Inc., provides productivity workshops around the globe to help attendees achieve Maximum Results in Minimum Time®. Laura is the bestselling author of six books, with over 20 foreign editions, published by Random House, Wiley, and Berrett-Koehler, including her newest work, Execution IS the Strategy (March 2014). Widely regarded as one of the leading experts in the field of performance and workplace issues, Laura has been featured on the CBS Early Show, CNN, the Wall Street Journal, and the New York Times. Connect via her website, Facebook, or Twitter.
Photo provided by Microsoft
Related
Popular in the Community