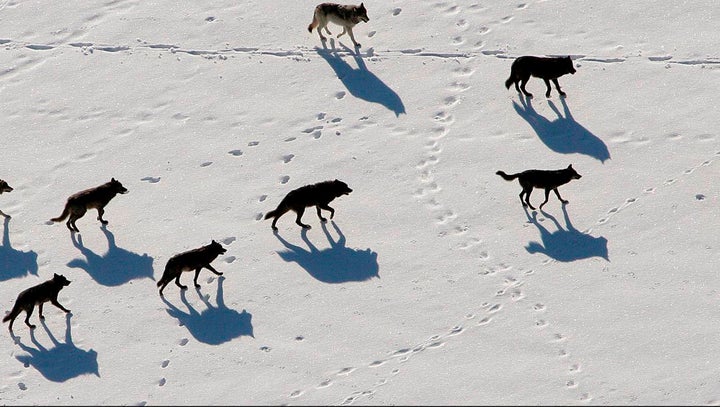 Wildlife officials in Washington state plan to eliminate an entire pack of endangered gray wolves after the animals began attacking livestock in the area.
The group, dubbed the Profanity Peak pack, contains at least 11 wolves out of a total of 90 in the state. Two animals, one a breeding female, were already killed earlier this month after several cows were found dead or injured.
"At that time, we said we would restart this operation if there was another wolf attack, and now we have three," Donny Martorello, the wolf policy lead of the Washington Department of Fish and Wildlife said in a statement. "The department is committed to wolf recovery, but we also have a shared responsibility to protect livestock from repeated depredation by wolves."
The earlier decision to cull just a few wolves was met with resistance from local conservation groups, including the Center for Biological Diversity, which said it was "deeply saddened that wolves [were] going to die."
"It's tragic to see wolves killed, and I hope we continue to see growing wolf populations in Washington despite the yearly culling that inevitably takes place," Nick Cady, the legal director at Cascadia Wildlands, said in a statement ahead of the shootings. "I do not believe it makes sense to spend taxpayer dollars to kill wolves in remote roadless areas on public lands."
Gray wolf populations have been rebounding in recent years under state-sponsored programs to reintegrate the animals into the wilderness. The predators were hunted into near extinction by the early 1930s, but a breeding pair was first confirmed 2008 and there are now 19 packs in the state.
This is the third time the state has ordered the culling of wolves from the wild since they returned, according to King 5 News.
REAL LIFE. REAL NEWS. REAL VOICES.
Help us tell more of the stories that matter from voices that too often remain unheard.
BEFORE YOU GO
PHOTO GALLERY
Groundbreaking Wildlife Photography From National Geographic