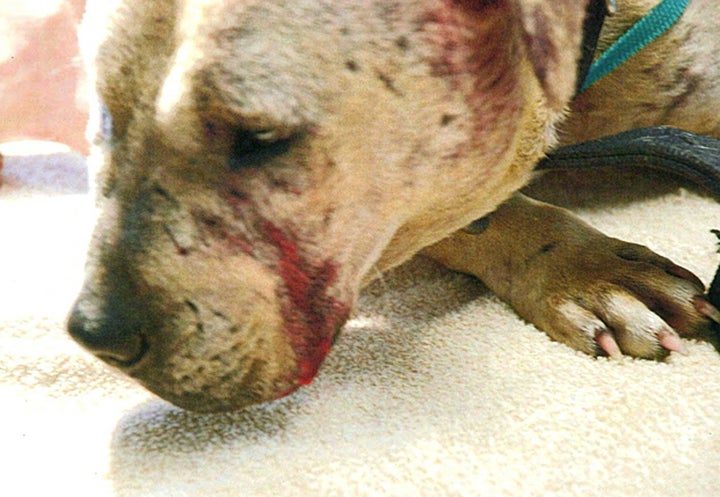 Last November, I wrote about a new law in Baltimore that created the first anti-animal abuse commission of its kind. This law and the commission it created are the legacy of a dog who became known as Phoenix.
In May 2009, two teenagers allegedly soaked a young female pit bull with gasoline and then set her on fire in Baltimore. A Baltimore police officer, Syreeta Teel, saw the dog burning and rushed to extinguish the flames with her sweater. But even with Officer Teel's heroic efforts, the poor dog tragically suffered severe burns over 95 percent of her body.
Veterinarians and rescuers fought to save the dog they named Phoenix, but her body was burned too badly, and she had to be euthanized a few days after she was torched. Phoenix's torture and death were senseless, but animal lovers vowed that Phoenix's legacy should be more than the heinous way in which she died.

Since the ASPCA fights animal cruelty throughout the United States, when we heard about what happened to Phoenix, we immediately offered our assistance. The ASPCA has humane law enforcement authority in New York City but not in other jurisdictions, so we often partner with local leaders and organizations to fight animal cruelty in their localities.
We got together with Baltimore and Maryland leaders to create a task force to combat animal abuse. This task force, which in 2009 was named the Anti-Animal Abuse Task Force, is now known as the Anti-Animal Abuse Commission (the "Commission"). The Commission is comprised of Baltimore and Maryland officials, Baltimore residents, clergy members, representatives from Maryland animal welfare organizations, and a representative from the ASPCA.
Each member of the Commission has offered his or her own particular expertise on ways to combat animal cruelty. For example, the ASPCA's representative, Dr. Randall Lockwood, Senior Vice President of the ASPCA's Forensic Sciences and Anti-Cruelty Projects, has offered to provide (free of charge) training by the ASPCA for Baltimore's law enforcement officials on how to handle animal cruelty cases and to ensure acquisition of the best evidence to prosecute animal abusers. Further, Dr. Lockwood has advised on the link between animal abuse and violent crime and the importance of early intervention to prevent additional violent crimes from being committed. He meets monthly with representatives of Baltimore Police Department, Sheriff's Department, Animal Control and others to review new and ongoing animal cruelty cases and help develop best practices for handling such cases.
The Commission has been busy. In 2010, the group issued a 45-page report assessing Baltimore's animal cruelty problem and how to stop or reduce it. Recommendations included providing training for law enforcement agents and animal welfare professionals, passing stronger legislation, and initiating citywide campaigns.
Given the economic climate, some Baltimore citizens were worried that the city would not be able to finance some of the Commission's recommendations, so they volunteered to work with the Commission to produce a world class advertising campaign that would grab the attention of at-risk youth by using famous athletes to promote kindness toward animals. The idea was the brainchild of advertising executive Sande Riesett who was tired of hearing about animal abuse in her city.
The debut of the "Show Your Soft Side" advertising campaign conceived by Ms. Riesett was announced this week by Baltimore Mayor Stephanie Rawlings-Blake and the Commission. Through billboards, print ads and posters, the campaign seeks to reverse a misconception that committing crimes against animals is "tough" or "manly." It does so by having superstar athletes, including martial arts fighter John Rallo, Baltimore Ravens linebacker Jarret Johnson and Orioles center fielder Adam Jones, pose with dogs and cats. These "tough" guys are shown kissing or holding animals next to a campaign slogan, "Only a Punk Would Hurt a Cat or Dog."
The work of the Commission exemplifies the private/public partnership model that I believe works best for helping the greatest number of animals. The ASPCA follows this approach whenever possible, such as through our partnerships with communities throughout the United States where we offer our expertise to increase the numbers of animals being saved in those communities.
The two people who are accused of torching Phoenix will be retried this November. (Their first trial ended in a mistrial.) While Phoenix's death was a senseless tragedy, we are gratified that his memory will live on through animals saved.
You can find out more about the "Show Your Soft Side" campaign on Facebook.
Related
Popular in the Community