I like to think of myself as "Type A Minus." At work, I'm hyper-organized, with multiple to-do lists, calendar reminders and extensive filing systems. But when it comes to my apartment, sh*t hits the fan. Especially in my closet.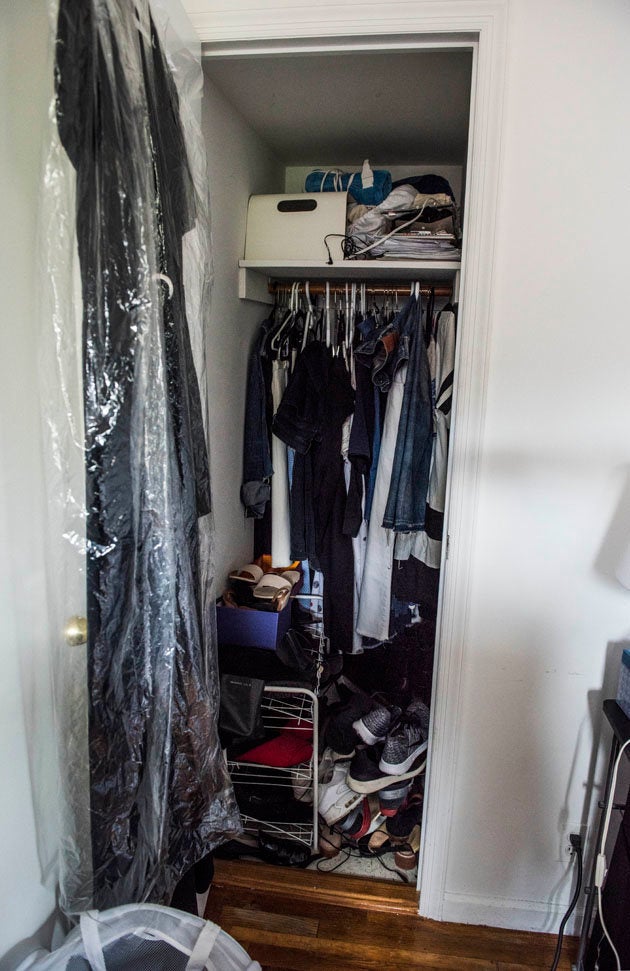 As a fashion and style editor living in New York City for the past eight years, I grew accustomed to living with lots of clothes and no space. When I finally moved into a bigger apartment last year with a real closet and two dressers, things got worse. Having one whole drawer to dedicate to bras and underwear felt like a dream. Until I realized it always looked like this: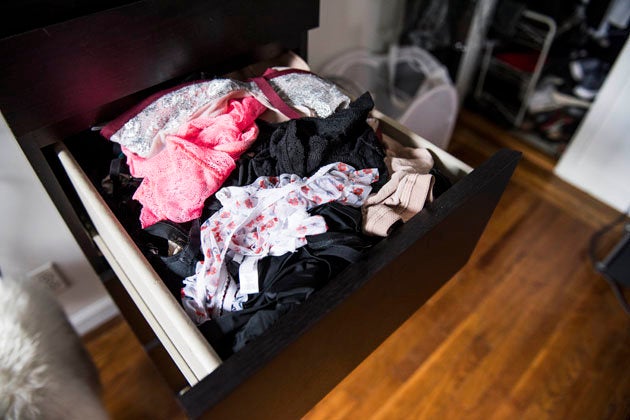 More space inevitably led to more mess. Every few months I would lose my mind trying to organize -- folding clothes and arranging all the stuff on my desk into arbitrary, albeit pretty, piles. It was only a matter of days before my drawers were in shambles and my desk looked like it was hit by a tornado. A few weeks ago, I needed to leave for a trip but I couldn't find my passport, a bathing suit or any of the sunscreens from my extensive collection. It was time to get organized.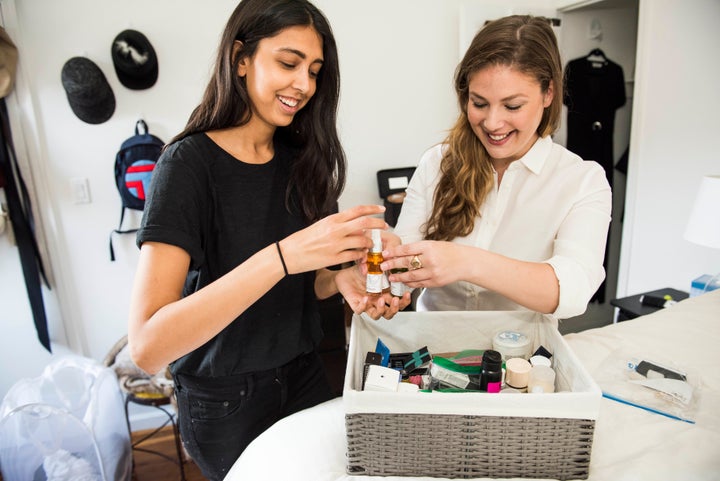 Enter Haya Kramer, professional organizer and home design consultant. She founded Graylane Solutions, a design firm specializing in customized, organized and functional interior spaces. Kramer has been in the business for a number of years and has worked with the Container Store and California Closets. Translation: She has an eidetic memory when it comes to organizational products, down to the SKU numbers.
Let's talk pricing. Hiring a professional organizer is not cheap, but it comes down to how much you want the help. Kramer charges $100 per hour, which seemed to be an industry standard in New York City. While the rate is pricey, customers can tailor the experience to match their needs and their budgets. It's not uncommon for Kramer to spend an hour with a client, recommend solutions, and later return to give additional feedback. Other times, she redesigns a space and organizes everything from top to bottom, inside out.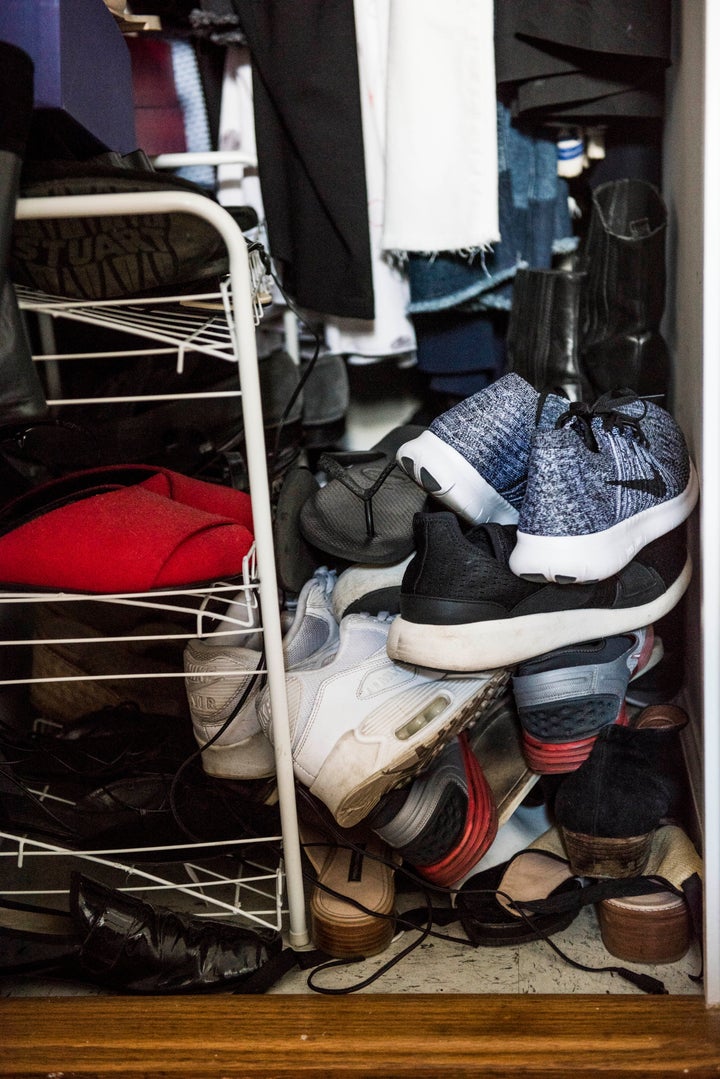 Here's how it worked. I asked Kramer to help me organize my bedroom, with an emphasis on my closet and dressers. Kramer broke down my request into three phases.
The Intro Meeting: Evaluating the room.
Kramer measured every inch of my bedroom and asked me to show her how I used the space. The simple answer: not that well. Within 45 minutes, she wrote a list of items I'd need from Bed, Bath & Beyond and The Container Store. It included shelving, hooks, baskets and lots of brand new hangers. Once I got the items from the list, Kramer came over again to start the heavy lifting.
Organizing Session 1: Keep, toss and donate.
Kramer was tough, but the process forced me to do get rid of things I didn't need. She also had me toss all my wire hangers (apparently they are terrible for your clothes). The best part? Going through everything in my room let me discover several clothing items I forgot existed (since I couldn't see them in my messy closet). I also found $20 and my childhood blankie.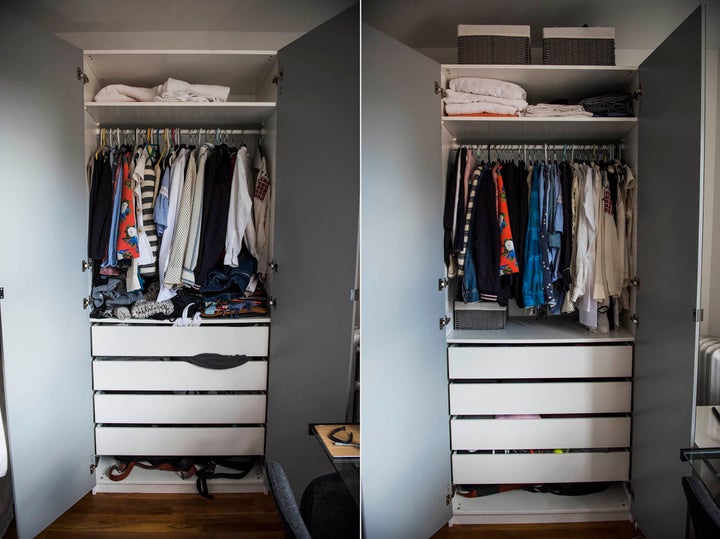 Organizing Session 2: Put like items with like items, then beautify!
Apparently, stacking your footwear one on top of the other and creating a massive pile on your closet floor is not the way a professional organizer wants you to store your shoes. Enter shoe cubbies. Kramer suggested leaving the floor of my closet empty, so I could access the space more easily. Brilliant! She even added a wall rack inside my closet for sneakers and sandals, so everything wouldn't be crammed into one spot.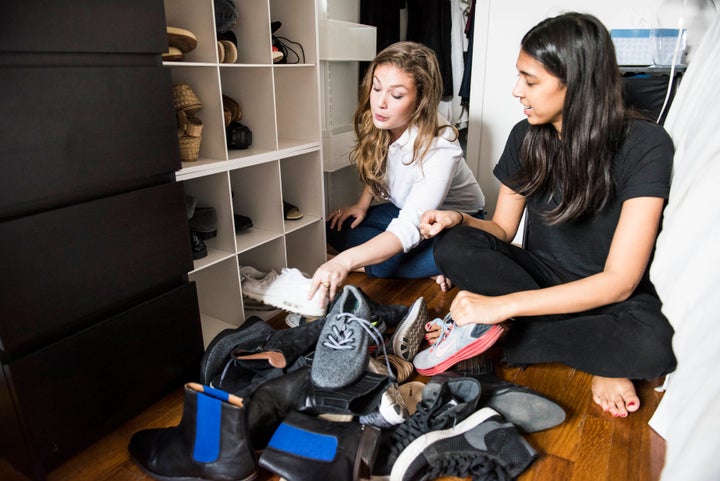 Below, a before-and-after look of my new shoe organization system.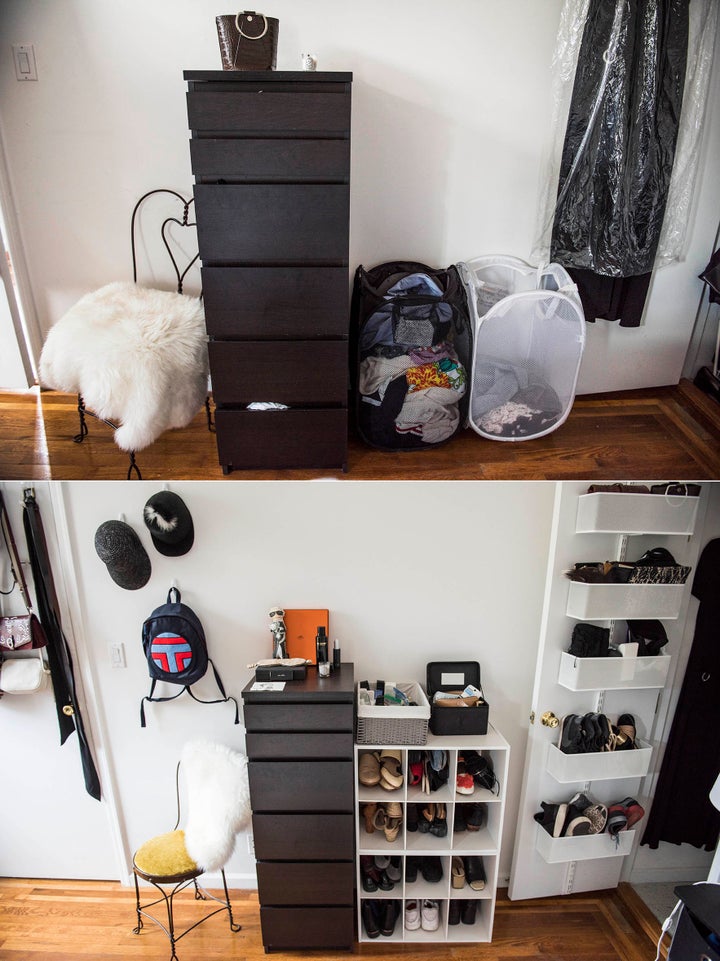 Next, she moved jeans from hangers to drawers, my tights from my nightstand into a small storage bin inside my closet, and she re-arranged all my tops so they were in my armoire. My long dresses and pants went into my closet. We also added tons of hooks throughout the space to help with overcrowding.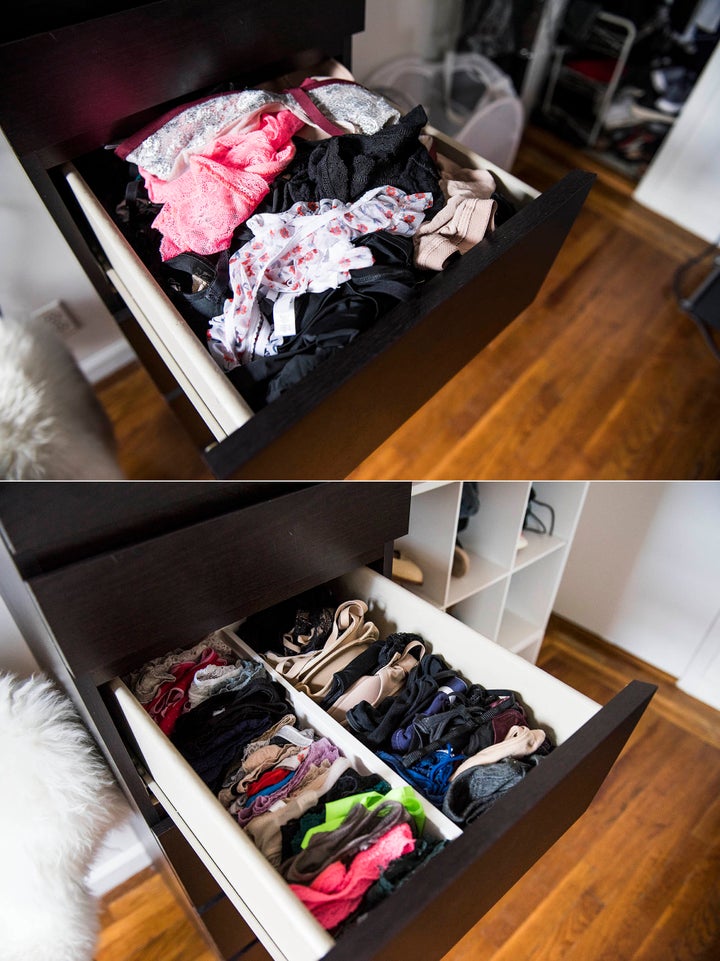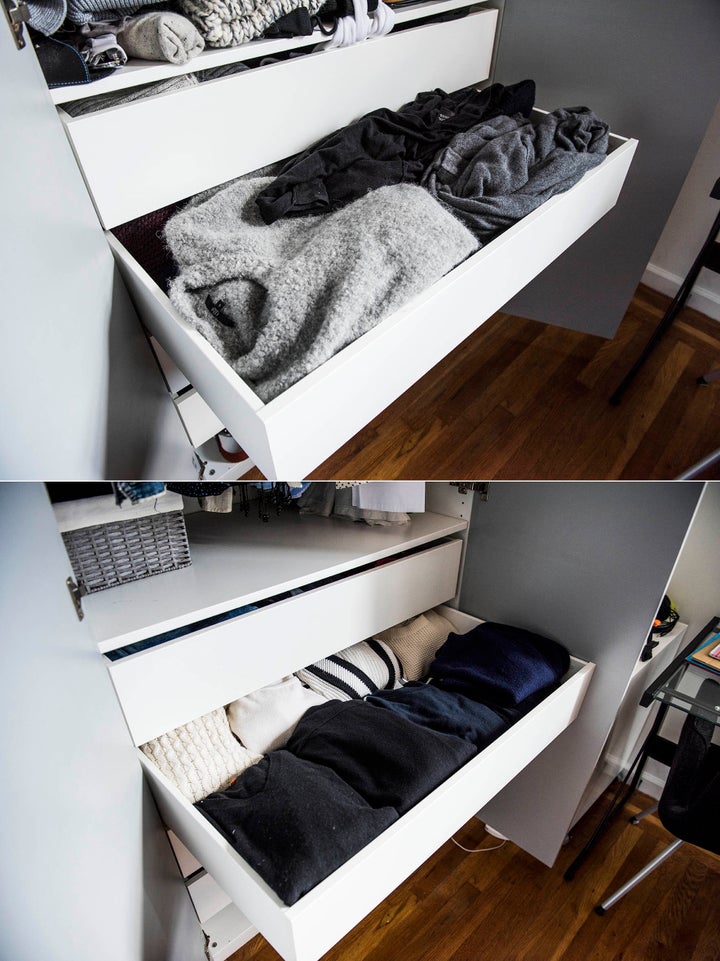 The best suggestion Kramer had was telling me to get a filing cabinet. For as long as I can remember, my desk and closet were full of stacks of paper and important documents, and now I finally have a spot for them. I guess I won't be losing my passport again any time soon.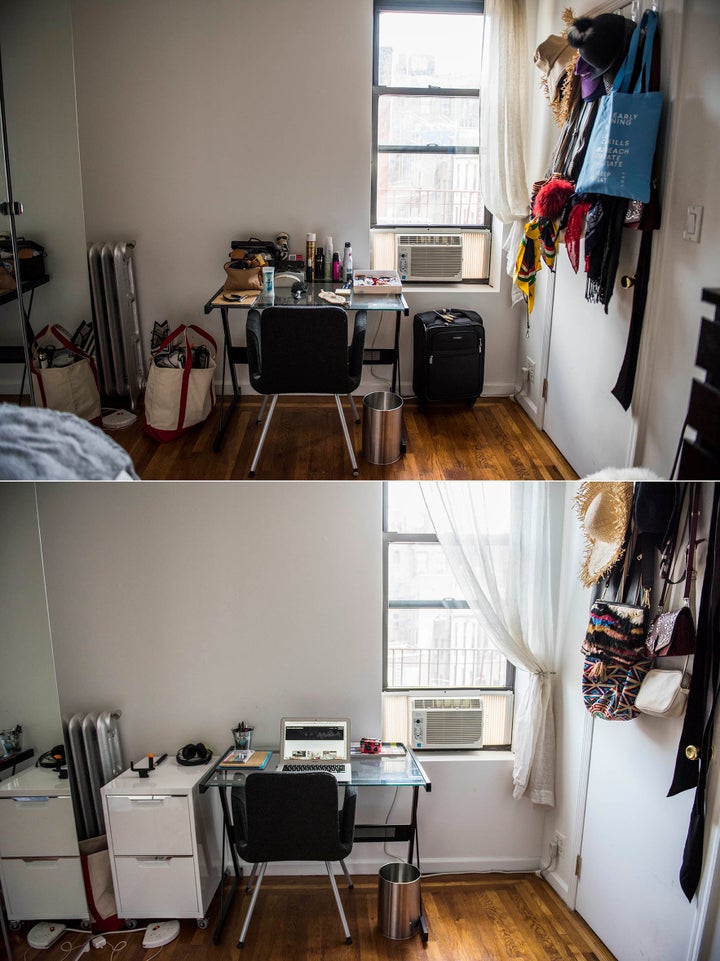 Overall the process was cathartic. I gave away garbage bags full of items that were just taking up space and finally organized my room in a smart, systematic way. Kramer's approach worked because she favors function above all else. She made sure that all the organizational systems we put in place were ones I could keep up on my own.
I would have never been able to organize my room as efficiently or effectively without the help of a professional organizer, and I certainly wouldn't have thought of many of the storage solution that I ultimately used. My only regret is that I didn't find Kramer sooner.
Scroll down to see more photos from the room makeover: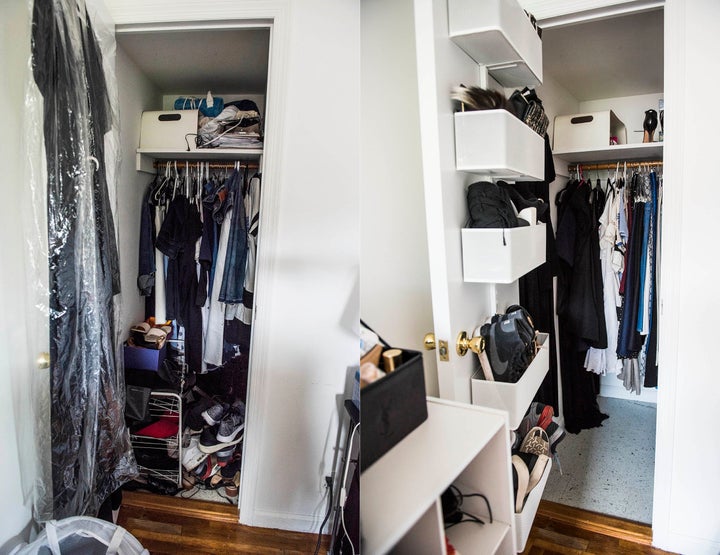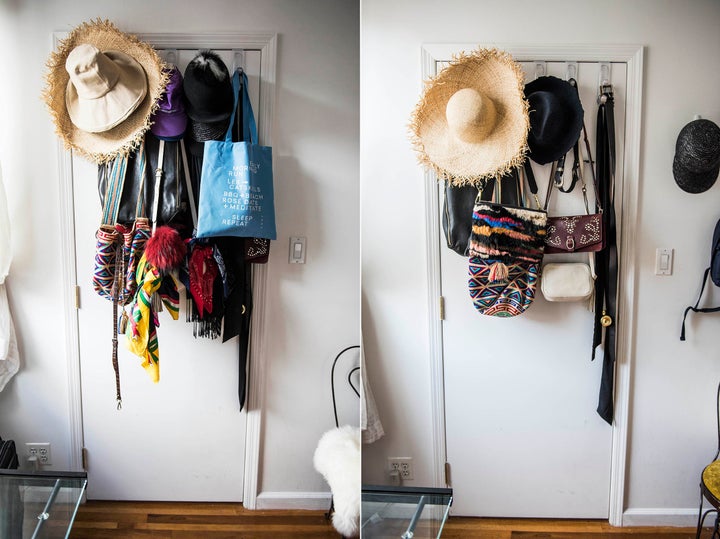 Related