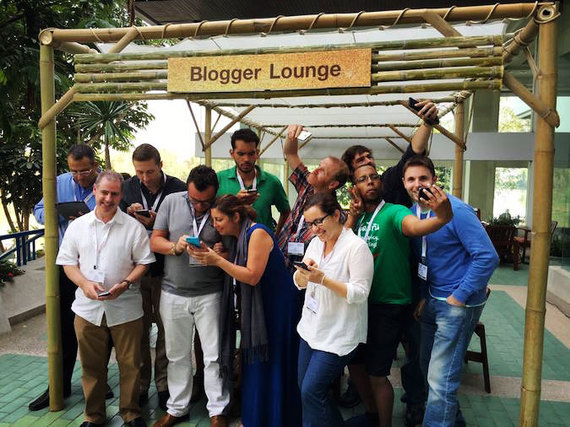 If you spend a lot of time following the travel blogging community it starts to become obvious which countries are paying bloggers to visit and write about them. Suddenly your Twitter and Facebook feeds are flooded with posts from multiple travel bloggers all visiting the same destination for months on end.
One of the first times I noticed this, it was Jordan. Later it was Iceland and South Africa. As collaboration between professional bloggers and the travel industry has become more and more standard, some destinations have begun bringing in a constant flow of travel bloggers, like Alberta, Canada.
These campaigns have been very successful in what they were meant to do. They raised awareness of these destinations in both consumer circles and influential online communities, which usually resulted in increases in both visitors and editorial attention from traditional media.
I can tell you that -- although I haven't visited either country yet -- I know more about, and have a stronger desire to visit, Jordan and Iceland than I do most other countries that are on my must-visit list. I can tell you that is a direct result of each country's travel blogging campaigns.
Global Differences In Approaches To Bloggers
The thing about tourism boards and travel bloggers is that there has been a markedly unequal adoption of influencer marketing by travel industry around the world. Working with travel bloggers become more-or-less standard for brands and destinations in Europe and North America. On those continents Destination Marketing Organizations (DMOs) often pay travel bloggers to visit and write about their destinations, while allowing the travel bloggers to have full editorial control over the content they produce.
Outside of those continents, however, the adoption of the paid travel blogging model -- which has been touted by those who've used most it to be cost effective and successful -- has not been widely adopted elsewhere in the world.
Making Headway In Asia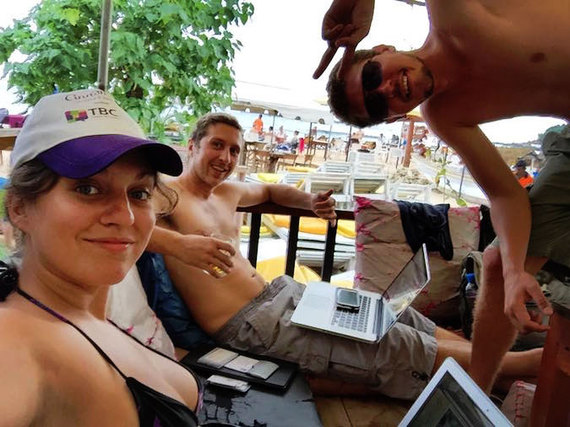 Bloggers working on the beach in Sri Lanka following TBC Asia 2014
As President Of The Professional Travel Bloggers Association (PTBA) it's my job to promote cooperation between travel industry and travel bloggers around the world. We do this in many ways, but most of our work in this area includes having our board members attend and speak at as many travel industry conferences around the world as possible. I personally focus on conferences in Asia and the Middle East.
The talks are almost always the same. They have titles like The Benefits Of Working With Travel Bloggers, How To Work With Travel Bloggers, and How Your Company Can Benefit From Travel Bloggers and Blogging.
After these talks our speakers are normally approached by dozens of people who have the same questions. "What's the difference between a blog and a website?" (There isn't one.) "How to I find good bloggers?" (That's what the PTBA is here for.)
I've been doing it for several years. It gets monotonous repeating the same message over and over. But it works and the past couple of years have been proof.
About 16 months ago the PTBA partnered with Cinnamon Hotels and Sri Lankan Airlines to hold TBC Asia, the first major travel blogging conference in Asia, which was preceded by the biggest group press trip of travel bloggers I've ever heard of (probably the biggest in history).
Last fall TBEX, the biggest travel blogging convention in the world, held its first Asian event in Bangkok, and will be holding its second this year in Manila. Earlier this year PTBA signed a partnership with the Pacific Asia Travel Association (PATA) -- whose membership is largely Asian -- to teach PATA members about working with bloggers and help them to find bloggers to work with. Thanks to this effort we've already been receiving inquiries for group press trips. Last year I started Xpat Media in Hong Kong to provide companies with training and consulting services for working with bloggers and this year the first company specializing in organizing influencer press trips in Asia, Destinspire, set up shop in Bangkok.
What To Expect
Things are not all roses…..yet.
For example, when the PTBA arranged for 12 bloggers to attend the PATA Adventure Travel And Responsible Tourism Mart in Chiang Rai, Thailand last month, we had to find a hotel willing to accommodate all the bloggers in exchange for the social media coverage they would receive.
In most places, during a period of slow tourism, this is an easy sell. But that was not the case in Chiang Rai. In many Asian destinations such as Chiang Rai, there is still a lack of understanding how this kind of social media exposure will benefit a business.
We approached several hotels to host the bloggers. Some offered discounts. Some offered nothing at all. I could not bring myself to accept a discount for a service that many hotels elsewhere in the world pay thousands of dollars for, and turned them down.
Finally, due in a large part to the help and strong recommendation of the executives at PATA, the spacious and sprawling riverside Rimkok Resort agreed to take us in.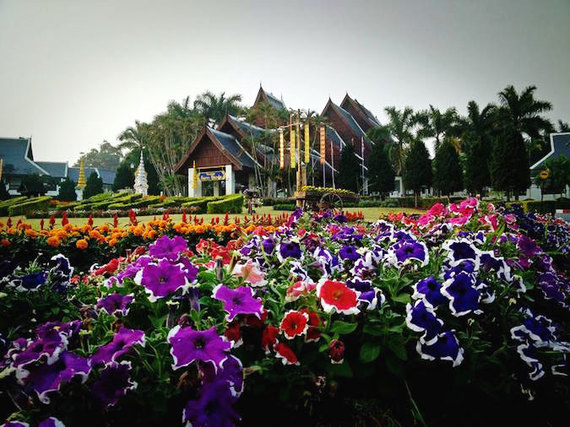 We were fortunate to find such a gorgeous place to stay.
By the end of the conference the industry attitude toward bloggers had changed dramatically. Talks about working with bloggers had been held. A blogger lounge had been built to provide a non-threatening atmosphere where interested industry members could sit down with bloggers to learn more about what we do. By the end of the conference companies that had never thought of working with bloggers were inviting them on free trips and hiring them.
This story is a near perfect illustration of the mood surrounding travel blogging in Asia in general. It's still not quite where we'd like it to be, but it's ready crack wide open.
While the mentality among Asian marketers toward travel bloggers is still about five years behind those in Europe and North America, it will not take them five years to catch up.
PATA's member countries and companies look to the organization for advice and thought leadership. Because they are recommending bloggers and the PTBA to their members, we are in a much stronger position to change minds than ever before. That, coupled with a wealth of information about best practices and industry success stories, we should expect Asia to catch up to Europe in two to three years.
There is one thing that won't happen in Asia, however. It's important to remember that -- while some Asian economies can compete with those in the West -- many cannot. Their currencies are weaker, and their budgets smaller. Bloggers should not expect to earn the same amount on a press trip to Vietnam as a trip to Great Britain any more than a British janitor should expect to earn the same wage mopping floors in Hanoi as they would in London.
The future is for travel bloggers in Asia is looking good, it's important to understand that Asia is a very different market than those in the west. When dealing in Asia it's crucial to remember that many marketers are still new to influencer marketing, are wary of spending large amounts of money on it, and will not have the same budgets as those found in western countries.