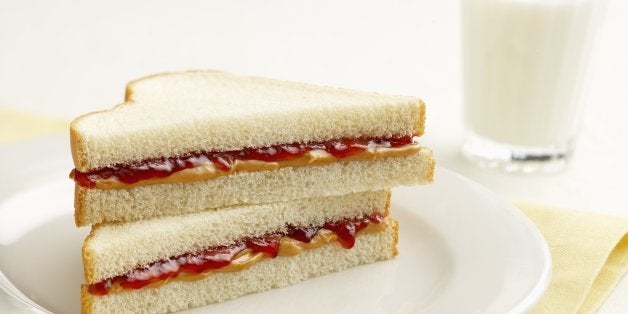 Some of us are arrested-development eaters.

Given a choice, we'd still want -- maybe at every meal -- the same doughy delights that sustained us as we watched after-school specials and overheard Mom and Dad arguing over something called bills.
Grownups who'd rather eat like children (and hey, there's a whole musical comedy based somewhat on this) are an oppressed minority in this era of aggressively, oppressively adult-icized food -- in which goat cheese, chipotles and thyme invade innocent chocolate and in which San Francisco's wait-hours-for-a-seat State Bird Provisions restaurant serves sauerkraut-sourdough pancakes and, for dessert, olive oil/oregano/pecorino "ice cream" sandwiches. Yes, those quotation marks are on the menu, but why? As any childish eater knows, it's either ice cream or it isn't. Why eff with us?
Hoping to re-valorize childish foods, I surveyed wine-, beer-, and spirits-industry professionals for suggested pairings. Underage drinking is illegal and I would never condone it. (That's why my PB&J photographs in this piece pointedly include adult-style props.) But for adults who love eating like kids, these mature matchups might help drain the shame from old faves.
"Tetravis, a bold and rich Belgian quad, will add layers of flavor and complexity to this sweet and simple treat," says Samuel Adams' brewing manager Jennifer Glanville. "The dark fruit flavors and the distinct spicy note from Tetravis' Belgian yeast will balance the Twinkie's simple yet intense sweetness."
"Late-harvest Gewürztraminer," suggests Jon Philips of Inspiration Vineyards in Santa Rosa, CA. "The creamy richness of the Twinkie and the acidity of the Gewürz are what wine-and-food pairings are all about. You can cleanse the palate between each bite. Yum."
"Nothing goes better with a PB&J than a tall glass of milk -- or rather, a tall glass of milk and whiskey," ventures Adam Bolla, barkeep at Pittsburgh's Wigle Whiskey. He shared his recipe for milk punch, which you can find below.
"One of my favorite combinations of 'kid' food and wine is Pinot Noir and PB&Js," exults Joshua De Loach of Hook & Ladder Winery in Santa Rosa, CA. "Our 2013 Hook and Ladder Pinot gives the peanut butter a strong chocolate characteristic and the jelly a great depth."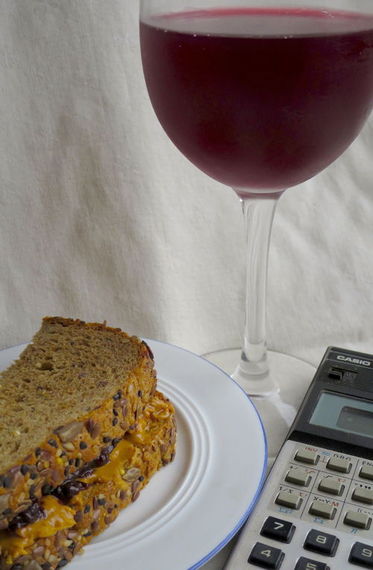 "I think a Marsanne/Roussanne blend would totally work. There's a marzipan quality that's almost nutty that would be an awesome fit for the peanut butter," says Inspiration Vineyards' Philips. He suggests a 2012 Inspiracio: 40 percent Roussanne, 40 percent Marsanne and 20 percent Viognier.
Ashley Miller, bar manager at San Francisco's Alta CA restaurant, suggests pairing a PB&J with her Strawberry Fields cocktail, which includes strawberry syrup and strawberry-vanilla rye prepared in house via sous-vide.
"Semillon -- the effervescence will cut through the sweet inside" of the tarts, advises Anne Loupy, social-media specialist of TheWineRoad.com.
"New World Tripel is an awesome pairing for classic fruit Pop Tarts," adds Samuel Adams' Glanville. "This big, flavorful brew's bright, tropical notes of mango and pineapple will amplify the Pop Tart's fruitiness, and the pastry's light, flaky and doughy flavors won't be overwhelmed."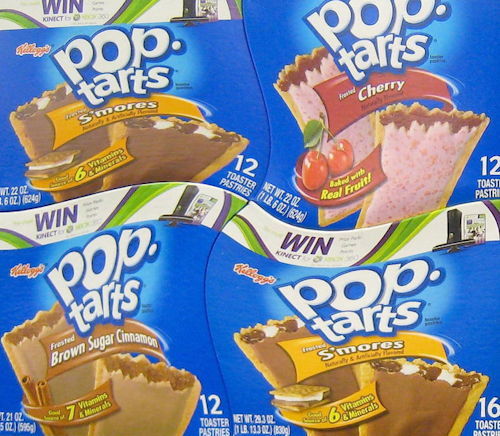 "The hints of spice in the red sauce surrounding these little o's and the spice of a Malbec make for a perfect combination. Try Fritz 2011 Estate Malbec," suggests Kristina D'Angelo, wine club coordinator at Fritz Underground Winery in Cloverdale, CA.
"Add a dash of cayenne and serve Spaghetti-Os with semi-sweet Gewürtz -- 6 percent RS or so," suggests Julia Lander, director of hospitality at Moshin Vineyards in Healdsburg, CA.
"As with any pasta dish that has a tomato sauce, Merlot would be a great pairing because of its rich fruit, rounded tannins and acidity," says Kathleen Kelley Young of Kelley & Young Wines in Geyserville, CA.
"Chardonnay is a natural to pair with this dish. Its acidity will help balance the breading and deep-fried aspects of the fish sticks," says Kelley & Young's Kelley.
"Their savory, breaded saltiness pairs really well with the acidity in our Save the Gravenstein cider," says Jolie Devoto of Devoto Orchards Cider in Sebastopol, CA, who says that when given fresh fish by local fisherman friends, the Devoto family makes its own fish sticks "as a guilty pleasure."
Mercury Wine of Geyserville, CA, sells a 500-ml mini-jug of red table wine called The 500. "It's a smooth-drinking red blend that won't overpower that crunchy, delicate fish stick," explains Mercury's co-owner Grady Beard.
The possibilities are endless. Earlier this year, San Francisco's Alembic bar debuted a limited-edition program pairing cocktails with Girl Scout Cookies: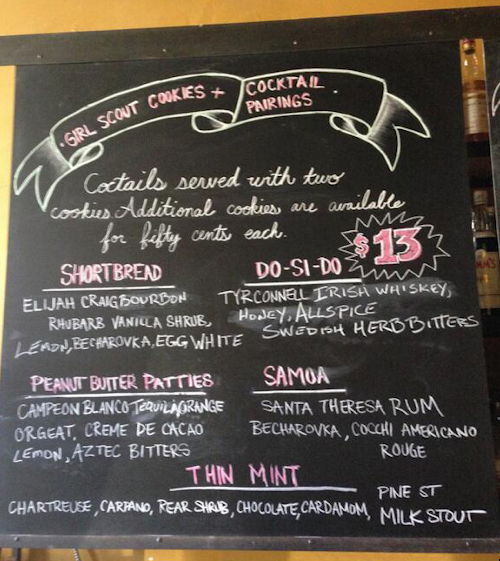 TheWineRoad's Loupy suggests sipping Barbera with Taco Bell Enchiritos. Nancy Mogavero Beeken of Healdsburg's Papapietro Perry Winery suggests pairing Enchiritos with Zinfandel. How versatile is Zin? Ross Clendenen of Cloverdale's J. Rickards Winery advocates pairing "a hearty fruit-driven old-vine Zinfandel with Carl's Junior's Western Bacon Cheeseburger." (He also recommends sparkling wine with doughnuts.) Paul Brasset of Healdsburg's Bluenose Wines says Zin pairs "beautifully" with Oreo cookies -- in his own tasting room. Nicole Bacigalupi of Healdsburg's Bacigalupi Vineyards prefers her Oreos with Petite Sirah. Diversity! Inspiration's Philips envisions Zin with animal crackers, iced or plain:
"I think of the cracker base as a shortbread. This would be another nice candidate for a rich spicy Zinfandel. If iced, I might play it safe with a late-harvest Zinfandel Port."
Wigle Milk Punch aka "Wigle's Right Hook"
2 ounces Organic Aged Wheat Whiskey
3 ounces whole milk or half-and-half
1 tsp or one cube of sugar
¼ tsp vanilla extract
Shake and strain over ice; top with nutmeg
Chalkboard image courtesy of Alembic, used with permission. All other images are by Anneli Rufus.
Related