The Smart Metropolia is an event for inspiration and exchanging ideas on global cities, metropolitan areas and challenges we face. It started on November, 23rd in Gdansk with a brilliant lecture from professor Saskia Sassen from Colombia University. She inspired us to think about issues of critical importance for every city in the world: Why have urban spaces become so strategic? How growing importance of metropolitan areas affect societies and economy?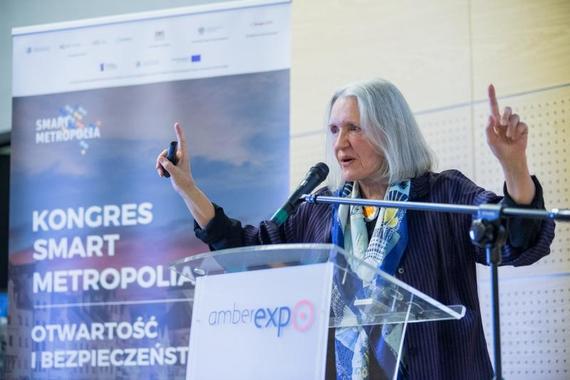 Saskia Sassen. Photo: D. Paszlinski Saskia Sassen, professor of sociology, is one of the most interesting observer of trends affecting cities in the globalized world. With her book "The Global City: New York, London, Tokyo" she coined a term "global city", which is a city important not only for a region or a country, but, as if, a global hub, a place where decisions are taken that may affect places thousands miles away.
In Gdansk professor Sassen lectured on the background of the rise of the importance of this few global cities. As she noted, cities like Tokyo or London used to be poor cities before the era of globalization. Only when corporations got means to go global these cities transformed into global hubs, amassing wealth. What at the beginning may have seemed beneficial to city population soon appeared to cause new challenges for cities. The middle class is struggling, suffering from rising costs of living in global cities, inequalities grow. Going further, she said about a decay of liberal democracy and how much it needs reinvention.
Professor Sassen called also for tighter cooperation among cities and encouraged development of medium-size metropolitan areas. In her opinion cities compete less than city leaderships like to think. She gave an example of the London Stock Exchange, bought this year by the Stock Exchange from Frankfurt. It may be considered as if Frankfurt "won" competition over London, but in fact London don't lose - the stock exchange won't be closed or moved, since its real value is only in British context, in London.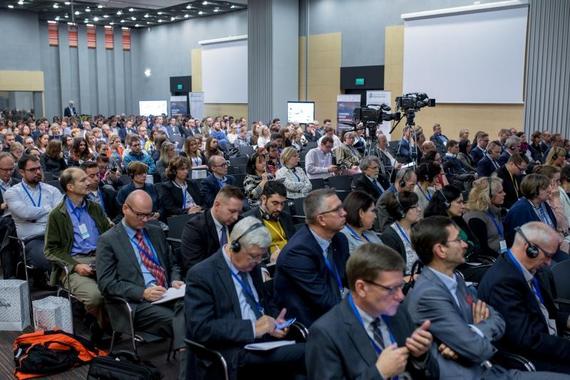 Photo: D. Paszlinski I see it a very important message to us, since Polish cities still like to think in terms of competition. In my opinion, only together, we may have our impact on global economy and international institutions. Also attracting new investors is easier and cheaper, when a few cities have a common strategy.
Professors Sassen's lecture was a great introduction to further panels and discussions of the Smart Metropolia. This year security, immigration and openness were among the most discussed issues. What I value most in the Smart Metropolia, is a mix of local, national and global experience. People from our Pomorskie region get an opportunity to meet renowned experts and gain a new, global perspective on their work. And this is much needed, since I believe there is no escape from "thinking globally" - many cities in the worlds face the same challenges today.
Calling all HuffPost superfans!
Sign up for membership to become a founding member and help shape HuffPost's next chapter