Don Harmon is known as en environmental leader in the Illinois State Senate. His last facebook post before election day is about an environmental award given in his district to the village of Franklin Park. A few days after celebrating sustainability in the Chicago suburb, he condemned large parts of downstate Illinois to an environmental and public health disaster that will have deadly consequences.
No one was surprised the Joint Committee on Administrative Rules voted to approve unpopular fracking rules two days after the election. But even cynics who long gave up on the legislature acting to protect fracking regions were surprised by the committee rushing rules weakened by industry in closed doors dealings.
An industry lobbyist told reporters he was thrilled with the updated rules, while environmental groups were forced to admit they hadn't even seen the changes.
Senator Harmon directed the process as chair of the committee. He could have insisted the rules be made available to the public in advance. He could have insisted that changes be debated in public. He could have asked committee members to explain their vote. He could have done a roll call vote instead of a voice vote so citizens have a public record of where their representatives stand. He could have made the rules stronger or rejected them completely. Instead, he gave the oil & gas industry exactly what they wanted.
The Illinois fracking law was negotiated by lobbyists behind closed doors with no southern Illinois environmentalists invited. The rules were finished the same way, but this time even the pro-regulation statehouse green groups were shut outside.
After the vote, Harmon said the committee was weakening the rules because the Department of Natural Resources made them stronger after an unprecedented turnout at public hearings. "We aim to displease both sides equally." That's the kind of flippant comment a legislator usually makes in a Springfield session bar when they're too intellectually lazy or too inebriated to explain their actions. It's embarrassing language when discussing an issue that puts communities and lives at risk.
It will surprise no one that Harmon cashed in on $134,300 in campaign donations from fracking interests during this election cycle.
Honorable mention goes to State Representative Lou Lang who responded with indignant OUTRAGE last month when denying that backroom negotiations were happening with industry to weaken the rules. Clearly, the accusation were true. Now we know why Lang was so touchy on the subject.
After the vote, Lang told a reporter he's opposed to fracking. There are many things he could have done as one of the last barriers to poorly regulated fracking. He could have insisted on strengthening the rules. He could have followed the committee's mandate to reject rules that present a threat to public health, safety and welfare. He could have insisted on an open and transparent process.
Passing bad rules on a voice vote is not one of the things a rational person opposed to fracking would do. Many phrases come to mind for someone who claims they're opposed to fracking minutes after taking a vote to make it happen. The most polite phrase I can think of is that he's trying to have it both ways. Feel free to insert your own expletive filled description.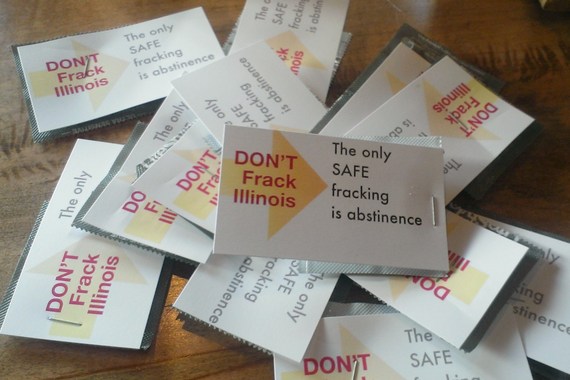 What's next for people protecting their communities?
It's easy to tell from their off-the-record vote and uncomfortable excuse making that legislators want the fracking issue to go away. Maybe they believe they've dealt with it and can move on. I've got bad news for them.
Opposition to fracking grows after people see it in action. Once the crisis begins, politicians will be under more pressure to fix their mistake. It will be an issue in the next election, and the election after and the votes legislators take will follow them when they run for higher office. Supporting fracking won't help them anymore than it did Governor Pat Quinn and losing Treasurer candidate Mike Frerichs. The anti-fracking movement isn't going away. It's growing.
The process for approving the rules already prompted a legal complaint by southern Illinois residents determined to protect their communities, including Southern Illinoisans Against Fracturing our Environment (SAFE). The complaint claims there were nine violations of the rulemaking process and requests an injunction against implementing the Horizontal Fracturing Regulatory Act. Violations include members of the public being turned away at hearings and not giving sufficient public notice for hearings or rules.
"If the state is failing at following mandatory statutory and administrative rulemaking procedures, then how can we, as citizens, feel confident in the enforcement of regulations for such a destructive industry like fracking," says Tabitha Tripp, one plaintiff in the lawsuit, "public safety and welfare should be the priority for state agencies."
Harmon and the rest of the legislature have one last chance to prevent an environmental, economic and social crisis. They can pass a ban on fracking during the upcoming veto session of the legislature while Pat Quinn is still Governor. This is the last opportunity for the legislature to get it right and prevent poorly regulated fracking under Governor Rauner, who no one expects to strictly enforce the watered down law.
Encouraging the legislature to pass a fracking ban now is Quinn's last chance to salvage his legacy as a champion of the people versus the powerful.
Related
Popular in the Community