Now and again, I write these "Profiles". Why? It's really as simple as people interest me; people's stories strongly interest me. Everyone has a story and I think we can all learn something from stories of others.
John Ross Jesensky is one such person. He's a Hollywood Film, Television and Multimedia Composer. He specializes in composing orchestral music for all sorts of projects with dynamic and exciting music.
I found he's a fellow North Easterner, born and raised in Connecticut, and studied piano from a very young age. He earned a Degree in Music Composition from the Hartt School of Music and a Master's from New York University.
How's "the industry" treating you?
"Since moving to Los Angeles, several of my scores have made appearances and won awards at events such as the Cannes Film Festival, L.A. Film Festival, Hollyshorts Film Festival, D.C. Film Festival, Phoenix Film Festival, Bare Bones Film Festival, and La Gona Film Festival." That's John Jesensky being more than mildly impressive.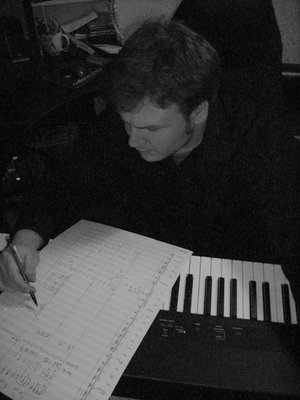 What was the spark causing you to pursue film composing in particular?
"I had known for a while that I wanted to play the piano just like Elton John or Billy Joel. When I finally convinced my parents to let me take lessons, I was thrilled! It was when I bought a cassette of the Jurassic Park soundtrack by John Williams that I instantly knew what I wanted to do with my life. Somehow, I was going to find a way to write music as gorgeous as what I was hearing on my Walkman!"
"Since then, it has remained the same - the thing that keeps me going is listening to other brilliant composers' work and getting a swift kick in the pants to write something that might move others as much as I have been moved."
What drives you to continue?
"I don't think there has ever been a moment in my adult life when I didn't think that music was the most universally perfect language on earth. The fact that I can communicate emotion, intent, context, meaning and history all in a single moment of music - and have that message be heard and understood by most humans on earth - is an astounding gift that all musicians have been given."
"The idea of being able to express myself in such a fulfilling way while also feeling like a kid at the movies on a daily basis is worth every ounce of effort I put in. And one day, if I can create my own "Jurassic Park" - the music that inspires a future composer to take up the craft and follow down this very wonderful path - then I'll consider my life and career well fulfilled."
What's the importance of music in your life?
"As a kid, I was incredibly shy around those who weren't in my immediate circle of friends or family. I did well at school, but I was always afraid to share any creative side of my personality - and that element was just bursting to get out! I needed to express how creative and weird I was, but my friendly, quiet little personality held me back."
"I found that as soon as I started to learn the piano and perform for others, a valve was just released that enabled me to share my ideas with the world. It was practically instantaneous - creative writing, drawing, singing, sports, filmmaking, music composition - it all came pouring out. I didn't realize at the age of 12 how desperately I needed that channel."
"Music has instilled a sense of self-assurance and confidence in my own ideas (wrong, right, odd, simple) that wasn't previously there. When you sit down to play a piano piece, you could very well fall flat on your face. When faced with an auditorium of eager parents (all the way up to a room of studio executives in my current profession) you simply take a deep breath, realize that your idea won't express itself, and you make the leap."
When did you know you were on the right path?
"As a musician, I knew that I was doing the right thing in high school. I finished playing the piano and singing a song, and looked over to see my grandfather - a very quiet, stern looking Russian man - with tears streaming down his face. I had never quite experienced that level of interaction with an audience member, let alone a man I looked up to so much throughout my life!"
"I'd say that I knew I had a "knack" for film composing while I was studying with the very prolific (and funny as hell) Ira Newborn at NYU. I had just finished scoring a Hitchcock-esque thriller with a seeming affair at its core - which ends with this very cathartic funny joke...just a single joke that makes the rest of the entire short funny in retrospect."
"I had scored the preceding film as a very tense thriller, but after the joke, there was no going back to serious. So, I thought "What would push this to the next level of absurdity?" and scored the end credits as a goofy sounding tango. It sounded like a lame attempt at being seductive and alluring after this "tense affair" had turned out to be a dud on the screen."
"As soon as the end credits (and my tango) kicked in, Ira shouted "YES! That's so freaking perfect!" Hearing the man who had composed the scores to so many of my favorite comedies calling my creative choice "perfect" was a moment when I couldn't help but sit back, smile, and realize that 'yes...I am a film composer'."
What a great story of John Ross Jesensky pursuing his dreams... that's why I spend my life inspiring entrepreneurs to find their freedom and experience success.
Support HuffPost
The Stakes Have Never Been Higher
Related
Popular in the Community