Kamran Bloach is a senior marketing executive turned technology entrepreneur based in Sydney, Australia. He holds an MBA degree from Australia's top business school, AGSM at University of New South Wales, and has worked for global corporations like P&G, Shell and Johnson & Johnson in global marketing roles. Kamran worked in Global Product Management for Johnson & Johnson while based in New Jersey (US) before returning to Australia and growing a hobby/project into Australia's largest coupons & digital offers marketplace as the CEO/Founder of TopBargains.com.au.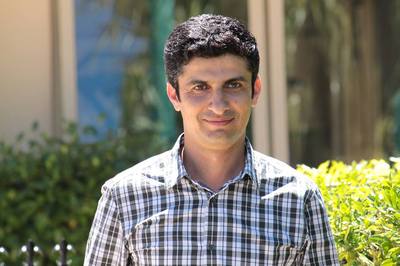 What is your enterprise all about?
"TopBargains is an Australian marketplace platform that strives to connect online retailers with millions of Australian shoppers to increase retail sales through coupon redemptions. With more than one million coupon redemptions each year and over 4,000 Australian retailers onboard, TopBargains is the largest digital offers & coupons platform in Australia and has already helped its members save hundreds of millions over the years. TopBargains has a thriving community of over 300,000 registered members and while delivering strong organic growth, still remains a bootstrapped venture without requiring venture capital or external funding."
What was the spark that caused you to pursue this path?
"I was always passionate about technology & entrepreneurship and had always wanted to start an online venture. However, I got lured into an entry level marketing position at the very start of my career and I really enjoyed working on marketing strategies for world's largest consumer brands. My only frustration was that traditional marketing roles were still focused on traditional media and didn't invest as much on digital as they should have at that time and they still don't. While still working in corporate sector, I started a small online community which was focused on helping consumers save money. This site quickly took off and once it was fairly established, I decided to quit my corporate career and started the entrepreneurship journey."
What drives you to continue?
"Entrepreneurship is a hard path to follow and my journey hasn't been easy either but the rewards that you find on this path are just way too many and they help you keep moving forward. I have had to make compromises along the way and there have been many tough decisions such as having to let go over 20 people at different stages of business evolution. As an entrepreneur manager, I have also learned to find and recognize talent and my ability to find serious employees or business partners from those who may not be great fit for start ups has vastly improved. What really keeps me going is the fact that I feel leading others and growing the ideas the business is built upon is really my calling and I have been rewarded well both personally and professional along the way."
Is there story of perseverance that just has to be told?
"Earlier this year, I decided that my off-shore development team was not being very effective in implementing the business vision, so I made the hard decision of letting the team go and started on the search for a better way to address the issues with programming/coding side of the business. Prior to this, I had spent two years recruiting, finding and training software engineers and in the end they did not deliver much. With just basic HTML skills, I decided that I needed to learn programming myself and while it may not sound very believable to many people but it took me around 4 months (working late in the night and through weekends) and subscriptions to sites like Codeschool and Udemy until I was able to learn enough programming skills to replace the need for having full time in-house developers. We don't have a single full-developer on the payroll right now and all it takes is a few hours per week for me to directly look after all programming related work myself. In short, many founders shy away from getting into code but with all the learning resources available today, I don't see why founders and CEOs can't learn to code themselves and improve their products by a huge margin."
Kamran is living the entrepreneurial dream, with all it struggles along the way. I'll send him a copy of my book The Naked Interview: Hiring Without Regret for his future expansion, which I can tell will be tremendous.
Calling all HuffPost superfans!
Sign up for membership to become a founding member and help shape HuffPost's next chapter