At the opening night of this fall's Fashion Week L.A., Sue Wong premiered her new 2016 'Alchemy and Masquerade' fashion line, an impressive display of 79 new gowns with requisite headpieces. So extensive was the hand worked materials and range of designs that it could have been a tour de force for any inventor. But one comes to realize that all this work and artistry is merely just another normal show for Sue Wong. She does them twice a year with her signature style of haute glamour that continues to impress and set a high bar for the industry. The fact the many celebrities are drawn to her work doesn't hurt either.
Sue Wong has positioned herself in the world of fashion in a way many designers would admire and envy. Called by some an institution, she has offices and show rooms in New York and Los Angeles, and her clothing lines are sold at the finest retailers and boutiques throughout the U.S. and available in 25 countries. Receiving an award from the California State Assembly the night of her show, recognizing her excellence in fashion across the world, one of many career awards, she said "I'm getting so many awards lately you'd think my career is winding down, but I'm happy to announce it's just revving up!"
Watching her models walk the runway that night, I was taken with how her designs balance that fine line between 'wearable' and 'couture'. Fashion, of course, is also theater. Buyers, reviewers and celebrities are attracted to the glamour, the outlandish and the dramatic. When creations are walked by that look like they would be more at home draped on a Game of Thrones warrior queen it's thrilling. But if you can't wear any of it the next day, that's going to hurt any fashion company's bottom line. What's fascinating about Sue Wong's work is how wearable so much of the theatrical beauty she puts on the runway is. There's no question that what she does, she does somehow differently than her peers.
An invitation to her after-party that same night brought me late to her downtown studio, the entire second floor of which was once an industrial building in downtown L.A. on the east side of Koreatown. Redesigned as a high ceilinged, big windowed flow through space, with many work stations and show rooms, it was now packed with 300 of her closest friends and admirers.
But what could easily have been a glad handing self congratulatory get together with enthusiasts and colleagues was something altogether different. Wong had numerous artistic friends perform that evening, showing off their own talents while she sang their praises. Opera star Michael Peer sang "Music of the Night" from Phantom of the Opera a capella (which he had sung earlier that evening at the close of her fashion show), Djordje Stijepovic a basist with several albums to his credit played several solos, Medi EM played an inspired flamenco guitar, and Katja Rieckermann, who has been Rod Stewart's lead saxophonist, peeled a phenomenal series of songs. It was a salon, right out of the kind you read about in Paris in the early 1900s, where artists gather to share their talents, and in the midst of it all Sue Wong was asking them each to play one more encore so that it was more about them, and not her. Once again one notices that Sue Wong does things differently.
"Beauty is my reason for being here I feel I was put on this earth for a certain purpose and that divine purpose of the artist is to create beauty," she says to me as we sit in her studio a week later on a quieter day. Having just finished three fashion events back to back, the Emmy's, and NY and LA fashion week as well as a 400 guest birthday party for visiting royalty at her home, she was professing exhaustion. "I'm ready for a vacation!" she says laughing, while still making sure visiting friends got the dresses they needed to borrow for an upcoming event and having her picture taken with a TV actor who's come visiting as well. Just another day for Sue Wong.
She sits at her spacious desk in her large modern office with an Andy Warhol Mao on the wall behind her. "I always wanted to have a Warhol. It's ironic that I fled Mao in China with my mother, and here he is behind me on my wall."
There is a bit of magic to Sue Wong, and she imbues it in her work and in her life, merely because of her deep convictions. "I believe I'm on a life mission, and it's to put some beauty into the world," she says.
Her story is not for the faint of heart. It's easy to look at success and the people who carry it comfortably and assume it's always been so. But Sue's story is not a simple one, and could fill the libretto of an opera as it's so filled with the ups and downs of life's triumphs and tragedies.
And it's a long road from where she started, with her small shop in Venice Beach on Oceanfront Walk, creating one-of-a-kind-gowns when vintage was a fringe fashion idea that was just coming in, and before that interning uncredited and unappreciated in a fashion company, and before that fleeing for her life with her mother from another country.
Born into a remote countryside in southern China, at the age of six, Sue was taken away from Communist China by the courageous choice of her mother, who bribed a border guard with her wedding jewels in exchange for freedom into Hong Kong with her young daughter. When they arrived in America neither spoke English, and she met her father for the first time, who had left for America years before when her mother was pregnant. Growing up the daughter of struggling immigrants living in South Central L.A. the family worked hard to move to better, safer streets in Culver City. But there was no budget in the spare family economy for toys. So she created her own paper dolls and wardrobe and lost herself in her artwork. She knew she was an artist early on, she says, always drawing and she started making her own clothes for school at the age of nine and all through her teenage years for the high school dances.
"I think of myself as an artistic intuitive," she says. "I never really studied fashion that much. I won a fashion scholarship in High School, and after that went for four or five months to LA Tech Trade School, and never graduated," she says laughing again. And coming from Chinese parents who appreciated solidity, fashion was a question mark. "They weren't too sure about my artistic ambitions at first," she said. "I wanted to study fine arts. That was too much for them. But fashion they could see was a business."
She left LA Tech Trade for Arpeja, a company, where she was doing a lot of designing. After a year or so of doing a lot of work that received great acclaim but receiving no recognition herself, she left. "I was 19 or 20. So disillusioned. I was a young, romantic idealist. I left the industry and moved to Venice, which was bohemian, arty and subversive."
Her small store in Venice was her first business enterprise. "I didn't have a lot of money. But you could buy antique clothing by the pound in those days. It was three dollars a pound. And we got all this great stuff from the 20s, 30s and 40s. And I would extract all the beautiful handwork and re-design a new gown out of moss crepe or chiffon and apply these ancient techniques to these gowns and suspend them on monofilament fibers and create a fashion installation. That's where I got my start." Her vintage glamour designs came to life there, where the careful and intricate work that has become a signature part of her vision started, as she created one-of-a-kind-gowns. Her designs were noticed and people began to seek out her original and unique pieces
Later she had a shop on La Cienega, at the height of the glam rock era, and developed a nice clientele like Goldy Hawn and Bianca Jagger. "She was with Mick back then, one of my fabulous followers," she says. "She would come in and practically buy up my entire store."
But that's still a long way from where she is today. The big break came when Arpeja came back into her life. "Arpeja knocked off one of my dresses and sold over 300,000 units of it. And based on that they hired me back and it shot me to super stardom." With a contractual deal to receive credit for her designs, Arpeja, remarkably, went from earning $2.3 million a year to $53 million a year in three years. A pretty stunning turn of events. "I had money, I was married, had children, and in my late 20s, it was amazing," she said. "And seven years after I left the trade school, I was honored there with a lunch and they gave me my degree anyway," she says smiling.
But the paths in life we take are seldom a straight line and by the time she was 30 she was separated, a single mother raising two children and had lost most her wealth in an acrimonious divorce.
"I had to start again in my 30s. I thought it would be quick, but it took 14 years." She struggled, slowly came back and had a sports line. But it never took off the way her earlier work had. Frustrated, she never stopped designing, creating and selling.
Then just before the Millennium the muse hit again. She had an instinct, a flash of inspiration, that she saw a place for millennium dresses. She called it Sue Wong Nocturne, and developed a line of elegant gowns for the new year just in time. They were a sensational success; a second lightning strike in a career where some people never experience one. And she has never turned back. Yet even as her company started to expand again another family crisis brought her to almost complete financial ruin a second time.
Fashion, of course, is about re-invention. "That's how you grow as an artist, you try different modes of expression. You have to redefine yourself all the time." And every year calls for two seasons of work. She kept generating new work and rebuilding again. Her current glamorous fashion lines re-ignited from that point and have become the body of work that carries her name and that is so well established today.
As we walk along the hallway between designing rooms and offices, there are clothing racks holding 200 new Sue Wong dresses that I saw premiered just a week earlier. 79 of the dresses for the show I saw are hanging on this rack, devoid of the shapely women, music and light shows that made such great theater only a few evenings ago. But this is the bedrock of her company that ships so many of these units every year to so many retail outlets. She tells me that to create new lines each year she generates 1500 concepts as sketches or artwork, before breaking it down to around the 200 dresses she will actually make for each season of which she'll present 50 or so for each show. I ask if those are hard selections to make. "No. I know what's going to work, and what isn't," she says smiling. She runs her hands across the many draped creations.
"With the exception of a few show pieces, everything that you saw on that runway is part of my commercial line, they are actually worn by real people and sold to Niemen Marcus, Saks Fifth Avenue, Nordstrums and Bloomingdales, so they are real clothes for real people. I am basically a couture designer, but my prices are prêt-a-porte. I like to label myself as an everywoman couturier. When a woman looks at a gown in a magazine and it's a Versace gown for $35,000 they can't relate to that. But when they see a Sue Wong dress it's relatable for $500 or $900. They're thinking; I'm getting married, and I can afford that! And I'm very proud that I can bring them these age old couture method such as hand beading, hand crochet, hand painting, these are all old techniques often used in the finest houses in Europe."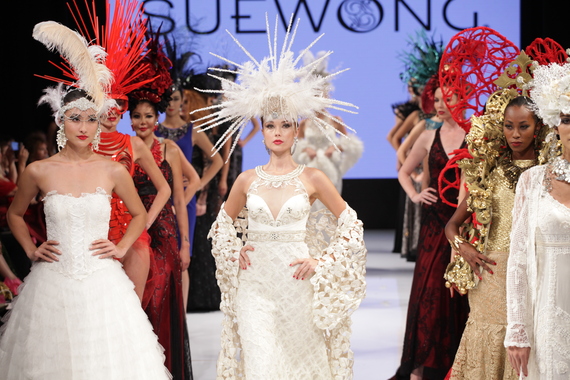 Sue Wong Alchemy and Masquerade (photo: Jeff Linett)

But her creativity isn't limited to the dresses she designs that have built her business model. She has designed her environments, from her three homes, to her studio. Her homes, she says, are another way for her to express her artistry. The Ceders, a famous Hollywood mansion she spent two years restoring and refinishing in Los Feliz, is the well known Norma Talmadge estate, the pre-eminent movie star of the silent era who was married to Joseph Schenck who founded 20th Century Fox. They would entertain Charlie Chaplin, Mary Pickford and Douglas Fairbanks. Howard Hughes moved in after them in the 1930s and the Los Angeles palace has been home to Bella Lugosi, Johnny Depp, Jimmy Hendrix, Lou Reed, and Bob Dylan. The list goes on. "I still get Johnny's mail from all over the world," she says.
It's a French Deco masterpiece with baroque accents that she has brought together with her own artistry and feels like a Venetian palace. Her Malibu home is a modern art creation, completely antithetical to the Cedars, the spaces opened and geometric, uncluttered, with white walls on which hang bright geometric art. The property is bordered by manicured grounds and the ocean. In Maui, there is her tropical retreat, with high arching ceilings, antique carvings and ancient deities that grace the interior. Her homes, she says, symbolize or are expressions of her three states of body, mind and spirit.
Her work studio, where we sit, was a cramped dark, low ceilinged line of offices when she found it near the turn of the millennium. "I blew everything out and started from scratch. I refused to be in a sweat shop because I had worked in a number of them when I was younger. And I vowed to myself that when I had my own business it would be beautiful environment, which it is, and it's really a pleasure to come and work here. I brought in art as well and placed it all over. I'm a huge collector of modern art. (She reportedly owns over 200 pieces).
And she has more projects in mind for when the time is right. Additional acreage she has in Malibu she plans to refashion into gardens that she will one day design.
I asked her the impossible question - where do you get your ideas? She tells me of a recent trip on her own to Spain two years ago that was a sort of spiritual pilgrimage. 'I traveled on my own down the coast of Spain, then across to Morocco and found the colors, the textures, so inspiring. But I get ideas from everywhere; it can be in a moment, in an unexpected glance. The world is always offering them."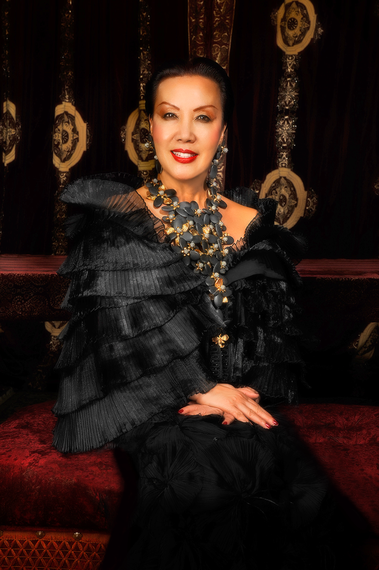 Sue Wong (photo: Sue Wong)

She tells me her mission is to honor the eternal feminine Goddess energy in every woman. She imbues each design with that in mind. And perhaps it's that inspiration that separates her work and how she gleans the meaningful from superficial, separates fresh from derivative, bold from safe, honest from a lie. There's no question that her magical thinking clearly reaps magical results.
I realize she has more energy and positive attitude than many of my artist friends that are half her age. Maybe that's the secret to Sue Wong's magic.
She confides in me, smiling, that it hasn't been easy. "But I'm a hard worker. And I never give up," she says, with that alluring smile.
Take note, young artists; that is the most important page from Sue Wong's book.
Like the work? Hit 'become a fan' next to my name up top and receive notifications and follow me on Twitter.
Related