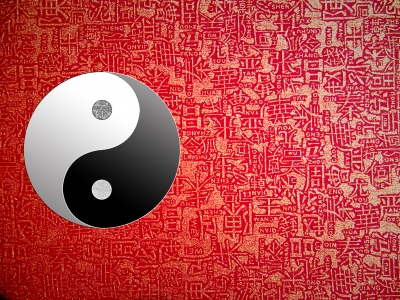 (photo courtesy of Exsodus)
The primary focus in business should always be on how best to serve your client's needs. That's why women are tailor-made for business. As natural nurturers and givers, we are gifted with intuition and the ability to bond and connect -- qualities that qualify us to listen, empathize and drum up creative solutions. However, in order to make a living women must learn the success skill sets and mindsets inherent to men, such as the ability to be simple, confident, and recognize business for what it is: business. Which begs the question: Can women learn to become profitable given their more "prophetizing" qualities?
When Judy Hoberman, CEO/Founder of Selling in a Skirt, approached me to be a speaker in her All Women Mean Business telesummit on "profitability," I wasn't sure where, or how, I would fit in or be able, more importantly, to offer value. You see, some of the east-west techniques and methodologies I employ to help women allay their fear of flying include mindfulness exercises to elicit peace, power and calmness. In the context of business, this would translate to the manifestation of abundance, wealth and prosperity.
I have worked in sales and marketing for over 20 years. Whether working for an employer or for "yourself" you are still trading time for money and you are still profit-focused, as it should be. And today we have the benefit of working virtually, allowing us the luxury to work from home, and to create multiple sources of income stream and leverage our time. Why then, do we feel constantly stressed? Are the valuable nuggets we are being learning somehow eluding us? Why is the pattern of questioning our value, self-worth, money and relationship issues perpetuated? And even with a partner at home, why does the subject of profitability remain a seemingly unbeatable foe?
Is profitability really that hard to come by?
The answer is yes and no. Yes, if that's what you continue to believe and tell yourself.
No, if you:
1. Apply the important male qualities that help us to get out of our own way.
2. Model what works; create what doesn't.
3. Learn the secrets that have enabled "foreigners" to come into our country and catapult their businesses in much less time than it takes for us to grow ours in a nation we were born into.
When I suffered entrepreneurial burnout several years ago, I began to look for ways to go against the grain and make shortcuts. I wanted to stop spinning my wheels and working in heels. I wanted to "stop doing what I was doing because I kept getting what I was getting." (W.L Bateman) Eventually I did a reboot, and turned to my roots.
My beloved grandmother, and greatest influence, was a Christian and a Buddhist. I know of her struggles as a little girl in China but I had never seen her "struggle" on American soil. She always appeared calm, cool, collected and was immensely respected by her peers. In fact, my "Por Por", in her 70's, was an original agent of change. To prove my point, here she is, as elected (by her peers) president of the Chinese Senior Citizen's Club, featured in a prominent Chinese newspaper article where she is, by the looks of it, giving Mayor Koch something to think about!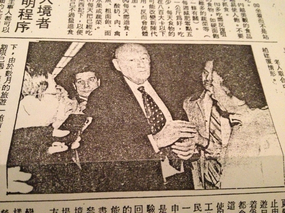 My grandmother raised four kids, and became a single parent when my grandfather passed on and my younger uncle was a tender 14. Learning to become profitable was not something she even thought about. She was "savvy" before savvy was a "business" household name. Por Por was prosperous -- and profitable -- not knowing what she did not know. She simply knew the "way" to prosperity and became profitable by default. She attracted both, and exhibited true leadership at a time when books were not written about the conscious vs. subconscious mind.
Transforming the way I think has changed my life in ways I cannot begin to describe the day I became receptive to Por Por's unspoken teachings. I learned to focus on the flight and not the destination. When the wind begins to shift the mind you become lost. When the mind learns how to shift the wind the clouds will part.
That's why I chose to do the telesummit. I get to embrace all that I am, harmonize what I've learned in business and from this exceptional woman who for 34 years has had the most profound impact on me, and who continues to inspire me every day.
And, I get to learn from 20 astoundingly successful business leaders giving away their best secrets. Now that's a Christmas gift I didn't expect, and Santa's bringing it early this year!
For more information on Caryn Chow visit www.carynchow.com
Like her on facebook
REAL LIFE. REAL NEWS. REAL VOICES.
Help us tell more of the stories that matter from voices that too often remain unheard.