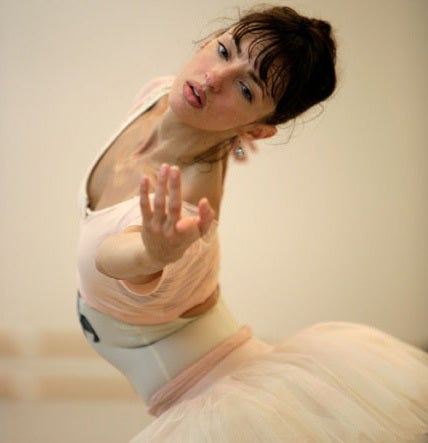 For several weeks, if not months or years, the rumors about prima ballerina Lorena Feijoo's departure from SF Ballet have been running through the hallways of the company, and beyond. The decision has finally been made, and it's a highly puzzling departure for the extraordinary dancer, who was not ready to go, and for her audience who loved her and recognized that the Cuban-trained dancer stood apart and above the roster of Principals at SF Ballet. As her colleague and choreographer Yuri Possokhov told the Chronicle this week, Feijoo "exemplifies a special rank not spoken of in ballet; she is a true Ballerina with a capital B." One of the great technicians and also one of the most emotionally expressive dancer-actresses, Feijoo has been under-cast for the last few years—for example, when Romeo and Juliet was on the bill and she was apparently "too old for the role" (a shocking artistic failure of nerve from the management), while her equally gifted, same-age colleague, Yuan Yuan Tan, was (rightly) not considered too old. Similarly, when Cranko's Onegin was reprised at SF Ballet, the role of Tatyana, which would have been a perfect, obvious fit, was given to Tan, not to Feijoo.
No other dancer of Feijoo's or Tan's caliber has arisen to step into the ballet slippers Feijoo now leaves behind (unless Dores Andre builds on the promise of her recent sensational Salome, and unless Wanting Zhao grows up fast).
The unique mastery of Feijoo luckily was in place for a thrilling moment last Sunday in "Made For SF Ballet, " Program 7, an ensemble of pieces commissioned for SF Ballet by Helgi Tomasson, Myles Thatcher, and Christopher Wheeldon.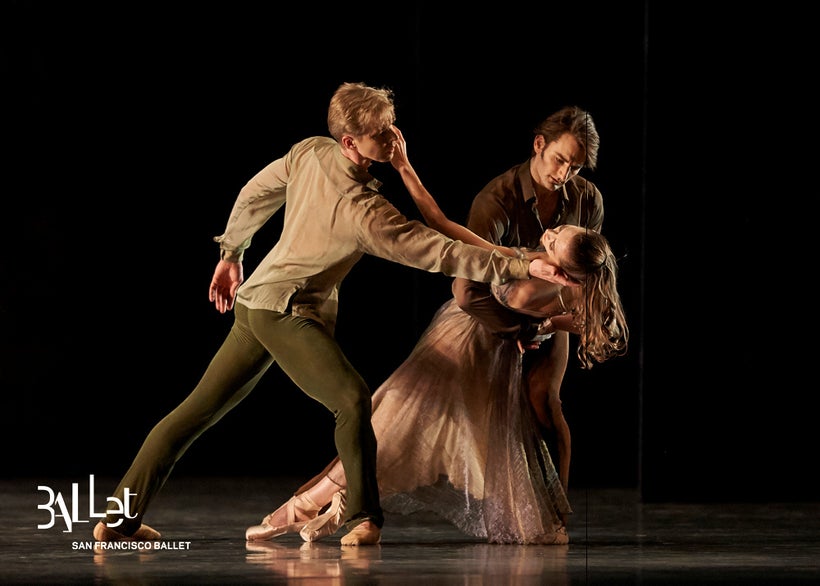 Feijoo had the first movement of director Helgi Tomasson's Trio from 2011, set to Tchaikovsky's Souvenir de Florence, an elegant, romantic pas de deux with Jaime Garcia Castilla. With a gorgeous red velvet dress (Mark Zappone), Feijoo seemed the radiant incarnation of harmony and elegance, laced with a burnished inner calm and sensuality that only a mature woman dancer could bring to the stage. Once gain, her extraordinary, proud and self-assured posture, her beautifully relaxed arms and her musical phrasing turned her brief appearance into a seemingly timeless stretch of wonders. (Next to those always amazing arms, Castilla's arms looked a bit stiff, as if still self-protective after his long injuries.) There was huge applause for the fabulous technician who is from head to toe an artist.
The second movement of Trio stood out with an inspired thematic idea: a tenderly attached couple (Sarah van Patten and Tiit Helimets) is separated by a "dark horse" intruder (Aaron Robinson) who seductively slides himself in between the lovers and slyly, irresistibly takes possession of the woman. Danced with silken smoothness by all three Principals, this was a suspenseful, erotic pas de trois.
Against such a bounty, the fast last movements (Maria Kotchetkova and Angelo Greco) didn't have much to say and was way not fast enough to make up for the lack of substance.
Ghost in the Machine by Myles Thatcher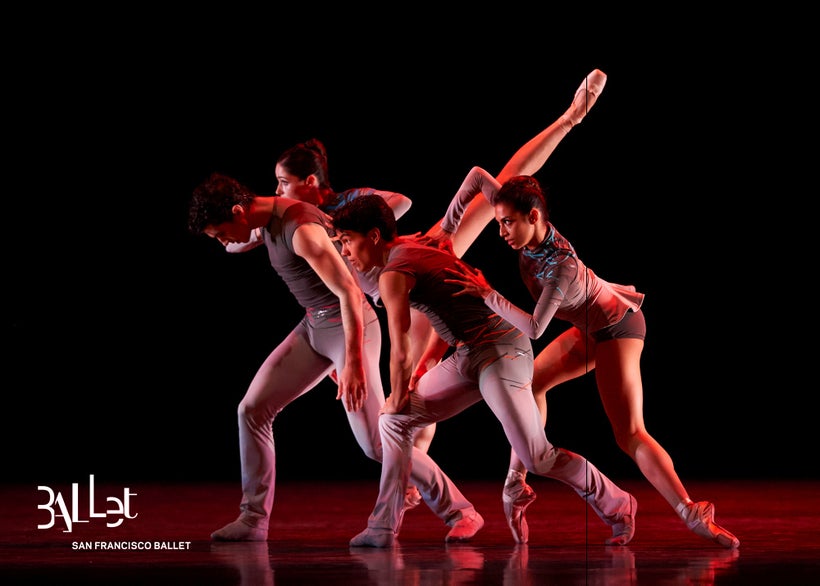 The new world premiere of SF Ballet's dancer-turned-young-star-choreographer Myles Thatcher, Ghost in the Machine, set to a pulsing score by Michael Nyman, was a clean success. In 2014-15, Thatcher spent a year under the tutelage of master choreographer Ratmansky, and it shows. His mastery of group formations seems to have grown by a big leap; there now is sculptural order without any lack of playful disturbance, disruption and dissolution. Many quick vignettes of group attraction and individual split-offs, brief pairings of five couples into twosomes, daisy-chains and small knots of bodies, seem all rooted in a coherent idea. Thatcher's "ghost in the machine" is less cerebral than Arthur Koestler's model of duality between a primitive, emotional brain and rational thinking. Thatcher seems to say we are part of a larger whole, a more ancient, basic "body of evidence," and departing from this group coherence or group gravity is hard-won and leads to many funny collapses and a lot of loneliness. But ultimately the longing is pervasive and mutual: Thatcher's group always tenderly hugs back the escapee.
Within the Golden Hour by Christopher Wheeldon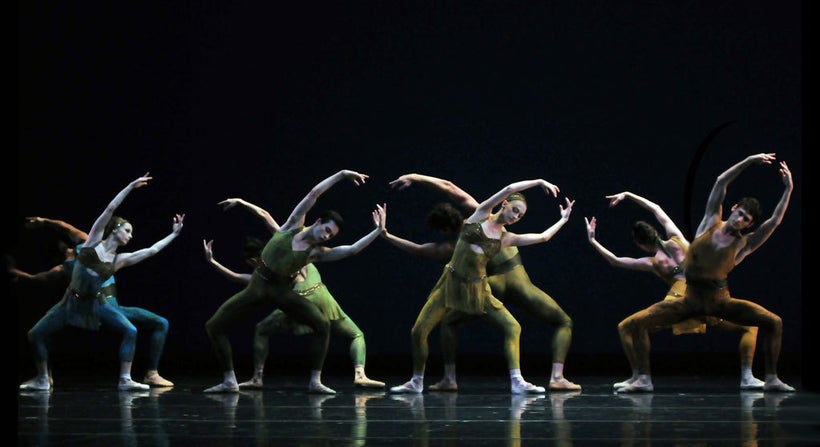 Then another highlight: a reprisal of Christopher Wheeldon's Within the Golden Hour from 2008, set to music by Ezio Bossi with a touch of Vivaldi, his most successful work for the company to date. The internationally acclaimed British choreographer hadn't convinced me with his most recent banal, unromantic storytelling in Cinderella, created for the company in 2013.
But Within the Golden Hour is a different story. This abstract work takes the architectural elements of space, group, and individual a whole notch higher onto a thrilling physical plain of inventiveness and sensual beauty. Wheeldon has found his own sculptural language of arcing arms in formation, lines of swaying, side-bending, androgynous bodies, languorous torso twists and sudden, Haiku-like stillness. One is reminded that dance is made of music: a stirring, rapturous score like this one, carried by viola and violin play, masterfully translated into musicality onstage, can be a pleasure like no other. Everything concurs to make this ballet special: beautifully colored tights and diaphanous tunics, a simple, elegant stage set lit in sensitive colors, and superb dancing from the three leading couples and the group. Vanessa Zahorian (in a last performance before retiring), Dores Andre and Maria Kotchevkova, superbly partnered by Joseph Walsh, Carlo di Lanno and Vitor Luiz, are all at their very best, wearing this choreography like a silken, emotional skin. It can be a revelation to see a very slow double pirouette leaning into a languorous hug, or see two men dance together like a couple. Wheeldon's dancers create a golden-hour atmosphere--a feeling of fullness at a cusp, where bodies and limbs melt and surrender. One can't easily pin down how exactly he accomplishes this enchantment, even though one is deeply satisfied by the mystery.
REAL LIFE. REAL NEWS. REAL VOICES.
Help us tell more of the stories that matter from voices that too often remain unheard.
This post was published on the now-closed HuffPost Contributor platform. Contributors control their own work and posted freely to our site. If you need to flag this entry as abusive,
send us an email
.