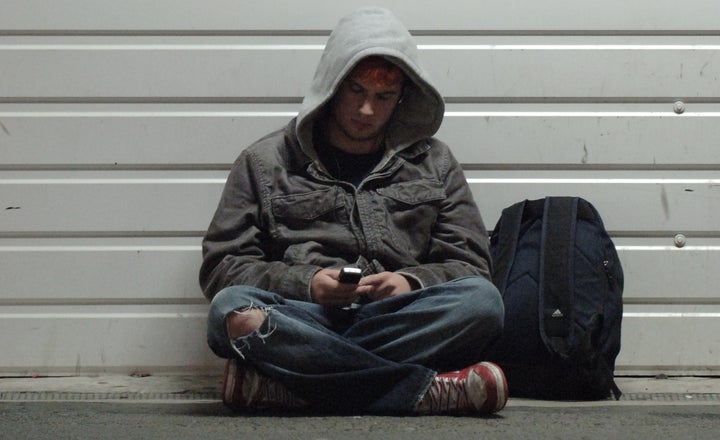 Thousands of homeless people in Hawaii have a better chance of getting off the streets now that they own cell phones.
Blue Jay Wireless, which now operates in 17 states, has recently doled out about 30,000 cell phones to people in need, including homeless people, in Hawaii, KITV reported. Experts and beneficiaries say getting ahold of the technology is key to accessing health services, reconnecting with family and following up with job prospects.
"The phone helped me get back on my feet, look for work callbacks," Matt Stoeltje, a formerly homeless man who now works for Blue Jay, told KITV. "If I didn't have that, I wouldn't be where I am right now."
About 350,000 people in total qualify for the program in Hawaii.
Blue Jay's Lifeline Program is funded by the Universal Service Fund, which gets contributions from all interstate telecommunication carriers, according to the company's website.
Anyone who participates in a federal benefit program, which includes SNAP or Medicaid, qualifies for a free phone. Others become eligible by meeting certain income requirements.
The program has reached Hawaii at a time when homelessness has become a hot-button issue and lawmakers have been implementing harsh policies to drive homeless people out.
At the same time though, advocates have been trying to find more sustainable solutions to address the growing homelessness problem. The cell phone program is just one of a number of initiatives that are offering up more effective solutions.
But it isn't just Hawaii that's seeing a rise in cell phone use among people on the streets.
Experts say cell phones have increasingly served as the key to getting homeless people off of the streets.
"One of the most important resources homeless teens and young adults can acquire is a cell phone," Eric Rice, assistant professor at the University of Southern California's School of Social Work, wrote in a blog for HuffPost. "Imagine for a moment that you are homeless. How would you get a job if an employer could not call you back? How is your social worker going to follow up with you about housing opportunities if they can't call you back?"
People on the streets and those with low wages are aware of how much their fortune could change if they just access to a phone.
Scott Prestwood, a veteran who was unemployed, has benefitted from Blue Jay's program and now, as an employee, helps people facing similar predicaments.
"I've had people cry when I give them their phone," Prestwood wrote in a blog post for Blue Jay. "They know it will change their lives, and they're very appreciative. There are a lot of people out there who are hurting, and those are the people I take care of."
CORRECTION: A previous version of this headline incorrectly stated that 30,000 homeless people received free cell phones. In fact, 30,000 people in need have received the cell phones.