It has been three years since a devastating earthquake stopped clocks in Haiti at 4:53 PM. It seemed that Haiti was also stopped dead in her tracks, and for those who follow progress, or lack thereof in the tiny country, many questions remain about foreign aid that has translated into foreign control over Haiti's destiny. How many articles will we write that begin, "It has been (pick a number) years since January 2010 when a 7.0 earthquake killed hundreds of thousands of people and caused over $7 billion in damages," and then ask the question about donor dollars. What happened to the $6 billion pledged by the international community, and what is the possibility that Haiti can forge realistic plans for a sustainable future?
Two opportunities to examine this question crossed my desk in the last few weeks.
The first is a report from the Center for Economic and Policy Research (CEPR), "Breaking Open the Black Box: Increasing Aid Transparency and Accountability in Haiti," which examines the effectiveness of U.S. assistance to Haiti, how it is being administered, or not, and whether it is possible to administer aid in the sunshine of transparency. Judging from the CEPR findings, it seems that an opaque umbrella of fraud is covering the tiny nation.
The CEPR report notes that very few audits of USAID's programs in Haiti since the earthquake have been completed, and those that are available present a "troubling picture of the manner in which U.S. relief and reconstruction efforts have been conducted so far."
Contractors have hired far fewer Haitians than promised, Haitian businesses were largely excluded, goals were not met, there was inadequate supervision of grantees, and USAID had not conducted internal financial reviews of contractors.
Of the $1.15 billion in contracts and grants awarded, more than half went to the top 10 recipients of global USAID awards. Only 0.7 percent of USAID money went to Haitian businesses.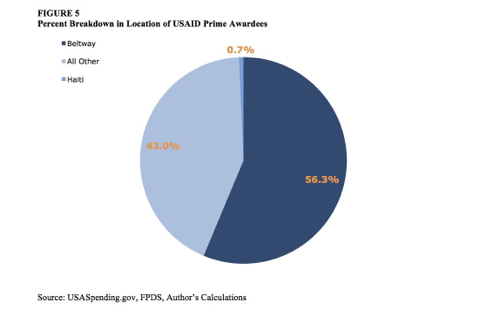 The vast majority of USAID contracts for post earthquake relief and development have gone to NGOs and contractors based in the United States and specifically from inside the beltway--Washington, Southern Maryland, and northern Virginia. (CEPR)>
It may be absolutely impossible to "follow the money" in the case of Haiti "reconstruction." Seven- tenths of one percent of aid dollars is miniscule, and U.S. taxpayers might want to sit up and take notice.
In the weeks after the CEPR report went public, a small conference took place at the Miami Convention Center. The fourth annual Sustainable Haiti Conference offered a powerhouse of attendees -- from USAID, the State Department, and the predictable list of NGOs -- but I was most interested in catching up with Regine Barjon. Barjon is the Partner, Chief Executive Officer of BioTek Haiti SA. She is also the marketing director for the Haitian-American Chamber of Commerce of Florida. I met Barjon in the weeks immediately following the 2010 disaster at another conference in Miami, and have followed her ever since -- impressed as she stood up against a room full of white security experts who were prophesizing social Armageddon in Haiti. The diminutive Barjon wagged her finger at the big guys and told them in no uncertain terms that Haiti could manage her own destiny if they would just get out of the way. "Haiti can grow her own chickens," still echoes in my mind when I think of that day and the numerous trips to Haiti that followed -- trips that revealed that Haiti was drowning in aid that offered little but strangulation.
Last week in Miami, Barjon as always was on target, determined, and full of positive ideas on how the Diaspora and Haitians can invest in themselves -- if only the foreign influences and interests would just get out of the way.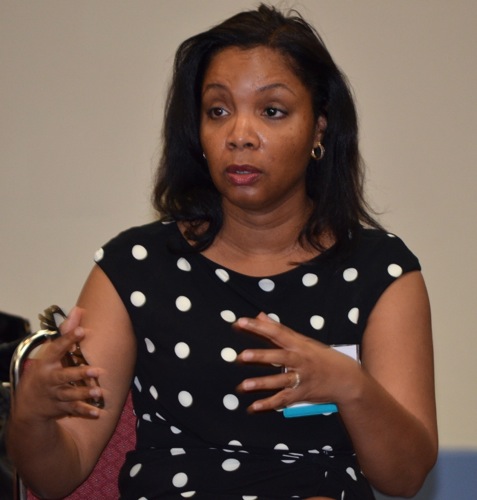 Regine Barjon Discusses "Investing by the Diaspora" at the Miami Convention Center (photo: G. Nienaber)
Barjon took the time to answer a battery of questions. Her answers are worth consideration.
How do you view the change in leadership at State now that John Kerry is at the helm?
The Haitian Diaspora is gratified that the Obama administration and Secretary Kerry have continued the open dialogue so imperative to the formulation of U.S. policies for Haiti. But more importantly, this dialogue is vital and opportune simply because no more can we allow others to define us through their own lenses. It is imperative that as Haitians and Haitian-Americans we define ourselves -- and that we own it!
So, How does Haiti "own" her future?
The challenge is to implement policies and to fund programs and projects with direct and favorable impact on Haiti's economy -- projects which benefit the most people by taking into account Haiti's existing assets. U.S. policies for Haiti must be adopted with this in mind.
The poor results of past policies have proven to be a total waste of U.S. taxpayers' money through the financing of NGOs. Quite simply, if something does not work, we should not keep throwing good money at it. The U.S. government must actively look towards building a viable Haitian private sector that can contribute to the creation of jobs, and effective public/private partnerships with the Haitian State to better link and match infrastructure projects to production. In addition, judicial reform is also necessary to ensure a successful investment climate.
What about the controversial US/South Korean Carocal Project? Haiti Grassroots Watch warns that the industrial park project, built with over 200 million dollars in U.S. financing, will not only endanger the eco-system, but create sweatshop labor conditions. The Korean apparel manufacturer Sae-A is the anchor tenant.
Though the U.S. has opted to bypass Haiti's breadbaskets in favor of tackling the Caracol Project, the U.S. should continue to fund programs of similar scale as that project in the agricultural and agro-industrial sectors. Large-scale agriculture and agro-industrial programs and projects would have an even greater impact in reaching more people than Caracol because agriculture, in spite of its marginalization and nearly no public support over the past 50 years, still represents 25 percent of GDP and employs 66 percent of the Haitian population. There is ample room for growth in this sector, and it would ensure food security for the 58 percent of Haiti's people who are currently food insecure.
Greater focus and attention needs to be placed on sourcing, accessibility, and affordability of food that will allow local food producers to compete with the saturation of imported products.
So how do you address the obvious trade imbalances that are exacerbated by foreign aid?
The Martelly government has a stated goal of reducing Haiti's food imports by 25 percent over the next four years. This can only happen with the adoption and implementation of large-scale agro-industrial projects that have the capacity to work directly and indirectly with the thousands of small farms and farm associations. The example can be given with Haiti's two sugar mills: one, the Citadelle des Cayes, which is currently completely moth-balled, and the other, the Darbonne Sugar Mill, which is operating at less than half its capacity.
The Darbonne Sugar Mill (Barjon's project) at full operational capacity would increase jobs from the current 1,300 (direct and indirect) full and seasonal jobs to over 10,000 full-time direct and indirect positions. In addition, studies undertaken by BioTek Haiti SA, (Barjon's business) have found that the mill can produce a minimum of 15 Megawatts of electricity year-round from sugar cane bagasse and other indigenous crops. The study also found that the mill can be a source of feedstock for multiple second-generation industrial applications, such as the production of biofuels (butanol and ethanol), particle boards, and bio-fertilizer.
I keep thinking about the Haitian investor who asked the question of you and the State Department Advisor Mark D'Sa. The man said he had money to invest in the private sector, but had no guidance on how to do that.
Quite simply he has to decide and define what he wants to do first and where his specific interests lie.
But on the larger scale, we need to be able to establish a network and database of businesses (including NGOs) to be made available to the larger public.
Would-be investors will be able to see and judge and determine sectors and industries that best match their interests. It should be noted that in this sector, the Government of Haiti has made great strides. The Center for Facilitation of Investment, CFI-Haiti, has streamlined the business applications process to one day and to half the price it was previously.
This is great progress, but the $2,500 price tag remains somewhat steep if compared to the U.S. and other industrialized countries. In the neighboring Dominican Republic and Jamaica, companies can be formed in a week for $400.
So, three years and $6 billon later, we remain with the same questions and a very troubling report about USAID from CEPR. The big question remains. Who is capable of charting the way forward for Haiti?
Popular in the Community