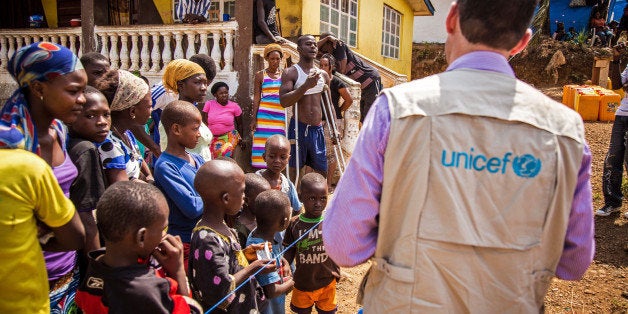 We are living in the midst of a global fight for child survival. It's one that I believe we can win--and the work we do over the next 10 years will be critical to our success.
Today's movement to reduce child mortality rates worldwide is a continuation of a legacy that began 35 years ago. In 1980, then-UNICEF Executive Director Jim Grant organized an international campaign to address the leading causes of death in children under 5, which later became known as the Child Survival Revolution. The targets: preventable, treatable, poverty-related conditions such as pneumonia, diarrhea, malaria and malnutrition--ailments that are easily avoided with the right interventions, education and support.
Global efforts to end preventable child deaths have made tremendous strides in the years since. In 1990, 12.7 million children died before their fifth birthday. By 2013, that number had been cut in half. This is remarkable progress. But, today, 17,000 children still die every day of a preventable cause, and the needless death of even one child is unacceptable. This is why we must keep working to save and protect the world's most vulnerable children until we get that number all the way down to zero.

When I think about the issue of child survival, I think about the young mother I met in Sierra Leone, and her newborn daughter, Fatima, who would die of neonatal tetanus--a completely preventable disease contracted during childbirth. A dirty knife had been used to cut the umbilical cord. Had the mother been vaccinated, her baby would have been protected. But here she was, just six days old, writhing in pain. With no anti-toxin available, there was nothing anyone could do to try to save the tiny girl or even ease her suffering. It was too late.
I had traveled to Sierra Leone to see first-hand what was needed to combat maternal and neonatal tetanus (MNT), which is virtually nonexistent in the developed world but remains a threat to pregnant mothers and their newborns in poor areas who lack access to basic prenatal care. Efforts to eliminate MNT by immunizing all women of childbearing age (it costs less than $2 to procure, deliver and administer a complete round of three vaccinations) have been hugely successful. Yet the disease continues to claim the lives of nearly 50,000 newborns and a significant number of women in 23 countries annually. Witnessing the death of Fatima--seeing the color drain out of her hand, realizing she was gone, hearing her mother wail in grief--is an experience that has stayed with me, and the memory is my daily reminder of why we are fighting this fight.
The amazing thing is that we have all the skills and strategies we need to save children like Fatima. Sometimes it's the simplest measures--growth monitoring and breastfeeding, for example-- that can make all the difference. Other cost-effective approaches like immunizations, insecticide-treated bed nets, nutritional supplements and therapeutic food have saved millions of young lives.
The challenge is reaching all mothers and all babies in all corners of the world with lifesaving services. Child mortality rates remain highest among the poorest of the poor, and particularly those living in remote, conflict-afflicted areas. The quality of care received during pregnancy, childbirth and a baby's first few days and weeks of life is most critical--and varies greatly from country to country. In West and Central Africa, for example, the risk of a newborn dying during his or her first 28 days is almost 10 times greater than it is for a baby born in a high-income country.
Many countries with disproportionately high child mortality rates have made significant gains. In Ethiopia, there are tens of thousands of local health workers out in the field, providing much needed services to women and children in remote communities and educating families about best health and hygiene practices. As a result, preventable child deaths are down by two-thirds since 1990. And in Pakistan, increased support for that country's legion of Lady Health Workers has been extremely effective in reducing child deaths in Punjab and other hard-to-reach areas.
A few years ago, the international community launched a second child survival revolution. A 2012 summit in Washington, DC prompted 178 governments to reaffirm their commitment to end preventable child deaths and pledge to accelerate and scale up all efforts to do so, focusing on the world's most disadvantaged, underserved communities. Hundreds of civil society and faith-based groups have also joined the movement. Additional support from corporations, foundations and donors--as well as volunteers, students and teachers, health workers, civil servants and community leaders the world over--has been and will continue to be crucial to the cause.
Out of that meeting came a new, ambitious yet achievable goal: to bring child mortality rates down to 20 or fewer deaths per 1,000 live births by the year 2035. With our new rallying cry, we soldier on, armed with new vaccines against pneumonia and diarrhea, new drugs to stem the toll of HIV/AIDS and new delivery approaches that have enhanced our ability to counter the gravest threats to children.
During the last quarter century, the lives of an estimated 100 million children under 5--including 24 million newborns--have been saved. We can all be proud of that. But I know we can save millions more in the next decade, with enough resources. Let's keep the momentum going, and let's never forget why we are doing it in the first place.
This post is part of a series commemorating The Huffington Post's 10 Year Anniversary through expert opinions looking forward to the next decade in their respective fields. To see all of the posts in the series, read here.
Calling all HuffPost superfans!
Sign up for membership to become a founding member and help shape HuffPost's next chapter