 WASHINGTON -- It's just January 2013, but in the race to oust Senate Minority Leader Mitch McConnell (R-Ky.) after nearly three decades in the Senate, one small super PAC is already exploring all options.
Progress Kentucky, launched in December, was born out of discussions among Democratic activist Shawn Reilly, who now heads the super PAC, and his friends as they debated how to defeat McConnell in 2014.
"Nobody else is doing it. So let's start a super PAC and make it a grassroots effort," Reilly said, recalling the reasoning process. "Make it of the people of Kentucky and for the people of Kentucky."
Reilly has a progressive background, having worked for Americans Against Escalation in Iraq in its 2007 summer campaign as well as on a number of statewide and local races in Kentucky. Before starting Progress Kentucky, he was a member of the executive committee of the state Democratic Party.
His group's first order of business is to find candidates to take on McConnell from both the Democratic Party in the general election and the Republican Party in a primary challenge. As Politico reported on Monday, Progress Kentucky is in contact with Tea Party groups across the Bluegrass State to try to convince a credible conservative to run against McConnell in the primary. The group has already sent out a petition to 22 candidates -- Democrats, Republicans and independents -- to see if anyone is willing to challenge the state's senior senator.
By actively seeking out candidates, Reilly said, his super PAC is letting them know that they'll have support if they run. "Hey, if you want to run, you're going to have some support on the ground here to help you," he said.
It may seem strange that a liberal Democratic organization would be working with Tea Party supporters, but Reilly said there are important areas in which the two groups agree.
"They are just as concerned with [McConnell's] corruption and crony capitalism -- some of the things that he's done over the years in terms of earmarks," Reilly said. "They are just as much concerned about those things as people on the left are. They're looking for candidates that can deliver that type of message, and we're looking at potentially supporting those kind of candidates who can deliver that good-government, anti-corruption type of message."
In fact, this would not be the first time that a Democratic group involved itself in a Republican primary campaign with the intent of knocking off the candidate with the better chance of winning the general election.
Last year, Senate Majority PAC, a Democratic super PAC, ran ads attacking Missouri businessman John Brunner in the GOP Senate primary because they thought he could have seriously challenged the vulnerable Sen. Claire McCaskill (D-Mo.) in the general election. At the same time, McCaskill's campaign ran ads promoting then-Rep. Todd Akin (R-Mo.), the seemingly weakest candidate in the Republican field. Akin went on to win the three-way Republican primary and then fulfill Democratic hopes and dreams by laying waste to his own campaign with bizarre comments about rape.
In the 2012 Indiana GOP Senate primary, the super PAC American Bridge 21st Century released numerous memos and online videos attacking then-Sen. Richard Lugar (R-Ind.) for not paying taxes in the Hoosier State and for residing primarily in Washington, D.C. These efforts, while not central to Lugar's primary loss to Indiana state treasurer Richard Mourdock, helped drive negative news against Lugar during the early stages of the race. Mourdock went on to mimic Akin and lose the general election after spouting inappropriate comments about rape.
But McConnell is not Akin or Mourdock. To pull off something like this, Progress Kentucky is going to need money. So far, it is relying largely on grassroots donations and not on the kind of large contributors that most major super PACs use to fill their coffers. The group has a fundraising target of $100,000 by the end of February and hopes to raise up to $2 million to fund television, field and other voter targeting activities.
The group has also been in contact with labor unions in Kentucky and helped to roll out a report by the Public Campaign Action Fund, a campaign finance reform group, tying McConnell's use of the filibuster to particular campaign donors. Those connections could help Progress Kentucky as it takes on the incumbent Republican senator.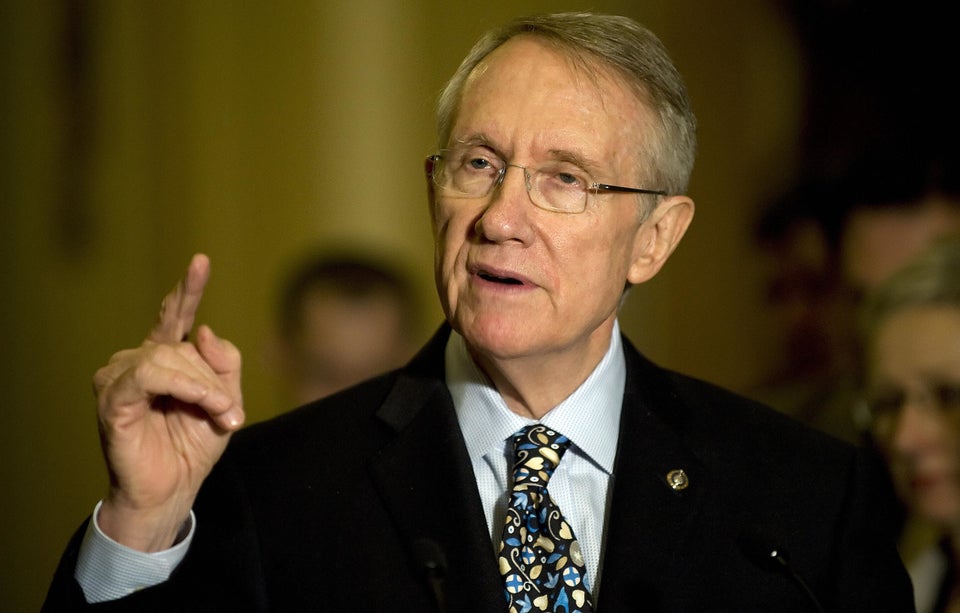 Senate Majority Leaders Through The Years