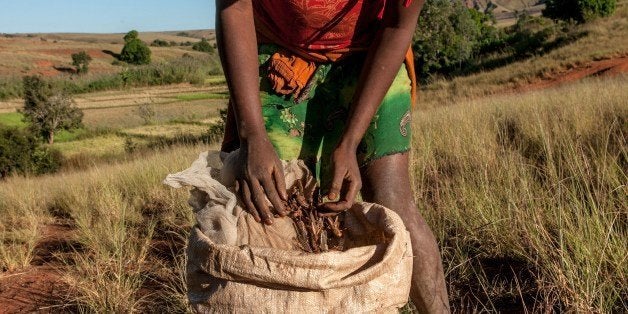 Thursday, October 16, is World Food Day -- an important occasion to reflect on the significant progress that has been made over the past decade toward fighting global hunger and malnutrition. The job, however, is far from done.
As a global community we can do more to reduce the number of hungry people in our world. And many in the U.S. anti-hunger advocacy community -- including a number of members here at InterAction -- are optimistic that bipartisan legislation recently introduced on Capitol Hill could set the stage to further U.S. efforts to improve global food and nutrition security.
The recent news from the United Nations Food and Agriculture Organization (FAO) that world hunger dropped by over 100 million in the last decade is proof of the progress that can be made with strong commitments from governments, civil society, academic and research institutions, private sector, and farmers themselves. Yet despite these impressive gains, there are still 805 million chronically undernourished people in our world, with food insecurity and malnutrition remaining especially dire in sub-Saharan Africa, where one in four people experience food shortages.
After decades of declining support for farmers in developing countries, renewed U.S. leadership from President George W. Bush and now President Barack Obama has sparked a global commitment to help people feed themselves. The U.S. government's global hunger and food security initiative, Feed the Future, takes a comprehensive, sustainable approach to agricultural development and food and nutrition security. Led by the United States Agency for International Development and drawing on resources and expertise from 10 other federal agencies, Feed the Future is investing in country-owned plans and is helping countries -- including 19 focus countries in Africa, Latin America and Asia -- transform their agricultural sectors and sustainably produce enough nutritious food to feed their people.
Feed the Future has already achieved impressive results: in 2013, the initiative reached more than 12.5 million children with nutrition interventions and helped nearly 7 million farmers and producers with new technologies and management practices on more than 4 million hectares of land. And many of us believe that the program could achieve even greater impact.
With so much progress made within the executive branch in fighting food and nutrition insecurity and extreme poverty, it is now Congress's turn to act to ensure that the U.S. continues its strong leadership on these issues beyond this current administration and over the long-term. The good news, once again, is that significant progress has already been made.
Legislation that would codify Feed the Future in law has been introduced in both the House and Senate; Reps. Chris Smith (R-NJ) and Betty McCollum (D-MN) have introduced H.R. 5656, the Feed the Future Global Food Security Act of 2014, and Sens. Bob Casey (D-PA), Mike Johanns (R-NE), Chris Coons (D-DE), Johnny Isakson (R-GA), Ben Cardin (D-MD), and John Boozman (R-AR) have introduced S. 2909, the Global Food Security Act of 2014.
With leadership from these food and nutrition security champions, Congress must pass legislation that would authorize Feed the Future, the critical U.S. government program for global food and nutrition security. In doing so, we can solidify U.S. leadership in fighting poverty, build and improve upon the vital work of the Feed the Future Initiative, and continue to leverage a whole-of-government approach to tackling global hunger and malnutrition. And most importantly, we can continue our fight against hunger, malnutrition and extreme poverty over the long-term, until a future World Food Day when 805 million has become zero.
Katie Lee is a policy manager at InterAction, an alliance of more than 180 U.S.-based NGOs, and formerly served on the Republican staff of the Senate Foreign Relations Committee.
Calling all HuffPost superfans!
Sign up for membership to become a founding member and help shape HuffPost's next chapter