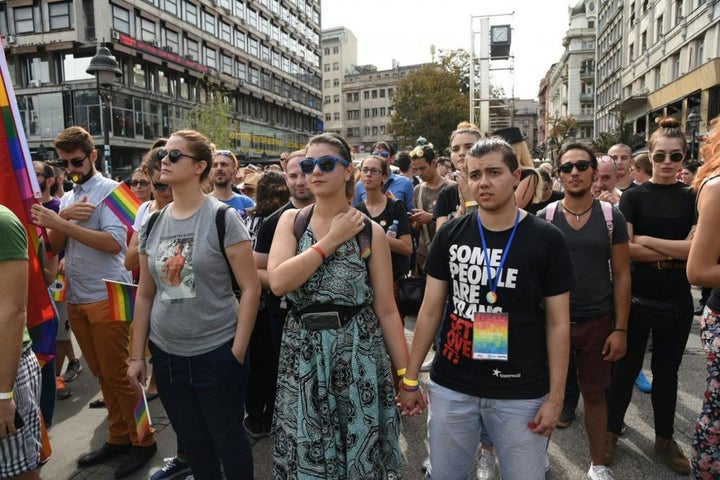 Right as I got to Serbia and opened Tinder, my roommate told me I'm brave to do such a thing. He would never go on a date with a guy from Tinder in Serbia, "It's too dangerous." And then, he added, "Isn't homosexuality illegal?" I glanced at him, and, suddenly, my long forgotten pride as a Romanian and (part) Serbian emerged: "Of course it's not ― it's legal in the whole region. Why would you be so afraid?" Of course, I knew about the homophobic attacks at pride in Serbia a few years ago, and I knew things were far from being perfect, but I somehow had to counteract his statement. I realized that many underestimate the region and people's ability for acceptance. More importantly, people don't really know much about being queer in the Balkans ― and it's often not easy to find out more either, as resources, articles or analysis, are pretty difficult to find, especially in English.
I became more and more interested in exploring what it means to be queer in the Balkans and ultimately decided to interview seven activists from six countries in the region ― Serbia, Montenegro, Macedonia, Albania, Kosovo and Bosnia and Herzegovina. I ended up writing a report for CANVAS on the topic. I gradually discovered that, in terms of LGBTI rights, it's a region of contrasts. You can think about WB party I went to in Belgrade, a huge queer party in the historical Kalemegdan fortress, in the middle of the city, or about the lack of gay clubs in most capitals in the Balkans ― from Tirana to Skopje. You can think about the LGBTI movement in the region, that has been growing significantly, with organizations creating tens of events and spaces for the community, or you can think about the high levels of violence and discrimination LGBTI people still encounter. Although far from perfect, things have gotten better for the LGBTI community in the Balkans- and activists all over the region are determined to improve queer rights even further.
Political Involvement, Beyond the EU
If we were to simply look at laws, the LGBTI community is being increasingly protected: anti-discrimination laws that cover sexual orientation and gender identity exist in five of the six countries I analyzed ― Macedonia being the only exception. Many even have laws that punish hate crime and hate speech. Moreover, Bosnia and Herzegovina recently became the only country in the region to cover sex characteristics in its anti-discrimination law. Trans activists are also pushing for official gender recognition laws, but right now only Montenegro, Bosnia and Herzegovina and Serbia allow trans people to change their official gender marker, and that exclusively after a full transition. Civil partnership or marriage rights are not currently a priority in the region, although Montenegrin, Albanian and Bosnian activists have mentioned they have started campaigning for inclusive family laws.
Although queer rights have advanced significantly in the last few years, many attribute this change to a mere compliance to EU standards (Albania, Macedonia, Montenegro and Serbia are official EU candidates, while Kosovo and Bosnia and Herzegovina are potential candidates). Activists complain that it's often all done to please the West, with no actual political interest in human rights. Politicians remain reluctant towards publicly supporting the community, and some even make public homophobic statements. As a result, laws are rarely implemented. For instance, although Serbia has an hate crime law, judges almost never use it to give more severe punishments; similarly, the anti-discrimination laws in Bosnia and Herzegovina and in Albania have only been used a few times in the last years.
Even the election of Serbia's first woman and lesbian prime-minister this summer, which Western media praised and covered extensively, might not bring the desired change for the queer community. When I asked him about it, Serbian transgender activist Sasa Lazic told me:
It's definitely pink washing. She is first of all a politician for her political party, and then a lesbian. She's very close to the president. Recently, she said in an interview for the BBC that Serbia is not a homophobic country. Serbia, not homophobic? Who would believe her?
It was perhaps when I interviewed Antonio Mihajlov, an LGBTI activist for Macedonian organization Subversive Front, that I realized how important it is to get politicians involved in the cause. "In the Balkans, the celebrities are the politicians, and the approach to making an issue popular is a top-down approach," he stated. Subversive Front's approach shows there is hope for future political engagement that goes beyond EU-related interests. Mihajlov prides himself with his organizations' achievements. Together with all the LGBTI organisations in Macedonia, through meetings, conferences and advocacy, they have managed to push politicians from almost all Macedonian political parties into making public statements condemning homophobic attacks. In addition, the organisations behind Skopje Pride Week managed to have a politician opening the event for the first time. Mihajlov hopes that, with the Social Democratic Union of Macedonia now leading the coalition for power, things will slowly improve for the community.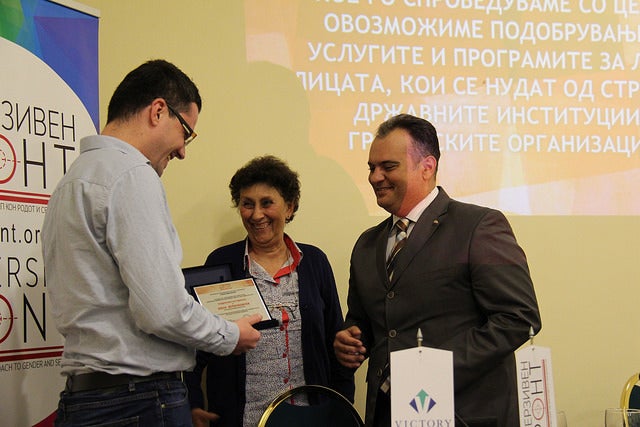 "The Biggest Challenge is Changing Society"
Public opinion of the LGBTI community is far from positive in the Balkans. Surveys conducted across the region (such as the 2015 poll carried out by the US-based National Democratic Institute) show that intolerance and ignorance when it comes to the queer community applies to more than 50 percent of the population. When people were asked what they would do if their son was gay, between 40 percent and 60 percent of respondents in the six countries mentioned they would try to cure them.
In Kosovo, 97 percent of people do not fully support the queer community. Activist Blert Morina from Kosovo confirms that changing public opinion is indeed "the biggest challenge." And transgender people are even more marginalized than the rest of the community. Morina recalls he personally feels the effects of the negative perceptions and lack of information around being trans: "it starts from the name: no one will call me Blert, because they will see me not looking typically masculine." In Albania and Serbia, the same negative perceptions lead to it being almost impossible for trans people to find jobs. Livia Zotrija, an activist at Aleanca LGBT, one of the main Albanian organizations, works extensively with trans people who become sex workers. She says this usually happens as a last resort, after being kicked out by their parents and unable to find any other type of employment. Aleanca tries to give unemployed LGBT people the necessary skills to find jobs, through workshops and discussions.
Violence and harassment are equally concerning when it comes to the six countries. According to ERA, the regional LGBTI organization, between 20% and 30% of LGBTI people have experienced physical violence. If we include verbal violence as well, between 50 percent and 81 percent of LGBTI people (depending on country) have experienced harassment. It is perhaps not surprising, in this context, that politicians too sometimes endorse violence either directly or indirectly. One of the most striking cases happened in Albania, in 2012, when Deputy Prime Minister Ekrem Spahiu, said "what remains to be done is to beat them up with a stick," when commenting about LGBTI activists holding a gay pride parade.
There is also a history of violence against public manifestations for queer rights. Bosnian activists had to deal with a group of football fans interrupting and harassing participants at the Merlinka Queer Film Festival in 2014. Similarly, the first pride parade in Belgrade, Serbia, in 2001 ended up with an ultra-nationalist group beating up participants. Because of the outcome, from 2001 to 2009, activists stopped organizing pride. The 2010 parade was met with another extreme violent reaction, which led to cancelling pride parades until 2014 by the authorities on "security concerns." It was only in 2014 that the first officially "successful" pride parade took place in Belgrade.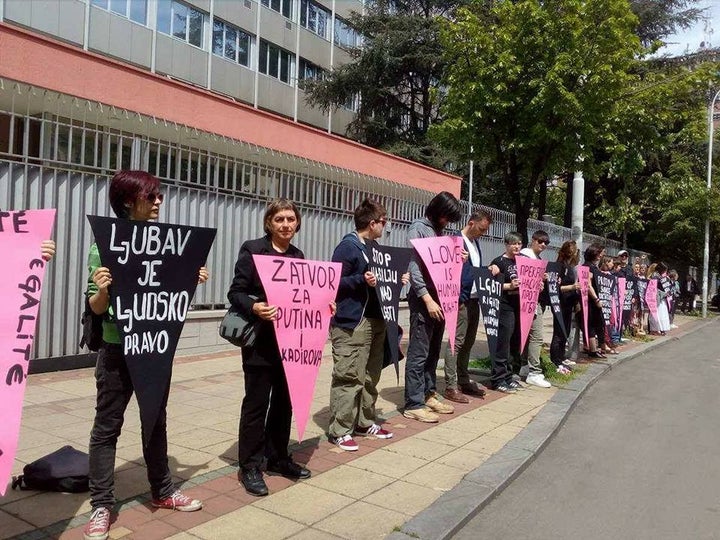 Shaping Media Representations
Media representations often shape public opinion. Although having a history of negative or inaccurate representations, media is slowly making progress towards fairly portraying queer issues in the Balkans. LGBTI organizations work extensively with journalists by offering trainings that help them understand the appropriate language they should use to report their stories. In Bosnia and Herzegovina, this has been particularly effective. Lejla Huremovic, who works with journalists on behalf of Sarajevo Open Center, is extremely satisfied with the progress:
last year, 2016, there were around 1200 articles in mainstream media [as compared to around 30 articles in 2012]. Most of them are positive, engaged articles, they understand the topic. If someone doesn't know how to report something, they call Sarajevo open center and ask for advice, and that is great.
The only country where a lot of reporting is still offensive or inaccurate is Serbia. This comes in the general context in which freedom of the media in Serbia has declined significantly since 2010, as reported by the Civil Rights Defenders group. When asking LGBTI activist Sasa Lazic about media portrayals, he quickly jumps: "it's a horror story!" He then remembers what happened at last year's pride: someone in a building near where the parade was took out a poster that read "criminalize sodomy," with a rainbow in prison, and, along with it, a flag of Serbia. Activists and pride participants started booing and protesting the homophobic poster. One newspaper, however, reported that homosexuals protested the flag of Serbia that the man had brought, thus showing ingratitude towards the Serbian government, which had paid for pride. Such misrepresentations continue to occur in wide-circulation newspapers.
A Growing, Powerful Movement: Queer Groups, Spaces and Pride Parades
The many challenges have led people to organize, especially in the past few years. Many new organizations and groups have been started, including ERA, a regional organization, meant to support and develop struggles for LGBTI rights in the Western Balkans and Turkey. Amarildo Fecanji, Executive Co-Director of ERA, confirms the growth of the movement in the Balkans:
I think the movement has matured a lot in the last years, and there is no turning back in that sense. There are a lot of new grassroots groups coming up all the time, and older organizations [are] becoming more and more professional.
Having two or three active organizations would perhaps not be considered a big step in Serbia, where more than 20 LGBTI groups have been active since 1990. Yet in more homophobic countries like Kosovo or Albania, this shows remarkable progress.
Among the newer organizations, groups that deal with issues that have been marginal to the movement before have emerged. For instance, XY organization, Serbia's first intersex group, was founded this year, and intends to include sex characteristics in Serbia's anti-discrimination laws. Moreover, some of Montenegro's trans community recently created Spectra, the first trans group in the country. For newer or smaller organizations, however, financial sustainability is an important issue- many end up having periods of inactivity due to the lack of funds.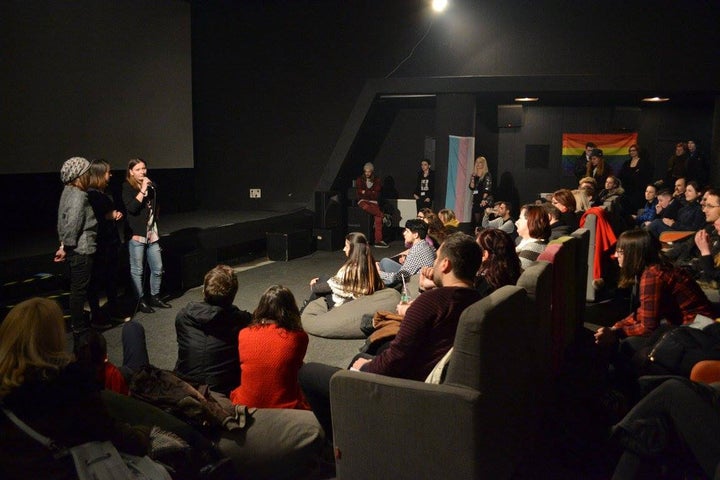 An important way to grow, for both newer and older organizations, according to Fecanji, is exchanging experiences and practices in the region. This was one of the initial purposes of creating ERA. The movement, is, indeed, rather united, with organizations collaborating on different events and projects. The biggest regional collaboration is ERA's annual conference, which took place last year in Pristina, Kosovo. Among its around 200 participants, there were activists, international community, researchers, media and government representatives. As a way of recognizing the importance of the LGBTI struggle, the opening ceremony took place inside Kosovo's government building.
The increase in activism is clearly visible if we look at the projects around LGBTI rights that have taken place: across the region, activists organize trainings for authorities (from judges or police to high school teachers and social workers); they lobby for rights and politicians are increasingly responsive; and, finally, they organize events and create spaces for the queer community. The lack of LGBTI-specific spaces is a problem activists are continuously trying to address. While Belgrade is definitely the "center" of the Balkans' gay nightlife, with regularly organized queer parties, four queer-specific bars and clubs and many other LGBTI-friendly spaces, in other cities, things are different. Most other capitals do not have gay bars, and the LGBTI people meet in community centers (such as Aleanca's offices in Tirana, Albania or the NGO Juventas' drop-in center in Podgorica, Montenegro) or at parties and events organized by activists.
Pride parades have also developed significantly, bringing increased visibility for the community: in countries like Serbia, Montenegro or Albania, where pride has already been going on for years, this meant the event attracted more and more participants. In Bosnia and Herzegovina, Kosovo and Macedonia, activists are hoping to start such events in the next few years. In fact, 2017 will be the first year activists in Kosovo publicly announce their pride march, thus making it open beyond activists and close supporters. Queer groups in Sarajevo, where an "unofficial" pride took place last year, as activists marched with banners and flags through the city center, want to make the event official as soon as possible. In Serbia and Montenegro, LGBTI groups want to expand, thus organizing pride parades outside the capital, where the movement is often centered. Pride becomes a way to protest for a changing of attitudes and for increasing rights, but also, as Montenegrin activist Vanja Gagovic puts it, a space to find community: "here, we traditionally have Slava, it's a celebration of a patron saint of your house, a yearly event and family and friends gather around it. Pride is something like that for us."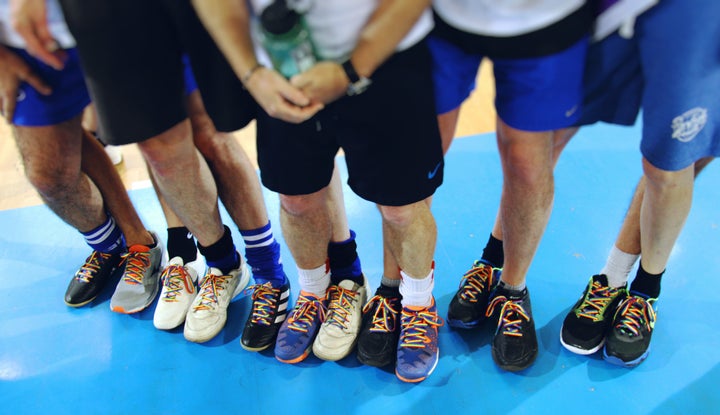 From low political involvement and negative public perceptions, to the increasing participation in pride parades and positive media representations, the situation of the LGBTI community in the Balkans is complex. Countries still often bare powerful contrasts; violence against LGBTI people does not seem like a pressing issue when attending Belgrade's vivid gay party scene. Being gay is far from being "illegal," as my friend suggested, and queer organizations have had a significant impact in society, through their work. Things are off to a good start- now it is up to activists to continue mobilizing, to keep being united and creative in their struggle. Whether they send a message through a graffiti that shows how diverse families can be (like activists in Tirana, Albania have done) or train high school teachers on LGBTI inclusion, their voices need to be heard widely. As ERA's co-director Amarildo Fecanji put it: "We, LGBTI people, are always on the front line in terms of creative approaches to changing society, and making the world a better place. We are still disorganized, but at the same time we are amongst the most creative communities in the world," It is perhaps through that extra creativity that the movement will make its essential next steps towards increasing rights and acceptance.
Popular in the Community