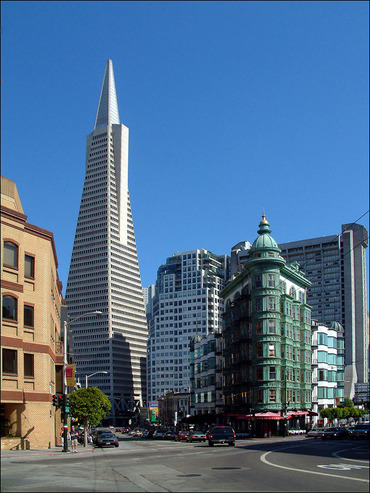 image (c) 2003 Graham Rogers
Whether it is the Black Lives Matter movement or North Carolina's recent bill that prevents transgender individuals from using the bathroom of the sex that an individual identities with, social justice remains an important topic. In an effort to address these issues of social justice, as well as highlight new research, international scholars from across the world will travel to the University of San Francisco for the 2016 Social Equity Leadership Conference, which will be held June 1-3 at the University of San Francisco's McLaren Conference Center. Established 15 years ago by the National Academy of Public Administration (NAPA), this annual conference brings together academics and public administration professions from as far as India to discuss social equity with regards to affordable housing, law enforcement, marriage rights, race, and technology and access.
Both the University of San Francisco and the conference itself are honored to host Lieutenant Governor Gavin Newsom as this year's keynote speaker. A graduate of Santa Clara University, Lieutenant Governor Newsom has committed his life to social equity issues and is thought by many to be one of the prominent thought leaders within this field.
Prior to holding office, Lieutenant Governor Newsom sponsored the Care Not Cash program, which provided city-assisted shelter and care to those that were without a home. Then, upon being elected the Mayor of San Francisco in 2003, he gained national attention by allowing same-sex couples to receive marriage licenses despite it being against state laws. This move is considered by many to be an integral piece to the marriage equality movement as it sparked a national discussion on same-sex marriage. Newsom was also very vocal in his disagreement with Proposition 8, which sought to reverse California's Supreme Court decision that it was against the constitution to prevent same-sex couples from getting married.
Having started 18 businesses, Newsom is also considered by many to be an astute businessman and was recognized as a Young Global Leader by the World Economic Forum.
Beyond the keynote address, this conference will also feature panel discussions, presentations from internationally recognized academics and pundits, as well as an open-forum Q&A. Presentations and discussions will be on a wide range of topics, some of which include:
● Health Disparities Experienced by Communities of Color
● Access? What Access? Lived Experiences of Trans People
● Police and Oppression
● The History of Segregation, its Effect on Affordable Housing Policies and Policy Making and Affirmatively Furthering Fair Housing
● Technology Issues: Data, Social Media and Internet Access
Tom Ammiano, a former State Assemblyman, SF Board of Supervisor President, mayoral candidate, and a leading organizer with Harvey Milk of the SF LGBTQ rights movement, has also agreed to step into the panel.
Given today's social climate, these issues of justice and equality are ever more important than years prior. Because of this, our goal with this conference is to educate attendees on issues that may not be obvious to them in their day-to-day life. We hope that they leave with a better understanding of social equality and a clearer insight on how to assist and improve global social justice as a whole.
For those interested in learning more, feel free to visit the Social Equity Leadership Conference page where you can find information on speakers and agenda, as well as hotel and transportation information.
REAL LIFE. REAL NEWS. REAL VOICES.
Help us tell more of the stories that matter from voices that too often remain unheard.