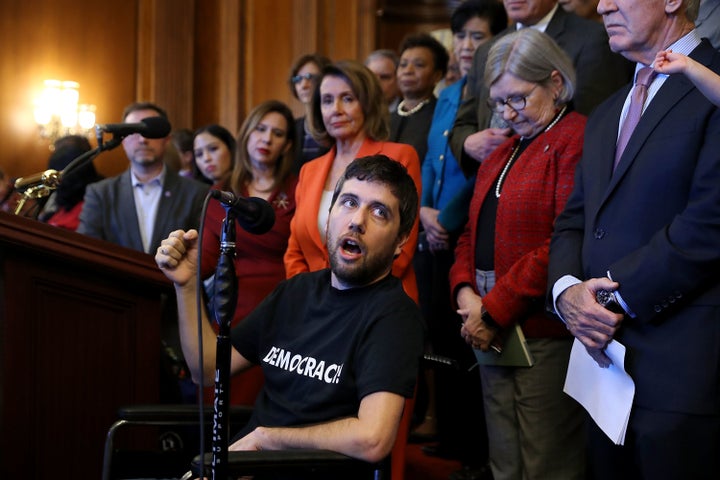 WASHINGTON ― At least 63 activists were arrested Tuesday during protests of the Republican tax bill and how it could limit access to health care.  
Progressive activists disrupted the final House of Representatives vote on the tax bill, yelling "Shame!" and other disparaging chants during the speeches and parliamentary procedures that preceded the vote.
To prolong the disruptions, most of the chants were done individually rather than as a group. Once a protester rose from the gallery to speak up, staffers quickly removed them from the chamber. They were subsequently subject to arrest by the U.S. Capitol Police, which reported 18 arrests.
"Liar, liar. You're lying. Only the rich people are gonna get anything," one woman yelled as House Speaker Paul Ryan (R-Wis.) described what he said would be the legislation's benefits for ordinary Americans.
As the woman was escorted out by staff, she prompted some laughter when she added, "You should go back to school to learn how to do math."
Another demonstrator promised political consequences for the Republican members who voted to enact the tax bill.
"We vote too," she declared. "We'll remember you. You're fired."
Another popular chant was "Kill the bill, don't kill us." When the final vote occurred, the group chanted in unison, "Shame, shame, shame."
Democratic lawmakers periodically signaled their approval of the protests with applause and cheering.
The last-minute disruption of the vote was the culmination of about three weeks of mass civil disobedience by progressive activists, many of whom are people with disabilities.
They have focused their criticism of the tax bill on the reductions in social benefits they anticipate. Since the legislation is expected to add $1 trillion to the national debt, it would trigger automatic spending cuts due to so-called "paygo" rules.
Liberal critics fear that even if Congress waives paygo rules, as Republican leaders have promised, it would create enormous political pressure to cut essential safety programs.
Ady Barkan, a leader of the progressive Center for Popular Democracy who was diagnosed with amyotrophic lateral sclerosis just over a year ago, gave new life to popular resistance earlier this month when a series of videos of him discussing the bill with Sen. Jeff Flake (R-Ariz.) on an airplane went viral. Barkan worries that the automatic paygo cuts would reduce Medicare and deprive him of the aid he needs to buy a ventilator and other essential medical care.
"You could save my life. Please, please remember this conversation," Barkan told Flake.
Barkan has since returned to the Capitol to be arrested multiple times in protest of the bill. He celebrated his 34th birthday on Monday with his participation in a die-in in the rotunda of the Russell Senate Office Building. He was one of 64 demonstrators arrested that night, according to U.S. Capitol Police.
On Tuesday morning, Barkan and other activists with disabilities joined House Minority Leader Nancy Pelosi (D-Calif.) at a press conference denouncing the tax legislation.
There have been hundreds of arrests at the Capitol in the past three weeks, including three occasions where Barkan was arrested. Barkan was among those chanting on Tuesday, but he did not get arrested.
In the final hours ahead of the Senate vote, activists ― many of whom traveled long distances to appear in the Capitol ― converged on the offices of a handful of senators to register their discontent one last time.
A delegation of over 15 people from Kansas, the vast majority of whom were under age 30, sought to have a meeting with Sen. Jerry Moran (R-Kan.). Moran's staff told them the senator was unavailable. Moran has at times expressed reservations about the tax bill, but his support for it has never truly been in question.
For the group of young activists from Kansas, it was specially disheartening that Moran would support a bill after the state's experiment with dramatic tax cuts. Kansas' bond rating was downgraded and its education funding gutted, prompting a revolt against Gov. Sam Brownback (R) from within his own party.
"Sen. Moran can't claim ignorance. He knows what has happened in our state," said Logan Hoover, a 28-year-old graduate student at Kansas State who drove two days to get to Washington, D.C.
Several demonstrators expressed concern about the tax bill's elimination of the individual insurance mandate, which the Congressional Budget Office estimates would result in 13 million fewer Americans having insurance.
Cameron Smith, 19, an undergraduate student at the University of Kansas, flew to Washington for the second time in two weeks to protest the bill. Smith was arrested during a demonstration two weeks ago and again on Monday. 
Smith has bipolar disorder, which she treats thanks to the health insurance she gets through her father, who is a career military officer. But Smith said, choking back tears, that she couldn't imagine what it must be like to have a medical issue and no coverage. 
The GOP tax bill "affects every other person who doesn't live in that top 1 percent," Smith said.
One of those people is Marlo Dean, 47, who flew in from Virginia Beach, Virginia, to protest the bill and the Medicaid cuts she anticipates it will generate. She brought her 15-year-old son, Dante, with her. He has a rare neurological condition called Batten disease, which requires around-the-clock in-home nursing care.
"The cuts to Medicaid and the program that Dante's in will take his life," Dean said.
Hoover, Smith and Dean congregated with others outside the office of Sen. Susan Collins (R-Maine), where several demonstrators staged a die-in to mimic the deadly effect they say that the legislation could have. Using the call-and-response technique of the "human microphone," protesters took turns telling stories of medical hardship. 
Speaking through a megaphone, the Capitol police warned those who had laid down on the floor that they were violating the law and would risk arrest if they did not move. Then, like clockwork, the police began creating a perimeter around the so-called "prisoners," obstructing the view of onlookers and reporters hoping to document the dramatic scene.
As of Wednesday morning, the Capitol police reported that there were 33 arrests during demonstrations in the Senate office buildings on Tuesday. An additional 12 people were arrested for disruptions during the final Senate vote on the tax bill on Tuesday evening.
One of the arrestees was Jenson Larrimore, a 36-year-old who decided to drive up from Richmond, Virginia, to protest the tax bill after seeing Barkan on television last week. Larrimore, a former chef, was riding on a moped during a visit to Maui, Hawaii, about 11 years ago. He lost the use of his body from his midsection down.
"I would not have lived and survived to tell the tale in this house had it not been for Medicaid," Larrimore said before his arrest.
Larrimore now lives on Medicare and disability benefits, and he was at the Senate office buildings to defend his benefits as much as anyone else's. But as the cops wheeled him away, his hands in zip-tie handcuffs in front of him, Larrimore warned able-bodied, gainfully employed Americans that the tax bill would hurt them too.
"If you think because you're not here, or you have a job, or you worked for it, that this won't affect you, then you're wrong," he said, his voice trailing off as the elevator doors closed behind him.
This story has been updated with information about the protests on Tuesday evening and more current information on the total number of arrests. 
REAL LIFE. REAL NEWS. REAL VOICES.
Help us tell more of the stories that matter from voices that too often remain unheard.
BEFORE YOU GO
PHOTO GALLERY
2017 Scenes From Congress & Capitol Hill