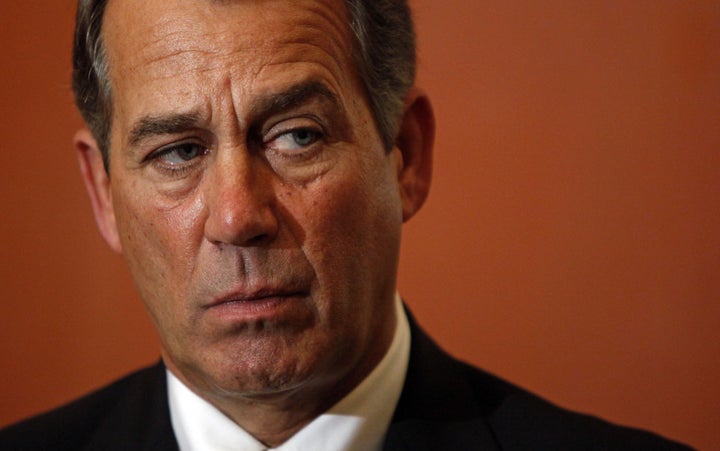 WASHINGTON -- Top labor and progressive leaders will fast this coming weekend in a late-stage effort to call attention to the inequity of the sharp cuts being considered in congressional budget negotiations.
The heads of MoveOn.org, Service Employees International Union, Center Community Change, Green For All, Color of Change, Courage Campaign, Presente.org and CREDO announced on Friday morning that they would join a fast started earlier this week by religious activists to spotlight perceived injustices in the proposed federal budget cuts.
Several of the leaders are planning to fast through Monday -- meaning that budget negotiations will most probably outlast the fasting. Others, however, have vowed to go on for weeks, and the groups are asking their members to join on an ongoing basis. The underlying goal, in the end, is not necessarily to derail negotiations -- which have centered around roughly $33 billion in cuts from current spending levels -- but rather to influence what types of programs end up on the chopping block.
"At a time when billionaires are getting massive tax cuts and Wall Street profits are sky high, balancing the budget on the backs of those most vulnerable in America is simply immoral," said Justin Ruben, Executive Director of MoveOn.org. "I am fasting because this budget will leave pregnant women and children hungry, sick people without healthcare, children without pre-school and students without teachers--while giving tax breaks to those who caused this crisis."
In an interview with Talking Points Memo on Thursday night, Sen. Chuck Schumer (D-N.Y.), the lead Democrat in the negotiations with House Republicans, echoed the concerns of these groups when he insisted that the party had "made good headway in getting some of their most reckless cuts off the table."
That said, Democrats have already moved well beyond what was once the self-determined cutoff for negotiations. Speaking several weeks ago, Majority Whip Dick Durbin (D-Ill.) insisted that the party had pushed to the limit what it would allow in discretionary spending cuts. That was at $10 billion. Since then, leadership and the White House have agreed to approximately $15 billion more in discretionary cuts.
The fast, which was first announced on Monday, is being led by Ambassador Tony Hall, Jim Wallis, president and CEO of Sojourners, Rev. David Beckmann president of Bread for the World and Ritu Sharma, president of Women Thrive Worldwide.
The list of those joining the fast includes some luminaries in the progressive and labor worlds. Mary Kay Henry, President of the Service Employees International Union; Deepak Bhargava, Executive Director of the Center for Community Change; Phaedra Ellis-Lamkins, CEO, Green For All, James Rucker, Executive Director, ColorOfChange.org; Rick Jacobs, Chair and Founder, Courage Campaign; Joaquin Guerra, Executive Director, Presente.org; and Michael Kieschnick, President and CEO, CREDO are all fasting this weekend.
This Post Has Been Updated With Additional Reporting
Popular in the Community