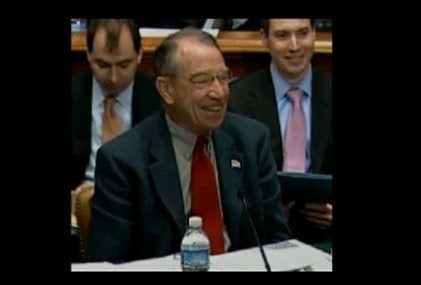 In a symbolic move heading into the final days of the election, a duo of progressive organizations is taking out a statewide ad on behalf of a Senate candidate that is barely on the radar of most prognosticators.
The groups, Democracy for America and Progressive Change Campaign Committee, are airing a spot targeting Sen. Chuck Grassley for the eccentric remarks the have come to define the Iowa Republican. In the process, the spot, narrated by a native Iowan and former Grassley supporter, makes the case that he's out of touch, a creature of Washington and in need of replacement by Roxanne Conlin, a prominent Iowa lawyer and Democratic candidate for his seat.
"Senator Grassley's ideas are old and many of the things he says are just an embarrassment to Iowa," says Kevin Shilling of Greenfield, Iowa.
The ad, featuring a veritable greatest hits list of Grassley inanity, is humorous if not effective bit of partisan banter. And it underscores the notion that in the current climate incumbency can be a burden for Democrats and Republicans alike (Grassley has served in office continuously since 1958).
But what's telling is that the PCCC and the DFA are advertising in Iowa in the first place. While there has been a scattering of polls showing Conlin within various forms of striking distance, the overwhelming likelihood is that Grassley will be sent back to Washington. The current pollster.com average of the race shows the Senate up 57 percent to Conlin's 34.3 percent.
So why put resources into a difficult slog when other races and Democrats could use the help? This may be the truest bi-product of the party's rift with the so-called "professional left." Underwhelmed if not overtly antagonized by the White House, progressive operatives haven't decided to sit out the 2010 elections, they've chosen to spend their resources on the candidates they like best, regardless of what convention wisdom would dictate to be higher priorities.
The ad is set to air on broadcast and cable television in the Des Moines market from Thursday through Monday. And it will be supplemented by online fundraising, which both the PCCC and DFA used as a tactic in August 2009 when they aired a separate ad with the same narrator targeting Grassley for his opposition to the public option.

Popular in the Community