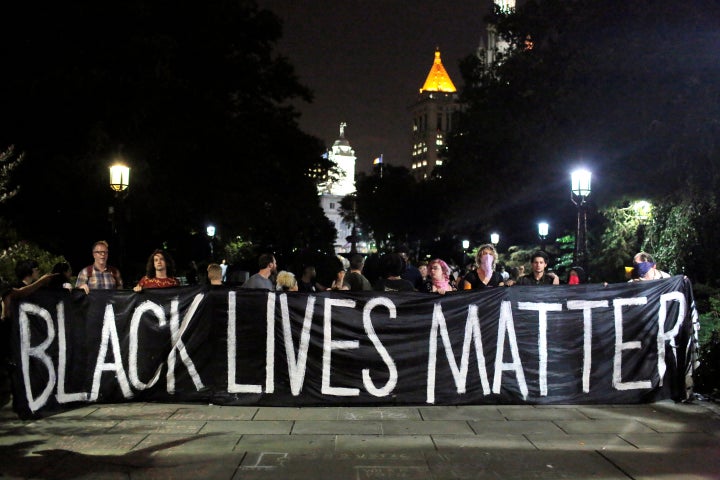 "As an organization that is largely white-led and that has a membership that's predominately white, we feel it's extremely important that we seize this moment to stand up with the organizers of the Movement for Black Lives in taking structural racism head on," DFA executive director Charles Chamberlain told The Huffington Post on Monday.
The decision came one week after Black Lives Matter activists interrupted former Maryland Gov. Martin O'Malley (D) and Sen. Bernie Sanders (I-Vt.) -- two candidates for the Democratic nomination for president -- at the progressive Netroots Nation conference in Phoenix, chanting, "What side are you on?"
Both candidates faced criticism for how they handled the protesters. O'Malley responded to the chants by saying, "Black lives matter, all lives matter, white lives matter," receiving boos from the crowd; he later apologized. Sanders appeared to grow frustrated and attempted to stick to his message of fighting economic injustice, assuring the protesters that he stands with them.
DFA, which was founded by former Vermont Gov. Howard Dean (D), revealed its new criteria in a statement on its website Friday. Previously, the group has asked candidates to state their positions on LGBTQ rights, comprehensive immigration reform, making college debt-free and expanding Social Security. Candidates now must also state their position on the Black Lives Matter movement, and make clear how they plan to address structural racism and the "culture of white supremacy." The change applies to candidates in all elections, from local to presidential.
"We need white candidates talking to white people about the Movement for Black Lives. We need to talk to each other if we're going to move America forward," Chamberlain said.
He cited the Netroots Nation controversy as the direct reason for the addition to DFA's endorsement questions, and said the group's membership was supportive of the new policy.
"We had already been working hard to support Black Lives Matter in a number of ways, but it was almost entirely reactive up until this event," Chamberlain said. "What we think is exciting about what these organizers did and the power of the direct action at the presidential forum was that it helped wake us up to the next stage -- to the position where we are taking this on proactively."
In its recent statement, DFA also announced their intention to help elect more minority leaders, citing a Reflective Democracy Campaign study that found "90% of the 42,000 office holders in the U.S. are white and 65% are white men." According to Chamberlain, the organization will strive to elect officials who are more "reflective of the very voters that are electing them to office."
Chamberlain also said the organization hasn't decided whether it will endorse a candidate for the Democratic primary election.
Popular in the Community