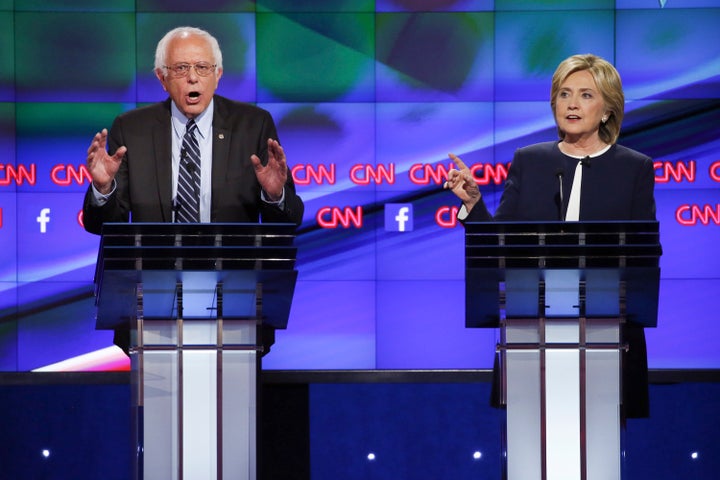 Progressive groups are taking their time on the question of whether and when to endorse in the Democratic presidential primary, even as many of their counterparts in the labor movement have rushed to back former Secretary of State Hillary Clinton.
Labor's coalescing around Clinton's presidential bid, more than two months before the Iowa caucus, signals their belief that she is the candidate best suited to win in a general election. The League of Conservation Voters endorsed Clinton last month, expressing the sentiment that it needed to mobilize its supporters early.
Progressive groups are proceeding more cautiously, even though they align more closely with Sanders than Clinton on a range of issues. 
MoveOn.org, which began as a petition asking lawmakers to "move on" from impeaching President Bill Clinton, has not yet initiated a presidential endorsement process.
"Right now, we're listening closely to MoveOn members as we determine our next steps about how to approach the presidential race. If we endorse any candidate, it will only be after a formal endorsement vote of the MoveOn membership," Media Relations Director Brian Stewart wrote in an email to The Huffington Post. He said the group regularly surveys random samples of its 8 million members about the "issues they care most about, which candidates they're supporting, etc."
MoveOn endorsed President Barack Obama in 2008, an action Clinton rebuked two months later, as she compared its effects to "a gusher of money that never seems to slow down." (MoveOn spent nearly $5 million in support of Obama during the election.)
MoveOn's supporters have noticed.
"Hillary Clinton slammed MoveOn.org for endorsing Obama in 2008, and she just snubbed your candidate forum. NOW will you endorse Bernie Sanders? PLEASE?" wrote Patricia Paquette of Washington state, who signed a petition calling on the group to endorse Sanders.
"That Hillary would skip the MoveOn candidate forum tells you how committed she is to progressive principles and voters. Show some spine and endorse the true progressive candidate," concurred Jonathan Tong, also of Washington state.
Though it's perhaps not surprising that MoveOn hasn't yet endorsed, given that it waited until Feb. 1, 2008, to come out for Obama, there isn't really a question that the group wanted a candidate other than Clinton. It joined forces with Democracy for America to launch "Run Warren Run," a quixotic effort to draft progressive Sen. Elizabeth Warren (D-Mass.) into the race.
Alas, Warren did not run, so the effort folded in June after MoveOn and DFA had spent $1.25 million opening field offices in Iowa and New Hampshire, holding events and commissioning polls.
DFA told HuffPost that it would begin its endorsement process this month, with an announcement likely before the next Democratic primary debate, which is on Dec. 19. The group will only endorse if a supermajority of those voting -- 67 percent -- back a particular candidate. (Neither Obama nor Clinton received a supermajority in 2007, so the group did not endorse.)
"Now that we're at the end of the year, this is the time for us to ask our members if we have a consensus candidate that we want to support," said Charles Chamberlain, the group's executive director.
Chamberlain said DFA had held off on endorsing because it was "working as hard as possible to pressure the candidates to be in the best place," which, this year, means focusing on income inequality.
The Progressive Change Campaign Committee, which has similarly encouraged the Democratic candidates to embrace "Elizabeth Warren-style economic populism issues," like debt-free college, Social Security expansion and Wall Street reform, would not say whether it will be endorsing in the primary. It has polled its members about what they think about the candidates.
"We have been focused this year on facilitating a race to the top on big Elizabeth Warren-style ideas," PCCC press associate Marissa Barrow told HuffPost. "We have not endorsed."
Warren hasn't herself endorsed Clinton, though she signed a letter urging Clinton to run for president in 2013. Warren was the only female Democratic senator to not appear at a fundraiser for Clinton Monday. 
One progressive group that isn't waiting to endorse is the Working Families Party. Voting began Monday and will continue for a week as the group decides on its first national endorsement in a presidential primary. (The organization's New York chapter endorsed Obama in 2008, but after he had secured the nomination.) An endorsement is expected sometime next week. 
The organization has been wielding its strength in elections. Two Working Families Party members won special elections for state legislative seats in the last year. (WFP has also elected members in various city council races and successfully pushed progressive ballot measures.)
"As 2015 comes to a close, people are tuning into the presidential race," Working Families Party National Director Dan Cantor said. "There are strong opinions on all sides, and it's a healthy debate. Our membership has helped us win big fights before, and we're eager to hear what they think is the best move for progressives in 2016."
Ari Rabin-Havt, a prominent progressive strategist and Sirius XM host, questioned whether it's more strategic for the groups to let more time pass before endorsing, as they did in previous contested Democratic primaries, to maximize their impact.
"One of the few moments of pure currency in an election cycle is the endorsement process, so why give it away early?" he asked. "Even though things get sped up, and we only have a two candidate process, you're still early into it."
"That's where they derive their authority, power and legitimacy from -- why give it so early, and so easily?" he added. "These groups will come to a decision when the time is right. I assume they're figuring it out in internal conversations."
The endorsement itself may not actually matter, according to Markos Moulitsas, the founder and publisher of Daily Kos, a progressive news website and online community. He suggested that progressive groups would be better served by elevating Senate candidates like Rep. Donna Edwards (D-Md.), who's running in a competitive primary to replace retiring Democratic Sen. Barbara Mikulski.
"MoveOn, PCCC and DFA members -- like our own at Daily Kos -- are all highly engaged politically," he said in an email. "Not a single one of them is in the dark about Bernie Sanders or Hillary Clinton. And if they're like my community, they've all picked a horse already and have already donated … So with everyone taking their own personal lead in the presidential primary, why would those organizations need or want to endorse? It would just piss off a significant chunk of their membership."
PHOTO GALLERY
Most Awkward Moments On The 2016 Campaign Trail
Calling all HuffPost superfans!
Sign up for membership to become a founding member and help shape HuffPost's next chapter