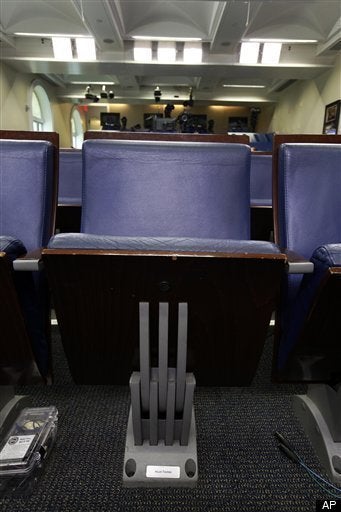 Two progressive groups are circulating petitions asking the White House Correspondent's Association to deny Fox News the coveted front-row seat in the White House Briefing Room.
The WHCA has said it will decide who gets the seat--vacated by Helen Thomas, who resigned following her controversial comments about Israel--on Saturday. Bloomberg, Fox News and NPR have all staked their claim to the seat.
The petitions, which are sponsored by progressive websites CREDO Action and Moveon.org, ignore Bloomberg, instead calling for NPR to get the seat. The CREDO petition says that Fox News is not a legitimate news organization:
"It's bad enough that we have to fight the constant smear campaigns and appeals to racial paranoia from FOX and the right-wing media. We can't let them have the best seat in the White House press briefing room and the legitimacy that it confers. Demand that a representative of a legitimate news agency get Helen Thomas' White House Briefing Room seat, not a right-wing shill from FOX...tell the White House Correspondents Association: NPR deserves to be in the front row, FOX does not."
Nearly 250,000 people have signed the CREDO Action Petition.
Moveon.org's petition struck a similar note, saying that NPR was a "real, public news organization" that deserved the seat.
"NPR would like to make it clear that we are not involved in any way in the petitions now circulating that encourage the White House Correspondents Association to select NPR for the lead White House correspondent seat...NPR was not consulted about either petition and we learned about them via Facebook and e-mail. We have no position on the petitions, and no comment on the other media organizations that are competing for the seat."
The question of who will get the seat has been a hot topic in Washington media circles. Ed Henry, the current president of the WHCA and a reporter for CNN, has said he thinks Fox News should get the seat.
Related
Popular in the Community