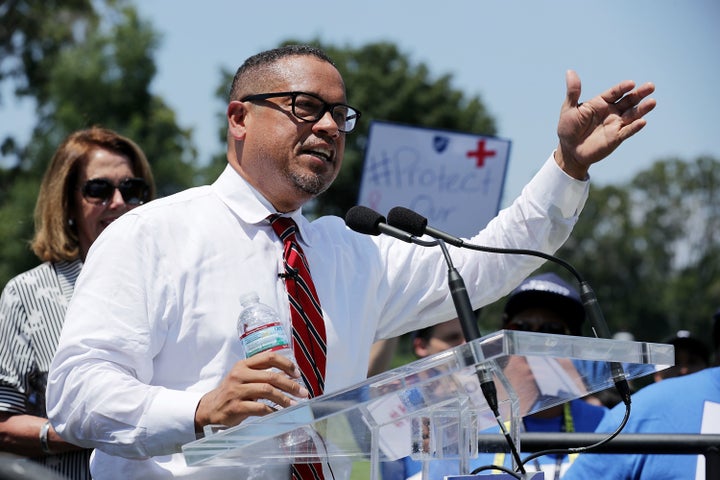 All but a few prominent Democrats and progressive groups have stayed silent on an ex-girlfriend's allegations of domestic abuse against Rep. Keith Ellison of Minnesota, a progressive leader and deputy chair of the Democratic National Committee running for the state's attorney general.
Their reticence to speak reflects a desire to see more evidence before judging his guilt, rather than an interest in shielding him from scrutiny, top progressives said privately.
The DNC, the Congressional Progressive Caucus, Our Revolution and Sen. Kirsten Gillibrand (D-N.Y.), who led calls for the resignation of then-Sen. Al Franken (D-Minn.), declined requests for comment. The Progressive Change Campaign Committee, Credo Action, Minnesota Democratic-Farmer-Labor Party Chairman Ken Martin and spokespeople for House Minority Leader Nancy Pelosi (Calif.) and Sen. Bernie Sanders (I-Vt.), a key Ellison ally, did not immediately respond to HuffPost's inquiries.
Democracy for America, one of many liberal groups that backed Ellison's run for chairman of the DNC, offered a statement affirming female accusers without commenting on the veracity of the claims made by the ex-girlfriend, Karen Monahan, a Sierra Club organizer.
"Democracy for America is not in a position to evaluate allegations made against a candidate in the closing hours of an election, but, as an organization, we believe that every woman who tells her story deserves to be heard," said DFA spokeswoman Annie Weinberg. "Domestic violence of any kind is unacceptable and has no place in our politics, period."
MoveOn tweeted a statement saying it is "deeply concerned about allegations regarding Keith Ellison."
"We will closely monitor this situation as more facts come to light," the group added.
The Democratic Attorneys General Association is not calling on Ellison to withdraw from the race. The group applauded the resignation of New York Attorney General Eric Schneiderman in May amid overwhelming domestic abuse evidence and has supported an investigation of Indiana Attorney General Curtis Hill, who remains in office as he battles allegations of groping.
"Any time we see allegations, we take it seriously, and we are watching what is happening in Minnesota to understand the facts of this particular situation," said the DAGA's executive director, Sean Rankin.
The accusations against Ellison came to light on Saturday night, less than three days before Tuesday's competitive primary for the Democratic nomination for Minnesota attorney general.
In a Facebook post, Karen Monahan's son Austin Monahan said his mother went through "pure hell" after ending her relationship with Ellison. Austin Monahan wrote that in mid-2017 he found a two-minute video showing Ellison violently dragging her off a bed as he cursed at her. Austin Monahan also said he found hundreds of text messages between his mother and Ellison that showed Ellison alternating between an affectionate and apologetic tone and "victim shaming, bully[ing] her, and threaten[ing] her if she went public." The post tagged two of Ellison's rivals in the Democratic attorney general primary: former state Supreme Court clerk Matt Pelikan and state Rep. Debra Hilstrom.
"Every statement he made was true," she said. Apparently addressing Ellison, she added, "You know you did that to me."
Ellison acknowledged that he was in a relationship with Monahan that ended in late 2016 and flatly denied the existence of a video documenting physical abuse.
"I still care deeply for her well-being," he wrote in a statement. "This video does not exist because I never behaved in this way, and any characterization otherwise is false."
"[Woman are] silenced by our system of oppression."
In a follow-up report, Minnesota Public Radio analyzed hundreds of text messages between Ellison and Monahan that she provided. MPR said it found an exchange in which she told him that she planned to write about their "journey" in a memoir of some kind, and Ellison responded, "Horrible attack on my privacy, unreal." In December 2017 she reportedly mentioned a video of him dragging her off the bed, and he did not respond.
None of the text messages offered evidence of physical abuse, according to MPR. And in a long statement on Sunday night detailing what she called "narcissist abuse" at Ellison's hands, Monahan did not once refer to such a video.
She told CNN, in a story published Monday, that she had misplaced the thumb drive where she was storing the video after moving homes and that in any event, the onus was not on her to produce the "embarrassing and traumatizing" video. However, CNN spoke with three of her friends who remembered her recalling the incident in the months after it allegedly happened.
This is also not the first time a woman has accused Ellison of abusive behavior. Amy Alexander alleged in October 2006 that he acted like a "little dictator" during an affair they had in the mid-2000s and that he shoved her during a confrontation in which he was trying to silence her. He subsequently secured a restraining order against her.
Just two groups have called on Ellison to withdraw from the race: the online women's rights group UltraViolet, and the National Organization for Women.
Toni Van Pelt, the president of NOW, told HuffPost that MPR's account of Monahan's accusations and Ellison's response to them was enough to convince her of Ellison's guilt. She interpreted Ellison's angry response to the idea that Monahan would write about their relationship as "a chilling, threatening message."
He should withdraw from the election, and every man considering an election run with a similar history of abuse should rule it out as well, Van Pelt said.
She rejected the notion that Monahan's claims were less credible because of their timing so soon before the primary. Women who have survived abuse often suffer feelings of shame and fear of censure that prevents them from coming forward, Van Pelt said. "They're silenced by our system of oppression," she said.
As national organizations debate how to respond to the allegations against Ellison, his rivals in the attorney general race are showing no such hesitation. Before the scandal erupted, he was widely favored in the contest.
One of his opponents in the race, former Ramsey County Attorney Tom Foley, called Ellison's denial of the charges "very Trump-like."
Ellison's "brief response pales in comparison to the specific details offered by a son who said he saw video on his mother's computer of her physical abuse," Foley said in a statement published by Fox 9, a Minneapolis–St. Paul TV station.
Before You Go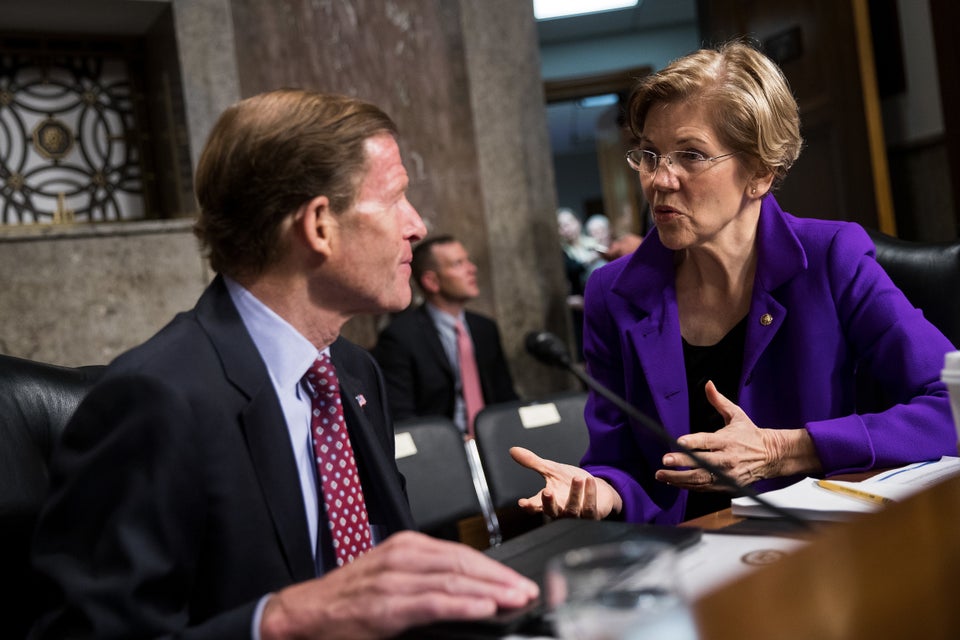 2017 Scenes From Congress & Capitol Hill
Popular in the Community