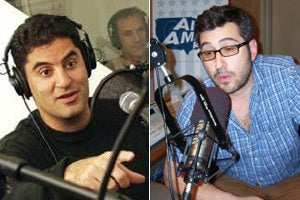 With MSNBC announcing that it was looking to fill its 10PM time slot with original broadcasting, two prominent self-avowed liberals are positioning themselves for the post.
Cenk Uygur, of the Young Turks Show, and Sam Seder, who headed a popular eponymous show on Air America, aren't taking the traditional route to the recently announced opening. Rather than rise through the cable news structure, they are using new media tools to organize their supporters and put pressure on MSNBC brass. In Uygur's case, the effort is billed as an election-year style campaign (think: Barack Obama meets "30 Rock.")
"We thought that it would be fun to run it like a political campaign and involve the online community as much as possible," said Uygur. "We're gonna use Facebook, bloggers, and friends in the online community ... In the end, there is only one real voter and in this case the voter is [network president] Phil Griffin. In reality, of course, there is a wider constituency there."
To that end, both Uygur and Seder have Facebook groups touting their rightness for the post, with 4,200 and 2,700 members respectively. The signatories are almost all of a progressive tilt. But they also represent the young, wealthy, tech-savvy demographic that leaves networks and advertisers salivating.
Both hosts know that this, in the end, is their trump card: the promise of transferring (and hopefully expanding) their following from radio and YouTube to a cable outlet. Uygur, for example, has roughly 300,000 viewers on a daily basis and recently passed 65 million views on his YouTube channel. Seder, meanwhile, was syndicated in more than 30 markets when he was doing his regular show, including New York City and Los Angeles. And he makes the case that his format would not only build off the audiences generated by current hosts Keith Olbermann and Rachel Maddow but -- because of its fusing of news and comedy -- serve as a "bridge" to Jon Stewart on Comedy Central.
"From a programmatic standpoint, I think it is obvious that the 10PM slot should hold and build on the audience that Olbermann and Maddow get," said Seder. "And there is some value in attracting the audience that then turns to Jon Stewart, and I think that, as far as a bridge between Maddow and Jon Stewart, I can fill that void."
This may be the case. But MSNBC may also feel compelled to add a non-ideological or even conservative voice to its prime time lineup. Currently, the station re-broadcasts Countdown at 10PM. Officials with the network did not return requests for comment.
But both Uygur and Seder argue that MSNBC has struck on a successful formula and has no reason to deviate from it.
"I was calling it the progressive dream team," said Uygur. "I love the idea of a 'murderer's row' [of progressives]. It would be Keith, Rachel, and then us..."
In the end, while Uygur and Seder want to build off the success of MSNBC's two other progressive voices, neither claims to be an extension of them. Uygur would like to structure his show on the current Young Turks format, which is more free wheeling and unscripted. "It is almost like Morning Joe in format but not in content," as he describes it. Seder, meanwhile, would try to blend serious news with a healthy dose of irreverence. And both, they say, would work to upend the traditional mores that tend to dominate cable news in its current format.
Says Seder: "I think Rachel [Maddow] has done some of this. And on my radio show, I think I was one of the first to give a national platform to people like Markos Moulitsas [founder of Daily Kos]. I look to bloggers not just because they are bloggers but because they do a great job of picking out information and news analysis."
"We are talking about a change of mindset," said Uygur. "We need to start bringing the new media into the old media."
Calling all HuffPost superfans!
Sign up for membership to become a founding member and help shape HuffPost's next chapter