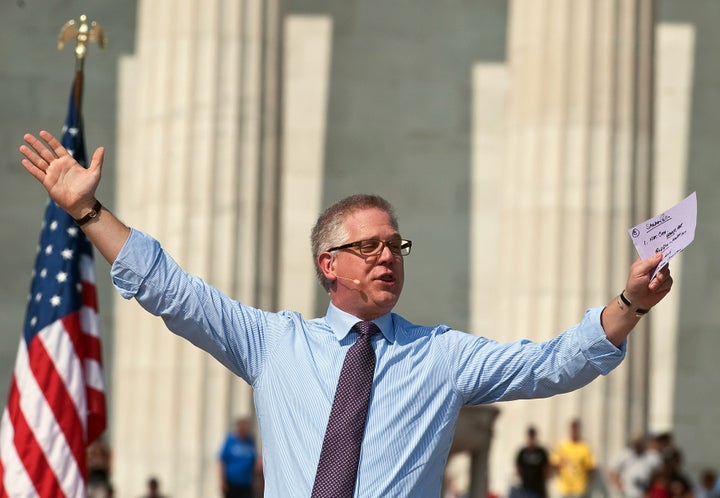 WASHINGTON -- The progressive group Americans United for Change is launching a campaign against Major League Baseball (MLB), pressuring the group to cut its ties to right-wing pundit Glenn Beck due to his history of controversial statements.
Beck recently left his high-profile spot as a host on Fox News to launch his own online network, GBTV. This spring, MLB Advanced Media, the interactive arm of the MLB, teamed up with Beck and agreed to provide him with a streaming video platform. Along with Beck's show, MLB Advanced Media streams more traditional sports fare, such as baseball games and March Madness.
On Thursday, Americans United for Change is launching the website Strike Out Beck, where people can go and sign a petition pressuring the MLB to drop the right-wing host. It will be accompanied by a Facebook ad campaign in big baseball towns -- St. Louis, Detroit, Dallas, San Francisco, Los Angeles, San Francisco, Oakland, Boston, Chicago, Philadelphia, Washington D.C., Baltimore and Milwaukee -- that will encourage people to check out the site and join in.
The Strike Out Beck site features the "Glenn Beck Hall of Hate," which highlights some of the pundit's most controversial comments, such as when he said that God was sending a message to mankind with the massive earthquake and tsunami in Japan.
"[W]hether you call it Gaia or whether you call it Jesus -- there's a message being sent," said Beck in March. "And that is, 'Hey, you know that stuff we're doing? Not really working out real well. Maybe we should stop doing some of it."
"When it comes to unhinged anti-government conspiracies, fear-mongering for personal gain, sexist remarks, and race baiting, Glenn Beck is in the Major Leagues -- and certainly in a league of his own when it comes to disrespect for families of 9-11 victims," said Tom McMahon, executive director of Americans United for Change. "That's why it's so troubling and disheartening that the good folks behind Major League Baseball would agree to what even FOX News couldn't stomach to do any longer: providing Beck with a platform to peddle more fear and spew more hate."
A second phase of the campaign, to be launched at a later date, will include writing letters to all 30 owners of the MLB on behalf of all the petition-signers, and will include more paid ads -- likely on sports radio.
Subscribers to GBTV pay $9.95 a month. Viewers who only want to watch Beck's two-hour show can pay a reduced price of $4.95 a month.
The MLB did not return a request for comment.
Watch the Strike Out Beck video: