Progressives celebrated a string of wins in Illinois' Democratic primaries on Tuesday, claiming a significant blow against Chicago's so-called Democratic Party "machine."
The victories, mostly in down-ballot races for state and local offices, were overshadowed by higher-profile congressional and gubernatorial contests, but the region's left-leaning activists believe they lay the groundwork for bigger pickups over the long term.
Key wins include Fritz Kaegi's defeat of Cook County Assessor Joe Berrios, who also serves as chairman of the Cook County Democratic Party; Aaron Ortiz's defeat of state Rep. Dan Burke (D); Ram Villivilam's defeat of state Sen. Ira Silverstein (D); and Brandon Johnson's narrow defeat of Cook County Commissioner Richard Boykin.
"The Chicago machine today is licking its wounds," said Clem Balanoff, a longtime progressive strategist and former state lawmaker who's now executive director of Our Revolution Illinois, a local chapter of the legacy group of Sen. Bernie Sanders' 2016 campaign. "They could be the fatal wounds."
"There's no doubt that change is in the air," he added.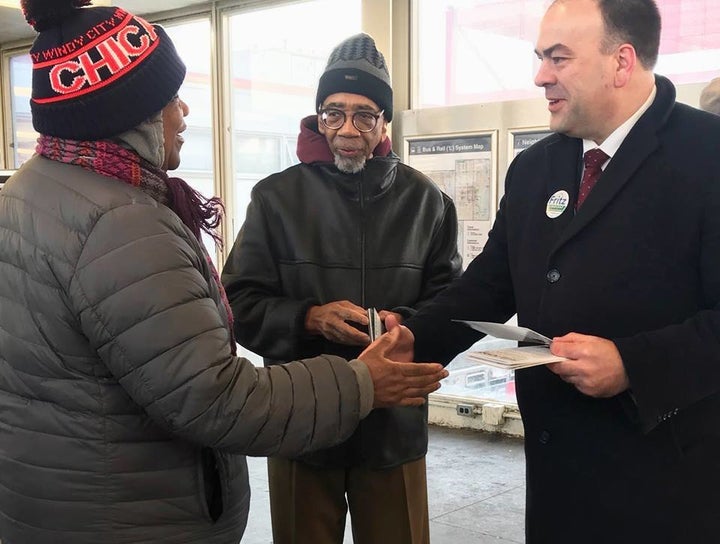 On the surface, the issues that dominated these down-ballot races were often far removed from the national discussion. But upon closer examination, they track closely with the intra-Democratic debates taking place across the country, where progressive newcomers are challenging incumbents to do more to curb growing economic and racial inequality.
In the case of the Cook County assessor's race, there was also the factor of seemingly brazen corruption in Chicago. Berrios, who has spoken unapologetically about securing government jobs for family members, was under fire after an investigation revealed that he had systematically been over-assessing the property taxes of less valuable homes and under-assessing the homes of wealthier individuals. Between October and February, Berrios received $276,000 in campaign contributions from property tax appeals attorneys who represent wealthy clients in cases Berrios oversees.
Balanoff was initially skeptical of getting behind a "financial guy" like Kaegi, a former mutual fund manager, but concluded that there was a "real genuineness" in his commitment to a more transparent and less regressive property tax assessment system.
With the help of Our Revolution Illinois and other grassroots groups, Kaegi prevailed Tuesday by promising a fairer system for the city's middle-class homeowners. He defeated the two-term incumbent and Cook County party chairman by 15 percentage points.
Victories like Kaegi's did not come about in a vaccum. Chicago's progressive movement has been growing steadily in recent years, beginning with a successful strike launched by the left-leaning Chicago Teachers Union in 2012.
The strike humiliated Chicago Mayor Rahm Emanuel (D), whose business-friendly policies had already put him on a collision course with grassroots activists. He has presided over massive public school and mental health clinic closings, as well as upscale urban development that has pushed out some members of the city's longtime black and Latino communities.
Efforts to check Emanuel and the coalition of politicians with whom he makes common cause have gradually matured since then.
There is no progressive movement anywhere in this country if it not does not underscore black, left progressive men and women winning elected office.

Stacy Davis Gates, Chicago Teachers Union
Chuy García came up short in his attempt to unseat Emanuel in 2015. But with the backing of the teachers union and other progressive groups, he shocked the Chicago Democratic machine by forcing an unprecedented runoff.
"What you've seen since then is a steady stream of movement in the electoral realm that this city hasn't seen before," Stacy Davis Gates, the political director of the Chicago Teachers Union, said of the 2015 race.
Sanders' 2016 presidential run gave the region's progressives another jolt of energy. In Hillary Clinton's home state of Illinois, she defeated Sanders by just 1.8 percentage points thanks in part to the enthusiasm Sanders inspired in Chicago's young people and restive activists.
By the time the 2018 primaries rolled around, there were several significant loci of progressive power in Chicago with the resources to recruit and elect a new crop of candidates. García's mayoral run made him a household name throughout the city and expanded his political organization in the predominantly Latino parts of western Chicago; Our Revolution Illinois was flush with energized activists; and the Chicago Teachers Union was spoiling for another fight.
United Working Families, a local branch of the labor-backed Working Families Party, had also made key inroads into the city's black and Latino communities.  
Together, these groups provided the financing and field organizing operations that younger or lesser-known candidates needed to challenge entrenched incumbents and compete in contentious open seats.
García, who was virtually assured of victory in Illinois' 4th Congressional District from the moment he stepped into the race, leveraged his political operation to ensure the election of younger progressive Latinos. The clearest beneficiaries from his reach in west and southwest Chicago were Alma Anaya, one of his former aides; Aaron Ortiz, a 26-year-old college counselor and member of the Chicago Teachers Union; labor activist Delia Ramirez; and immigration lawyer Beatriz Frausto-Sandoval.
Ortiz's win was especially notable because he unseated Dan Burke, 66, who had represented the state House district since before Ortiz was born. Ortiz criticized Burke for the ties of his brother, Chicago Alderman Ed Burke, to President Donald Trump. Ed Burke's law firm has saved Trump millions of dollars in taxes on Chicago's Trump Tower.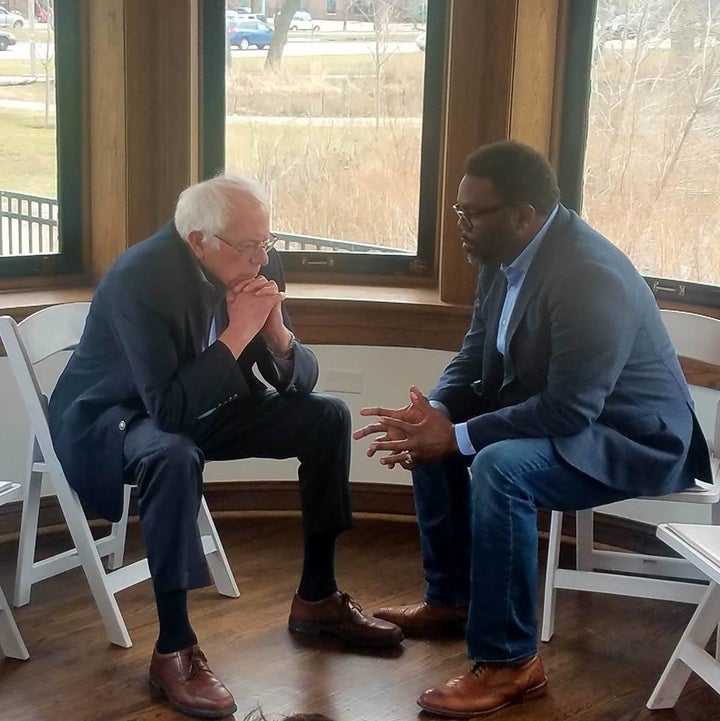 Brandon Johnson's Cook County Board Of Commissioners win, by a few hundred votes, also carried special significance.
Johnson, a Chicago Teachers Union member and organizer on the West Side, is now one of the Chicago area's most progressive black elected officials. One reason García lost in 2015 was because of his inability to peel black voters away from Emanuel.
Ensuring that Chicago's progressive leadership adequately represents the city's formidable black population is essential to electing a progressive mayor and other powerful leaders, according to Davis Gates. It also provides a road map for national progressives like Sanders, whose struggle to gain traction among African-American voters likely cost him the Democratic nomination, Davis Gates said.
"There is no progressive movement anywhere in this country if it not does not underscore black, left progressive men and women winning elected office," Davis Gates said. "It just doesn't happen."
"Bernie Sanders alone is not gonna be enough to compel black people to turn out and vote," she added.
At the same time, the teachers union's decision to go all in for Johnson reflected its disdain for Richard Boykin, an African-American corporate lobbyist and former chief of staff to Rep. Danny Davis (D). Boykin opposed Johnson's ideas to raise progressive revenue for the county that would enable it to save public jobs. He also responded to the city's epidemic of gang violence by calling for alleged shooters to be tried as "domestic terrorists" and inviting United Nations peacekeepers to occupy his district.
"People like Brandon Johnson are critical as we move ahead in this movement," Davis Gates said. "If the national scene is Joe Biden and Donald Trump, and Illinois has J.B. Pritzker and Bruce Rauner, we're gonna be in trouble."
Calling all HuffPost superfans!
Sign up for membership to become a founding member and help shape HuffPost's next chapter
BEFORE YOU GO
PHOTO GALLERY
2017 Scenes From Congress & Capitol Hill