The results of seven key district attorney races in California on Tuesday could trigger vast changes in how the law is enforced for more than 12 million Americans.
Progressives, who have spent millions backing DA candidates in recent years in the hopes of reducing the size of the world's largest prison system, are rooting for big wins in several of the state's largest counties in the first-round elections on Tuesday. If the top finisher in each race wins a majority of votes, they will win the district attorney office seat. If no single candidate captures the majority of votes, the top two candidates with the most votes will move on to a final round in November. California district attorney races are technically nonpartisan, so candidates are often not identified by political party.
Here are seven races to watch: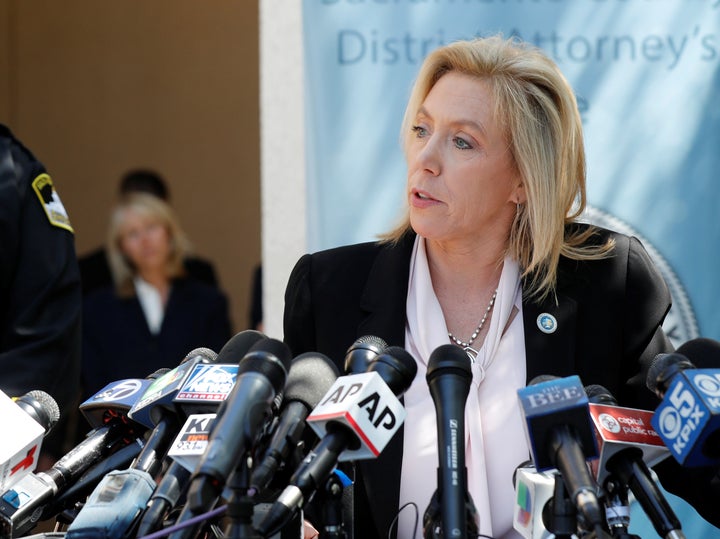 Sacramento County (population: 1.5 million)
Candidate Noah Phillips, who identifies as a lifelong Democrat, is a deputy prosecutor in the Sacramento County district attorney's office who is in a heated race against his boss, incumbent DA Anne Marie Schubert, a registered Republican.
Schubert, the county's DA since 2014, has been plagued by criticism after clearing police officers involved in recent controversial killings of unarmed black men. In 2016, Schubert did not bring charges against officers who attempted to run over a mentally ill, homeless black man before shooting him to death. Nor has she brought charges against the officers who shot and killed 22-year-old Stephon Clark in the yard of his grandmother's home. Clark's death sparked large protests in Sacramento. Schubert is also a leading proponent of the use of the death penalty in the state.
Phillips, who has served in the DA's office for more than two decades, supports reforming cash bail practices, reforming police practices, protecting undocumented immigrants and expanding resources to inmates reentering society after their release. Following the Clark killing, Phillips announced he'd address racial disparities in the criminal justice system. He's won the endorsement of the Real Justice political action committee, a group focused on electing reform-minded district attorneys around the nation, and Color of Change political action committee, a progressive group helping to mobilize black voters to elect reform-minded candidates around the nation.
Yolo County (population: 200,000)
Adjacent to Sacramento County in Yolo, deputy public defender Dean Johansson is challenging incumbent DA Jeff Reisig, who is seeking his fourth term.
Reisig, who has not faced an opponent since first running for the office more than a decade ago, has enacted some reforms while in office, notably a community court that aims to help keep low-level offenders out of the criminal justice system and has been called "progressive enough" by the Sacramento Bee editorial board. But Reisig has been criticized for not doing enough to reduce the racial disparities of charges and incarceration in Yolo County.
Running on a broad reform platform, Johansson, who has won the endorsement of the local Democratic Party, has pledged to support diversion programs for youth offenders to help keep them out of the criminal justice system, end practices that criminalize poverty, mental illness and substance abuse, and stop seeking the death penalty in the county's cases. 
Contra Costa County (population: 1.1 million)
Diana Becton, a retired judge and current interim district attorney for the county, is running against Senior Deputy District Attorney Paul Graves.
Graves has worked in the county DA's office for more than two decades as a prosecutor and is head of the family violence and sexual assault unit. He's won the endorsement of the East Bay Times Editorial Board, which said Graves, with his 22 years of experience as a prosecutor in the county DA's office, was its clear choice.
Becton, the first woman and first African-American to lead Contra Costa County's DA office, took over after the last DA was forced to resign in disgrace following a felony perjury conviction. Becton has pledged to reform cash bail practices, reduce racial disparities in sentencing and improve the outcomes for inmates reentering society. She's also won the support of the local Democratic Party and the endorsement of the progressive political action committees Real Justice and Color of Change. 
Alameda County (population: 1.6 million)
Incumbent Nancy O'Malley is facing the first challenger in her career as DA of Alameda County in civil rights attorney Pamela Price.
O'Malley, who was first appointed by the county Board of Supervisors in 2009 and ran unopposed in 2010 and 2014, is the first woman to serve as DA in the county. She's been lauded for various efforts in office, including the curbing of human trafficking and the clearing of past marijuana convictions in compliance with California's marijuana laws. But has also faced criticisms, most recently for taking a $10,000 contribution from the Fremont police union while she was investigating three cops, one of whom was head of the union, for their involvement in two fatal shootings last year. She later cleared the officers of any wrongdoing in the cases. She's been endorsed by the local Democratic Party. 
Progressive reformer Price, an advocate for criminal justice reform, has campaigned on ending cash bail, expanding alternative programs to help some offenders avoid incarceration, protecting undocumented immigrants and has pledged to create a police accountability unit to review allegations of misconduct by cops. She's also received endorsements of the progressive political action committees Color of Change and Real Justice. 
Riverside County (population: 2.3 million)
Incumbent veteran prosecutor Mike Hestrin is facing off against defense attorney Lara Gressley in Riverside County.
As district attorney, Republican Hestrin has pursued the tough-on-crime policies the office is known for. But he has also pursued innovations, expanding alternative sentencing programs and supporting crime prevention programs aimed at keeping at-risk youths from falling into the criminal justice system and reducing recidivism.
Gressley, who does not identify as either Democrat or Republican, has pledged to restore balance to the system. She supports alternative sentencing programs, including the ones Hestrin has implemented, but believes they could be further developed and better funded. She also supports cash bail reform and community crime prevention programs with the aim of reducing incarceration. 
San Diego County (population: 3.3 million)
In San Diego County, Democratic public defender Geneviéve Jones-Wright is challenging Republican incumbent Summer Stephan, who was appointed last year.
Stephan is a career prosecutor who has served in the office for nearly three decades. She's been lauded for her work in combating sex crimes and human trafficking. She also helped to establish diversion programs in the county, including one that aims to help homeless people who commit low-level offenses avoid convictions. But Stephan has been criticized for her lack of action reforming cash bail practices. Color of Change PAC, which endorsed Jones-Wright, said Stephan is "not committed to reforming policies that disproportionately harm Black and Brown people."
Jones-Wright is running a campaign pledging sweeping changes for the criminal justice system in the county, including reforming cash bail practices, establishing a DA-appointed panel to review police officer shootings, supporting alternatives to incarceration, avoiding charges for some low-level offenses and enacting restorative justice programs. She has also received an endorsement from Real Justice.
San Bernardino County (population: 2.1 million)
In San Bernardino County, former deputy district attorney turned defense attorney Jason Anderson is facing off against incumbent DA Michael Ramos, who is seeking his fifth term as San Bernardino's top prosecutor.
Serving 16 years as district attorney, Ramos, a Republican, has long pursued aggressive policies in the region, notably through the crackdown of gang offenders. He's long faced criticism for fighting the release of William Richards, a man wrongfully convicted of murdering his wife. Ramos fought for more than a decade to keep Richards, who was finally released in 2016, behind bars.
Anderson, who has received an endorsement from the progressive Color of Change PAC, has pledged to address racial disparities in charging and sentencing, establish a restorative justice program for adults with criminal records and increase transparency in office operations.
Calling all HuffPost superfans!
Sign up for membership to become a founding member and help shape HuffPost's next chapter