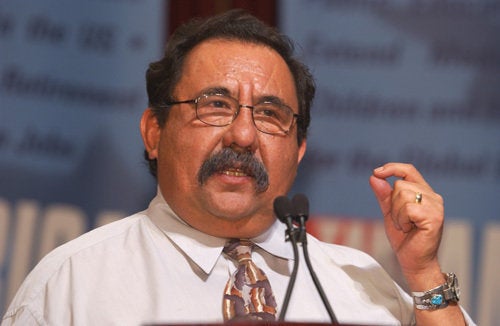 A key liberal lawmaker pledged on Wednesday that the progressive caucus in the House was not going to compromise on health care reform, emphasizing that it was acutely aware of its reputation for buckling under pressure.
Rep. Raul Grijalva (D-Ariz.) told the Huffington Post that he and fellow liberals within the House would not be "rolled" over in a key debate regarding the reimbursement rates rewarded under a public option. Noting that the preponderance of votes were there to reimburse providers at a rate paid under Medicare (plus five percent), Grijalva called out his party's leadership in Congress and the White House for entertaining a provision that would allow the rates to be negotiated.
"If the issue is who is going to blink first and the assumption is the progressive caucus is going to roll over... that is a test that leadership and the White House might want to reconsider," he said.
The Arizona Democrat spoke to the Huffington Post roughly an hour after he and fellow Democrats expressed similar concern to House Democratic leadership during a caucus meeting on Wednesday.
"We are trying to fit a square peg into a round hole," Grijalva said. "We are spending time looking for different machinations of what a different rate will be when we have an overwhelming number, a vast majority, who supports Medicare plus five."
According to Grijalva's whip count, there are currently 160 to 170 Democrats in the House who support the form of reimbursement rates favored by progressives. A proposal to allow rates to be negotiated individually with providers, by contrast, has the backing of less than 30 members, predominantly conservative Blue Dogs.
And yet, the congressman complained, the word he's getting from the higher-ups in the party, namely House Speaker Nancy Pelosi (D-Cali.), is that they should get more comfortable with the conservative approach or risk not getting a bill out of the House.
"I think that assumption is there and it is about to get tested. And unfortunately it will get tested over an issue that not only 70 to 80 members of the progressive caucus support but 100 other [Democrats] do too," he said.
"We might get fed up if we have to accept [this]," he warned, "and that might make it untenable for the progressive caucus."
Grijalva insisted that if Pelosi and the White House simply put their weight behind a Medicare-plus-five approach it would "get to 218" - the number of votes needed for passage in the House. He recognized that the politics were different in the Senate, where it remains uncertain that a public option -- even one watered down -- will get to the floor. But the congressman stressed that, if the goal was to placate Senate Democrats before they even produced a bill, it would make for bad politics and policy.
"I don't know if we are trying to give into the Senate before going to conference committee," he said. "That would be a big mistake if we go in with a weak hand."
Popular in the Community