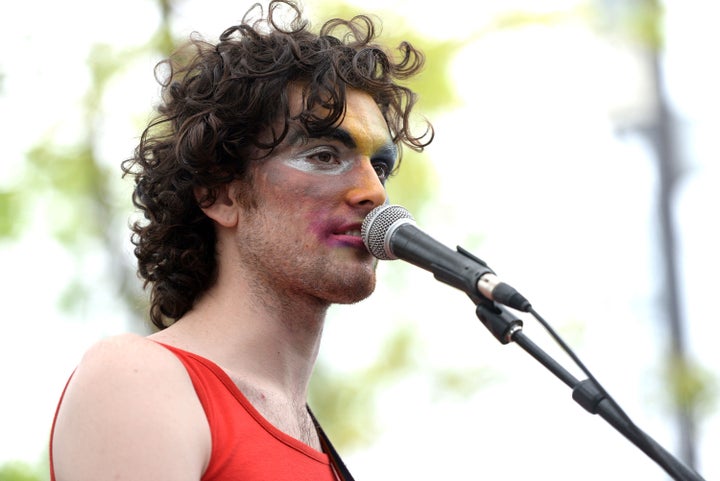 A member of queer punk rock duo PWR BTTM was recently accused of sexual assault, news that has taken the music industry by surprise. On May 11 a person claiming to be part of Chicago's DIY scene and queer community wrote on Facebook that musician Ben Hopkins is a "known sexual predator" and "perpetrator of multiple assaults." A band that was booked to tour with PWR BTTM tweeted they had been forewarned about Hopkins' predatory behavior and Jezebel posted an anonymous interview with a woman who says she was sexually assaulted by the rock star.
The fallout was swift: PWR BTTM, which has recently garnered critical acclaim from The New York Times and just released a sophomore album, was dropped by their management as well as their label, which pulled the band's music from all streaming services.
The allegations have shocked fans, many of whom idolize PWR BTTM for being one of the few gender fluid role models in a heteronormative music industry. The band is part of the "queercore" movement, a small subculture of punk that eschews aggressive masculinity, and writes songs such as "I Wanna Boi," and "Sissy." The gender-neutral Hopkins, who wears thrift store dresses onstage and a face smeared with glittery makeup, has become a queer icon and the band's shows are known as safe spaces ― the musicians demand every venue have gender-neutral bathrooms, and in November gave audience members access to a back entrance when homophobic protestors showed up outside a concert.
But given the complexity of many sexual assault cases, these allegations should not be surprising. They should instead serve as an important reminder that abusers can also come in progressive packages.
There's a societal tendency to think sexual violence predators fit one, misogynistic mold. That they are the type of people who anchor right-wing talk shows, leer at women on the street or brag about grabbing genitals. This limited definition makes the threat of sexual assault feel contained rather than omnipresent. The reality is that progressive politics don't preclude non-consensual sex.
When a queer person with enlightened gender values is accused of sexual assault it creates cognitive dissonance. Nobody expects a musician who champions safe spaces ― especially one who isn't a heterosexual man ― to face allegations of sexual assault. But you know what else we didn't expect? That America's dad's favorite pastime was allegedly drugging and raping women. There is no one-size-fits-all model of an abuser.
There are countless examples of people whose liberal values or artistic jobs have helped distract from their alleged criminal behavior. Bill Clinton, who signed the Violence Against Women Act, secured family leave, and lobbied for sexual orientation to be included in hate crime law, has been accused by three women of sexual misconduct and has infamously used his power to get sexual favors. Canada's Jian Ghomeshi used his high-profile status as a progressive radio host and renaissance man to allegedly sexually abuse 15 women (the court acquitted him of four charges). And let's not forget the long list of celebrities, including Casey Affleck, Roman Polanski, Woody Allen and Nate Parker, whose artistic work is at seemingly odds with the accusations or charges of sexual violence against them. (To be fair, the problem isn't only with men. The female self-proclaimed feminist founder of Thinx underwear was recently accused of sexual harassment by current and former employees.)
We all likely know someone who waxes poetic about gender equality during the day and becomes a total creeper in dark bars. In the worst cases, perpetrators explicitly use their liberal ideals as bait. The term "macktivistm" refers to men who espouse progressive politics to lure in female victims. A Jezebel article describes one man who was "fluent with women's issues such as body-image politics, female silencing and, most chillingly, consent," whom 20 women have accused of sexual assault and harassment.
Liberal values can also become a shield to help perpetrators defend themselves against allegations. Hopkins, who goes by the gender-neutral pronoun "they," used progressive gender ideals to bolster their innocence in a statement released Thursday. Though they denied the allegations, they wrote: "I am firmly committed to consent, to communication, and to mutual expression of sexual interest...I believe it is my responsibility to be accountable to this individual's perspective and to honor it accordingly." While there's no doubt PWR BTTM's values have improved the lives of many queer fans, these enlightened politics come across as hollow and manipulative when used to deny accusations of sexual assault.
While the PWR BTTM allegations will likely never be tried in court, they follow a well-known pattern: There's a prominent figure within a community whose sexual abuse certain members claim is well-known. Eventually someone posts a blog or a tweet about the person's behavior, which seemingly permits others to share corroborative experiences. This phenomenon recently occurred with an editor who ended his public writing career after a woman's blog post about his behavior led to multiple sexual assault accusations and with a music publicist who resigned after a woman tweeted an allegation of sexual harassment that prompted many other similar stories. 
While these accusations are incredibly painful for PWR BTTM fans, they are a good reminder that sexual assault perpetrators don't fit into neat categories. Sometimes, they are the aggressive men who grab women at bars and yell sexist slurs. But they can also be queer role models who sing about progressive gender messages while covered in sparkles.
Calling all HuffPost superfans!
Sign up for membership to become a founding member and help shape HuffPost's next chapter
BEFORE YOU GO