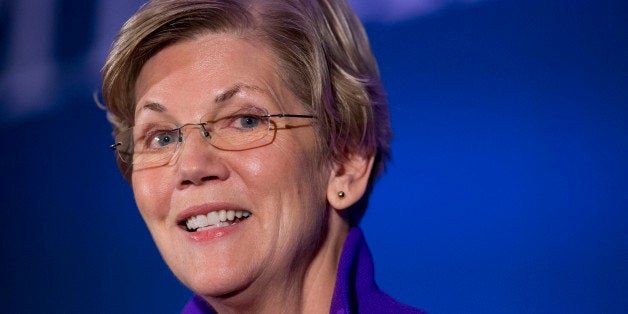 WASHINGTON -- The fight over the fate of Antonio Weiss, a Treasury Department nominee and former Wall Street investment banker, has taken on extraordinary symbolic importance for both the financial sector and progressive Democrats. Those sympathetic to Weiss argue that if his nomination is rejected, it'll make others in the private sector more reluctant to go into public service.
Reformist Democrats, meanwhile, counter that there are already more than enough Wall Street alumni offering their services to the government, and that the financial industry's influence on the Treasury Department is part of the problem, not the solution.
More than 100,000 progressive and populist voters are calling on President Barack Obama to withdraw his nomination of Weiss, a merger and acquisition specialist with the financial firm Lazard, as undersecretary of domestic finance, a position that would put him in charge of implementing Wall Street reform and managing Treasury's portfolio of roughly $17 trillion in debt.
Sen. Elizabeth Warren (D-Mass.), a leading advocate of financial reform, has made Weiss her top target, arguing that he has no expertise in regulation or in managing a portfolio, having instead spent his career advising on mergers, acquisitions and other large-scale structure transactions. He has, however, been a major donor to Obama and has retained a former Treasury official to help guide him through the nomination process.
"We already have too many Wall Street types in the Treasury Department," reads a petition being circulated by CREDO, a progressive activist group. "We need a Treasury leadership that understands Wall Street without being beholden to it, and represents different points of view than what you'll get from someone who has spent his life in investment banking."
The battle is a test of progressive power as the liberal faction appears to be on the rise within the shrunken Democratic minority in Congress.
Progressive pushback against Wall Street influence appears to have already cost one aspirant a new gig. Rep. Jim Himes (D-Conn.) was widely seen to be in line to take over the Democratic Congressional Campaign Committee and lead the recruitment for the House side. But after House Minority Leader Nancy Pelosi (D-Calif.) passed him over, Himes told a reporter in November that he believed his ties to Wall Street had cost him the job.
"My guess is, it was a factor, which is disappointing because I think the criticism is way off base," said Himes, a former Goldman Sachs banker whose district includes a high concentration of hedge fund and private equity executives.
Senate Majority Leader Harry Reid (D-Nev.) similarly appears to be shifting the caucus in progressives' direction after seeing the results of the midterm elections. Voters embraced issues like minimum wage increases and reproductive rights, and progressive senators like Al Franken (Minn.) and Jeff Merkley (Ore.) pulled through when more conservative Democrats did not.
"I plan to use it to make sure that people around this country have a real hearing," Warren told The Huffington Post in November. "I want a chance to be at the table when the Democratic leadership is making decisions. It gives me a better chance to fight for what I believe in."
Reid also announced that Sen. Jon Tester (D-Mont.) would be heading up the party's Senate recruitment efforts for 2016. While occasionally siding with Republicans on issues like the Keystone XL pipeline, Tester has a populist streak that puts him in line with the views of progressives like Warren on many key economic concerns. His decision last year to join with Warren, Merkley and others in opposing the nomination of Larry Summers to chair the Federal Reserve was key to Summers' demise.
"I think it's terrific Elizabeth [Warren] will have that seat at the inner table," said Merkley in an interview with The Huffington Post. "I think we needed to have a progressive at that table. It's great to have her there. Her presence will help keep pushing us."
But there is already movement to counteract the influence of senators like Warren.
Sen. Schumer (D-N.Y.) recently managed to add Sen. Mark Warner (D-Va.), a business-friendly moderate, to the party's leadership in the Senate, a move seen as an attempt to balance the effects of the more progressive Warren. Following the November midterms, Warner was one of six Democrats to vote against renaming Reid as head of the caucus in the new year.
Mike Darner, executive director of the Congressional Progressive Caucus, is hopeful that the growing strength of liberal voices will extend to the House as well. Although the incoming Democratic freshman class will be far smaller than its GOP counterpart, the CPC is poised to get as many as eight new members.
"Democrats who highlighted progressive principles on Election Day won," said Darner. "Ballot initiatives grounded in these values received overwhelming support in both red and blue states. Coming out of an incredibly tough electoral cycle, the Congressional Progressive Caucus is excited that our membership grew and the causes we fight for every single day were validated by voters from coast to coast."
Freshman Democrats also chose Rep.-elect Ted Lieu (D-Calif.) to be their class president. Lieu, a progressive state senator who will fill the seat being vacated by Rep. Henry Waxman (D-Calif.), was approached by a number of incoming freshmen about running for the position during a Progressive Change Campaign Committee policy briefing for new members.
Whether progressives gain ground in 2016 will depend in large part on recruitment efforts. Democrats have a chance to retake the Senate in 2016, when a handful of Republicans in blue and purple states who were swept into office during the 2010 GOP wave will be up for re-election. The question, however, is whether the party decides to recruit populist-progressive types in the vein of Warren, or more centrist, corporate-friendly picks such as Warner.
Merkley said that paying lip service to issues like economic fairness won't be enough. Democrats, he said, will need to show voters that they're fighting. Merkley pointed to the party's 2014 "Fair Shot" agenda -- which included pay equity, infrastructure investment and a higher minimum wage -- and said it was the right idea, but Democrats didn't do enough to show voters they meant it.
"I don't think voters believe we fought for it hard enough," said Merkley. "They saw that the Republicans blocked it, even though we had the majority. The Democrats had [the] majority eight years, and we still allowed, year after year after year, Republicans to block us from getting to a vote -- and not even making them stand and talk with the talking filibuster. So I think voters expect more. They don't expect just yes, you're going to vote, but that you're going to fight for working people."
"If we aren't willing to fight ... then we're letting them down," he added. "And I think voters have felt let down. That has to change."
Want more updates from Amanda? Sign up for her newsletter, Piping Hot Truth.
Popular in the Community