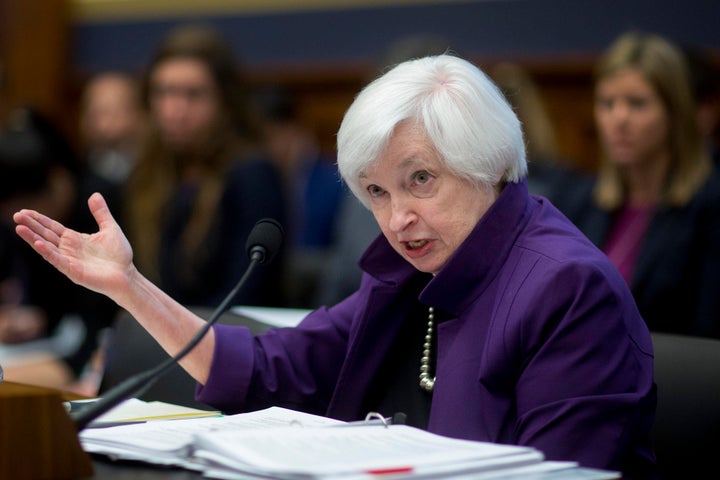 The Federal Reserve is poised to raise its benchmark interest rate later this month. But advocates of full employment on Tuesday once again warned that higher rates will inflict unnecessary economic pain on working Americans.
If, as expected, Fed officials raise the influential federal funds rate on Dec. 16, it will put downward pressure on economic demand, reducing potential job and wage growth. The central bank will have concluded, in such a scenario, that it must begin to put the brakes on the economy in order to prevent inflation from getting too high later.
Several Democratic members of Congress, along with low-income workers, community activists and economists associated with the progressive Fed Up campaign, held a briefing on Capitol Hill on Tuesday, arguing that a Fed interest rate hike next month would be premature. 
America needs a raise. That cannot happen without economic activity and a specific goal that we want unemployment down and wages up.

Rep. Brad Sherman (D-Calif.)
"America needs a raise," Rep. Brad Sherman (D-Calif.) said at the briefing, referring to a raise in pay, not interest rates. "That cannot happen without economic activity and a specific goal that we want unemployment down and wages up."
Sherman, who told Fed Chairwoman Janet Yellen in November that God did not want interest rates to rise in the winter, explained his argument in more worldly terms on Tuesday. He insisted that the Fed should at least wait for the economy to grow enough that employers begin competing for workers by raising wages.
"I look forward to hearing from the businesses in my community saying, 'Oh my God, we can't find the people we need.' Then I'll tell them, 'Pay them more money,'" Sherman said.
Sherman is one of 13 co-sponsors of Conyers' bill, which would prohibit the Fed from raising rates until the official unemployment rate is 4 percent or lower. Currently, the Fed has a dual mandate to maintain full employment and price stability through its adjustment of interest rates. The law permits the central bank to decide how it will achieve those goals.
Progressive critics of the Fed, including Conyers and Sherman, say the broad discretion enjoyed by the central bank has enabled it to prioritize concerns about inflation over full employment. A decision to raise rates now would show too much sensitivity to the risks of future inflation, rather than the present sluggish wage growth, they say.
While the official unemployment rate is down to 5 percent, wages grew at just 2.5 percent in the 12 months ending in October. Meanwhile, the consumer price index the Fed uses to assess inflation increased 1.3 percent over the same period -- well below the Fed's 2 percent target.
This is not a puzzle... It is the evidence for why it is too soon to start putting the brakes on the economy.

Josh Bivens, the Economic Policy Institute
For Josh Bivens, the Economic Policy Institute's research and policy director, however, the discrepancy is not a mystery. The low official unemployment rate conceals the degree to which workers have settled for part-time work when they want to work full time, or those who have given up looking for a job altogether.
"This is not a puzzle," Bivens said at the briefing on Tuesday. "It is the evidence for why it is too soon to start putting the brakes on the economy."
Top Fed officials do not appear to share those worries. Yellen told the House Financial Services Committee in November that she believed the economy was "performing well," making a rate hike in December a "live possibility." That was just days before October jobs numbers showed unusually high job growth, prompting a series of hints from other Fed decision-makers that a rate hike would be imminent, barring unforeseen economic changes.
One reason Yellen has said the Fed is willing to raise interest rates before inflation reaches the 2-percent target is that the central bank wants to preempt its inflation target. She said she does not want the central bank to "slam on the brakes" by raising rates dramatically when inflation does cross a key threshold.
The movement to lobby the Fed has yet to gain much traction in Congress. Still, Tuesday's briefing shows activists' success in advancing the Federal Reserve as a key progressive battleground -- an accomplishment that would have been unthinkable just two years ago.
The Fed Up campaign has, for example, made Fed policy a front in the fight for racial equality. Several economists and activists noted on Tuesday that people of color stand to lose the most if the Fed raises rates. African-Americans have an unemployment rate that is typically twice that of whites, making them especially sensitive to policies that allow unemployment to decline -- or prevent it from doing so.
William Spriggs, chief economist at the AFL-CIO, prefaced a presentation on the role of discrimination in black unemployment by asking the audience to consider whether "black lives matter to the Federal Reserve."
But at bottom, briefing participants made clear that the progressive Federal Reserve movement was born out of circumstances not of their choosing. Setbacks in other areas -- lopsided trade deals, the decline of unions, the stagnation of the minimum wage and political resistance to fiscal stimulus -- have converged to stack the deck against workers, making it all the more essential that the Fed permit the economy to expand unhindered, they argued.
"We are left with an economy that only generates wage growth when the economy is really, really tight," Bivens said.
PHOTO GALLERY
10 Best Economies In the World
Calling all HuffPost superfans!
Sign up for membership to become a founding member and help shape HuffPost's next chapter