Major progressive organizations are pushing the Democratic Senatorial Campaign Committee to deny funding to any Democratic senator who votes for, or otherwise enables the confirmation of, Supreme Court nominee Neil Gorsuch.
Credo, AllofUs, UltraViolet, Friends of the Earth Action, Demand Progress and other online activism heavyweights have already amassed hundreds of thousands of signatures on a petition to be delivered to the DSCC. 
Representatives from the groups plan to deliver the petition to committee headquarters in Washington, D.C., on Monday and demand a meeting with DSCC chair Sen. Chris Van Hollen (Md.). Some liberal leaders are also scheduled to speak out against Gorsuch at a rally in lower Manhattan on Saturday. 
"We need clear lines in the sand that demonstrate whether or not Senate Democrats are with us or against us. One of the clearest lines is where money flows from the DSCC," said Erich Pica, president of Friends of the Earth Action, an environmental organization.
Progressives are adamant about blocking Gorsuch's confirmation, because of his extremely conservative legal record. They believe he will pose a threat to major environmental regulations, abortion rights, worker protections and campaign finance laws.
They're also still angry that Senate Republicans refused to grant hearings to Merrick Garland, former President Barack Obama's Supreme Court nominee. Garland was far more moderate than Gorsuch, they note.
"Given how the Senate Republicans treated Merrick Garland, there is no reason to capitulate to the Republican demands," Pica said.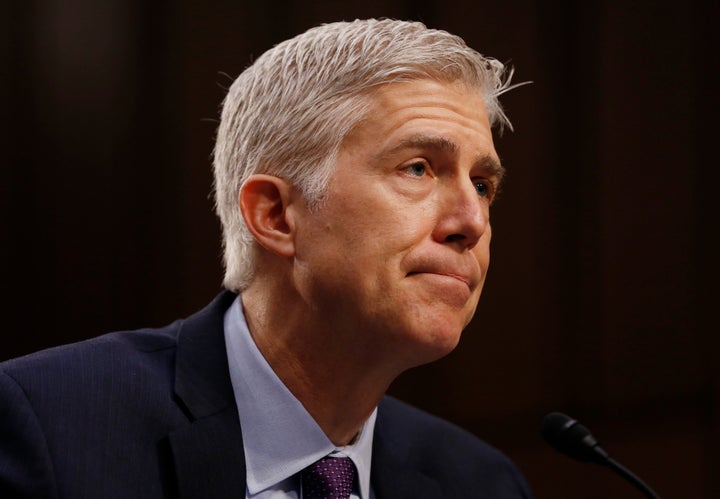 The actions in the coming days are designed to win over centrist Democratic senators considering backing Gorsuch, refusing to filibuster him or cutting some other kind of bipartisan deal that would ensure his confirmation.
Democratic Sens. Joe Manchin (W.Va.) and Heidi Heitkamp (N.D.), both of whom are up for re-election in states President Donald Trump won handily, announced on Thursday that they would vote for Gorsuch.
But Sen. Claire McCaskill (Mo.), who also faces a tough re-election battle, declared Friday that she would join an attempt to filibuster Gorsuch.
This brings the number of Democrats who have vowed to block the nominee to at least 38. Senate Democrats need 41 of their caucus members to agree to filibuster Gorsuch to prevent his nomination from coming up for a vote. Republicans could respond by eliminating the filibuster altogether, but Democrats are skeptical that they have the votes to do so and are willing to test the GOP's resolve.
The progressive groups intend to show that not blocking Gorsuch would mean paying a significant political price ― more significant for red-state Democrats, even, than breaking with the president. The success Democrats had in opposing Republicans' Obamacare replacement bill makes their argument more compelling, according to some of the progressive activists behind Monday's action.
Some activists even argue that it is not worth the cost of helping seat someone they regard as dangerous if blocking Gorsuch proves a political liability for some vulnerable Democrats.
"Any Democrat who would help advance Gorsuch's nomination is helping Trump attack vulnerable communities, and especially women. I don't think we need those Democrats," said Karin Roland, chief campaigns officer of the women's rights group UltraViolet.
Calling all HuffPost superfans!
Sign up for membership to become a founding member and help shape HuffPost's next chapter
BEFORE YOU GO
PHOTO GALLERY
LGBTQ Reactions To Neil Gorsuch's Nomination