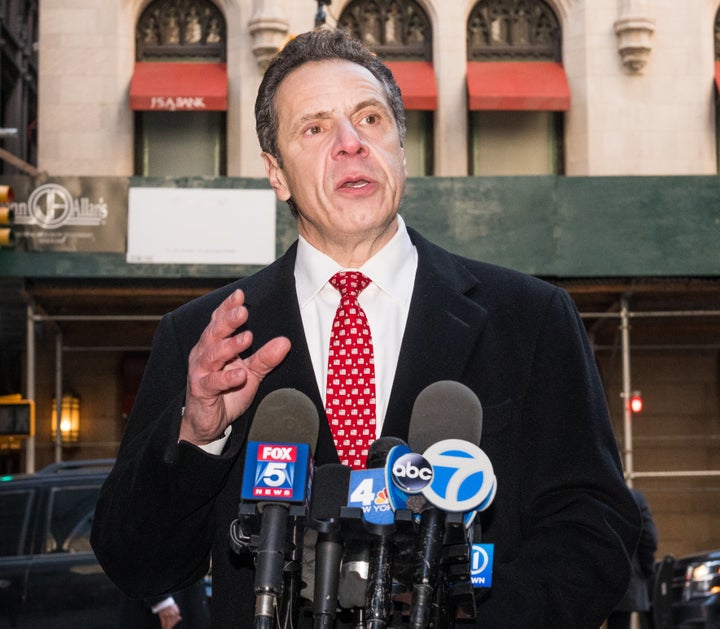 For years, a breakaway faction of Democrats helped Republicans control the state Senate in New York, one of the country's most liberal states.
On Wednesday, all that appeared set to change. The group of turncoats, known as the Independent Democratic Conference, have tentatively agreed to return to the mainstream Democratic fold, striking a deal that could ultimately hand Democrats unified control of New York government.
And progressives ― who've spent the past few years hammering the breakaway Democrats ― are declaring victory. Activists and the candidates they support see the outcome as evidence of the effectiveness of primary challenges against the IDC members, as well against New York Gov. Andrew Cuomo, the Democrat who brokered the agreement. They do not plan to let up anytime soon.
"The heat is clearly on. They wouldn't have agreed to come back to the Democrats, if they did not believe that their seats were at risk," said Alessandra Biaggi, a former Hillary Clinton campaign staffer challenging state Sen. Jeffrey Klein, leader of the Independent Democratic Conference.
The eight members of the IDC participate in a power-sharing agreement with Senate Republicans that affords them committee leadership posts and controversial financial stipends known as "lulus."
Prior to two recent vacancies, Democrats enjoyed a one-seat numerical majority in the state Senate. Republicans nonetheless controlled the chamber due to the outright backing of conservative Brooklyn Democrat Simcha Felder and the arrangement with the eight IDC members.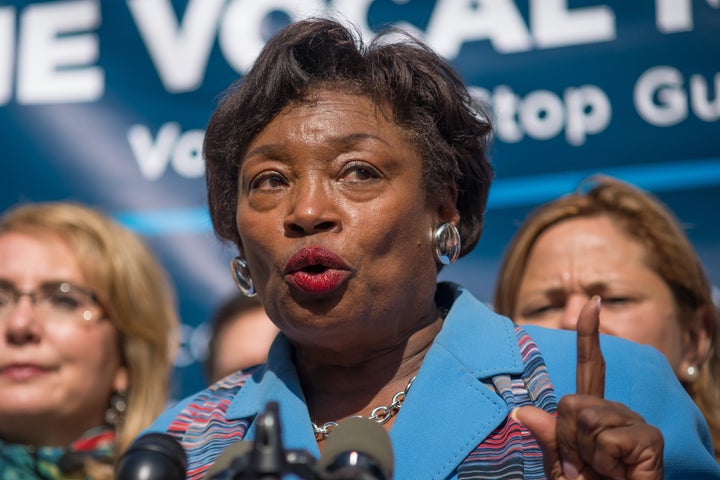 Until the 2016 election, many New Yorkers were unaware of the IDC and Felder's coalition with Republicans, which began in 2012. Anger at the election of President Donald Trump prompted new enthusiasm among New York Democrats that has dramatically increased scrutiny on state politics in general, and the IDC in particular.
IDC members blame Felder for Republican control, claiming they have moderated a GOP agenda that would pass with Felder's help anyway. But progressive activists, some of whom are backing a primary challenge against Felder as well, have lambasted the IDC members as "Trump Democrats." They note that GOP control of the Senate, enabled in part by the IDC, has prevented progressive climate action and single-payer health care bills that passed the state Assembly from coming up for a vote, and stalled or diluted other liberal legislation.
IDC critics have also drawn attention to the fact that under the current system, New York's budget negotiations are hammered out between four men ― Cuomo, Senate Majority Leader John Flanagan (R), Assembly Speaker Carl Heastie (D) and IDC Leader Klein who has been accused of sexual misconduct by a former staffer. IDC-enabled GOP domination of the state Senate prevents Democratic Senate Leader Andrea Stewart-Cousins, a black woman, from playing the leadership role in negotiations that Democrats' numerical majority would otherwise afford her. If Democrats regain control of the chamber, Stewart-Cousins would be the first black woman in charge of a legislative chamber in New York history.
This year, members of the IDC face their first serious primary threats. Biaggi is one of seven Democrats challenging IDC members with the backing of major progressive organizations like the Working Families Party. (State Sen. David Carlucci is the sole IDC member without a progressive challenger.)
Cuomo, often blamed for failing to leverage his power against the IDC and Felder, has also elicited a left-leaning primary challenge from Cynthia Nixon, an actress and progressive education activist. Nixon has made Cuomo's alleged complicity with the IDC a major theme of her run.
But at a Manhattan steakhouse meeting Tuesday evening where Klein, the IDC leader, and Stewart-Cousins, the Democratic Senate leader, were both present, Cuomo played the role of peacemaker. He publicly called on Klein to rejoin the mainline caucus as Stewart-Cousins' deputy, the New York Times reported and HuffPost confirmed from a Democrat close to Cuomo. Stewart-Cousins tentatively accepted the deal with a handshake at the time, and her caucus has since embraced it, though many details still need to be worked out. For Stewart-Cousins, it is an improvement on a November proposal blessed by Cuomo in which she and Klein would serve as co-leaders.
A condition of the deal is that neither former IDC members, nor mainline Senate Democrats would back primary challenges against incumbent members.
That means that the IDC's challengers cannot expect support from the mainline caucus. Biaggi shrugged the matter off claiming she never expected to run with their endorsements.
"The voters in this district who are hurting the most need the leadership of a true Democrat who favors things like tenant protection and closing loopholes that landlords have abused for so long," she said.
In an open letter to IDC members on Wednesday in which Biaggi and the six other candidates affirmed their decision to stay in the race, they argued that IDC members "cannot undo the damage that [they] have done by blocking a single Democratic state Senator in the room to advocate for common-sense progressive priorities."
Intent on punishing IDC members and securing a more progressive Senate delegation for its own sake, the grassroots coalition No IDC New York and the labor-backed New York Working Families Party are both maintaining their support for the IDC challengers.
"Grassroots groups are not gonna let up the pressure particularly when a lot of these candidates are getting momentum," said Sean McElwee, a Manhattan-based left-wing activist and policy writer affiliated with No IDC New York. "Spending 2, 4 or 6 of the last 8 years caucusing with Republicans ― the Democratic base isn't gonna forget that in a second because you had a steak dinner with Andrew Cuomo."
For her part, Nixon slammed the governor for supposedly allowing the IDC to persist for so long. Her campaign distributed dozens of links to articles suggesting he facilitated the arrangement and allowed it to continue so he could avoid voting on more progressive legislation.
"If you've set your own house on fire and watched it burn for eight years, finally turning on a hose doesn't make you a hero," Nixon said.
Cuomo insisted at a Wednesday afternoon press conference that primaries did not affect the timing or terms of the agreement. Instead, the policies of President Trump and the Republican Congress, as well as the two looming special state Senate elections on April 24, one of which is competitive.
"What we're saying here today is we have a common enemy," Cuomo said flanked by Stewart-Cousins and Klein. "And the common enemy is defeating Trump and Ryan and McConnell and defeating their agenda and taking over the New York state Senate so we can protect the state the way it needs to be protected."
However, Cuomo also revealed at the press conference that his re-election campaign would be coordinating closely with the campaigns efforts of Senate and Assembly Democrats. He framed the effort as a demonstration of his commitment to retaking the Senate, but it could also potentially create the perception that Nixon is running against the entire slate of New York Democrats.
A key matter of contention for progressives is the timing of the breakthrough almost immediately after the passage of a state budget in which Cuomo, together with IDC and state Senate Republican leaders, notably excluded key liberal priorities. Cuomo also chose to schedule the special elections for open state Senate seats vacated by two mainline Democrats only after the new budget's deadline.
Critics do not consider the new budget adequately progressive. IDC primary challengers highlighted that it failed to abolish cash bail, pass a state-level version of the DREAM Act or add new protections for vulnerable home renters. It also didn't incorporate an Assembly bill that aims to mitigate the impact of climate change on the state, they added in their letter.
"Now that the budget is done he can play like a progressive," McElwee said.
Meanwhile, the Cuomo-brokered deal with the IDC did not include Simcha Felder, whose vote is also needed to win back the Democratic majority. On Wednesday, Felder offered no clues about his intentions.
"I'm only loyal to G-d, my wife, my constituents and New Yorkers. I don't care about political parties and more and more New Yorkers feel the same way," he said in an email.
Before You Go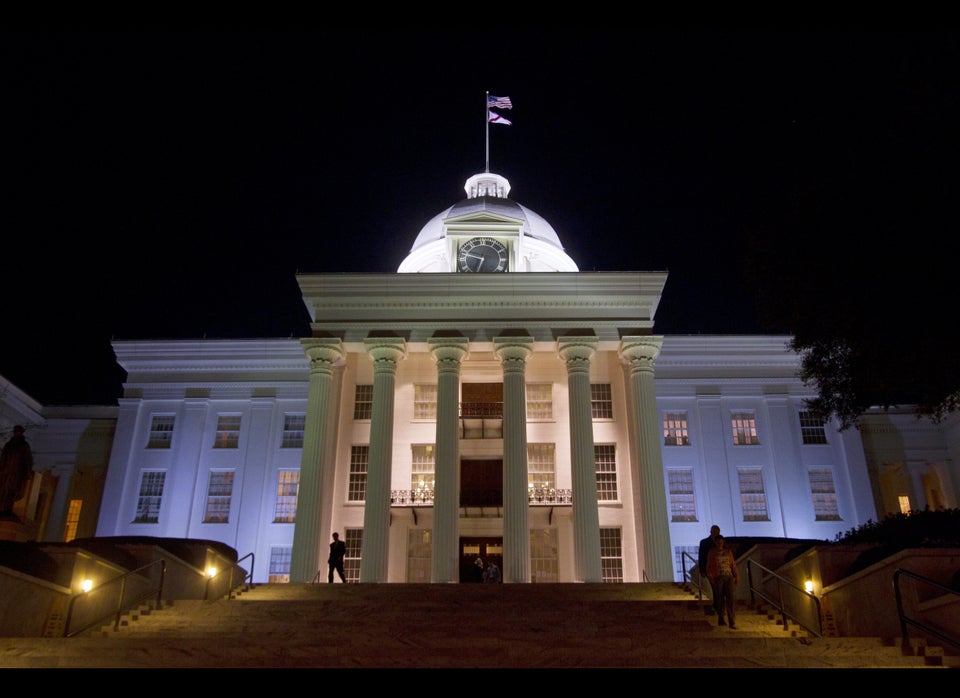 U.S. State Capitol Buildings
Popular in the Community