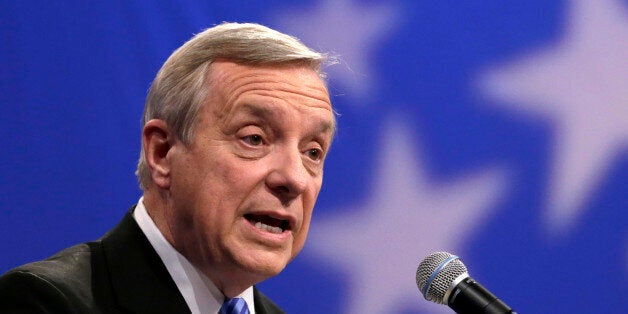 Friday, Senator Harry Reid announced he would step down at the end of this term -- ending a decade-plus of strong, effective progressive leadership of Democrats in the Senate.
His announcement set off a wave of speculation about who would run to succeed him as Senate Democratic Leader.
Most observers believed the announcement would serve as the starting gun for a year-and-a-half-long struggle between former roommates Dick Durbin of Illinois, the whip who is currently number two in the Democratic leadership, and Chuck Schumer of New York, who occupies the number-three spot.
Handicappers rated the race a toss-up. Durbin is widely regarded by his colleagues as a super-effective and politically generous leader and progressive champion.
Schumer is an effective bulldog who fights hard for his positions and helped many of his colleagues get reelected during his tenure as the chair of the Senate Democratic Campaign Committee.
But the prospect of a prolonged Schumer-Durbin battle cast a pall over the coming campaign by Democrats to retake control of the Senate in 2016.
So late Thursday night, after hearing of Reid's plans to retire, Durbin went to Schumer and told him that in order to prevent the divisive, distracting battle, he would not challenge Schumer for the leader position and would instead run again for his post of Democratic whip.
That was classic Dick Durbin. Durbin is an ambitious and successful political leader. But when the chips are down, he has always put the interests of his colleagues and the Democratic Caucus and his commitment to progressive values ahead of his own narrow personal interests.
That is precisely why Durbin is so beloved by his fellow senators, and why progressives of every stripe are thrilled that he will likely remain second in command among Senate Democrats.
Progressives view Durbin as an unwavering, relentless champion. And his reputation is well-deserved.
In the late 1980s, when he still served in the House, Durbin, like everyone else, flew back and forth to Washington on airplanes that allowed onboard smoking. For those too young to remember, this may be hard to fathom, but about half of every airplane was designated as the "smoking section." In fact, back then, when airlines served in-flight meals, they often included a three-pack of cigarettes right on the tray.
Of course, when a bunch of people light up in a small, cylindrical tube hurtling through the sky, the smoke on one end of the cabin does not stop at an invisible wall. It fills the airplane, forcing second-hand smoke on the entire flying public. That was back when tobacco industry "scientists" claimed that smoking had nothing to do with lung disease and cancer.
For years many air travelers complained. Durbin decided to change the law.
Against what seemed at the time to be impossible odds, he won. And it was the beginning of the end of the tobacco industry's reputation as an unbeatable, dominant power in the United States Congress.
Next time you fly an airplane and can breathe freely, thank Dick Durbin.
That battle was just one of many.
Years later a group of young, undocumented immigrants came to meet Durbin after he'd become a senator. They explained that they had lived their entire lives in the United States since being brought here by their undocumented, immigrant parents. They had been educated in America and wanted to make contributions to the only country they had ever known. Yet they were subject to deportation, could not serve in the military and in many cases were unable to go to college.
As a result of the meeting, Durbin, who had long advocated for comprehensive immigration reform, authored and championed what became known as the DREAM Act. And when it failed to pass the House, he worked with President Obama to help craft the president's 2012 executive action that allowed "Dreamers" to live and work in America and protected them from deportation.
Durbin is tough. He has joined Elizabeth Warren as a nemesis of the big Wall Street banks whose recklessness sank the world economy in 2008.
When small business owners came to Durbin complaining about how VISA and MasterCard extorted them (and ultimately their customers) by charging excessive fees every time a customer swiped a credit or debit card, he led a major battle to include provisions limiting those fees in the Dodd-Frank financial reform bill.
At the time, banks were charging merchants an average of $0.44 per transaction -- almost four times their average $0.12 cost.
Once the new law went into effect, it limited those fees to about twice their costs. It was not enough for Bank of America, who announced that to make up for their lost revenue, they would begin charging customers who used debit cards a flat fee of $5 per month.
Durbin replied by calling on Bank of America customers to vote with feet and move their money elsewhere. His call went viral. As Bank of America watched money hemorrhage from its accounts -- and faced a public-relations nightmare -- the bank had a "change of heart." It dropped the fee on debit card users, and the new merchant fee regulation stuck, saving ordinary people billions of dollars that would otherwise have been siphoned out of their pockets into the hands of Wall Street speculators.
Then there was Illinois' own Walgreens, the drugstore chain that likes to advertise that it is at the "corner of happy and healthy." Not too long ago, Walgreens decided to merge with a Swiss drug chain. Their plan was to do what is known as an "inversion," where the smaller company becomes the "owner" of the new merged firm and the headquarters are moved offshore, where they would no longer be subject to many U.S. taxes.
Durbin would have none of it. He launched a campaign to stop the inversion, with the memorable line that he didn't realize that "the corner of happy and healthy was in the Swiss Alps." As usual, he won.
Durbin was a forceful opponent of the war in Iraq.
Durbin led the charge against BP's proposal to increase the amount of toxins it could dump into Lake Michigan, charging the company with posing as a "green" oil company at the same time that it was making a business decision to trash the Great Lakes. BP backed down.
He has conducted a years-long campaign aimed at abuses by for-profit colleges that swindle students by providing substandard education and taking billions in student and taxpayer money.
Durbin was one of the principle architects of the law that reduced the massive disparity between sentences for drug offenders who used or sold crack cocaine, who were mainly African Americans, and those whose offenses involved powder cocaine, who were mainly white. And he continues to be a leader in the effort to change sentencing laws that have resulted in the incarceration of more black men today than were enslaved at the beginning of the Civil War. In fact, he points out regularly that even though it has only 5 percent of the world's population, America jails 25 percent of the world's prisoners -- a shocking stain on our claim to be the "land of the free."
Durbin is a major champion for gun violence legislation and proposals to limit global climate change, invest in America's infrastructure, and raise the wages of average Americans by strengthening their rights to bargain through unions over their wages and working conditions.
He has always spoken out forcefully for the rights of the LGBT community and was an early supporter of gay marriage.
He has championed equal pay for women and reproductive rights throughout his career, even though, as a lifelong Catholic, he has been denied communion by his local bishop because of his strong stand for choice.
But just as important as his passionate progressive stands is his understanding that it doesn't do anyone any good to take strong stands if you don't work like hell to turn those positions into reality.
No one has fought harder to elect fellow Democrats to the Senate -- to create a Senate Democratic majority that can actually pass proposals like the ACA, Wall Street reform, and comprehensive immigration reform.
That effort, by the way, extends to his home state of Illinois, where Durbin expends time and money to elect progressive Democrats at every level.
But of course what's most important to the job of whip -- the senator who is responsible for lining up votes and for keeping the Democratic Caucus in the Senate united -- is that Durbin is a brilliant political organizer.
Dick Durbin understands that the most important trait of a great organizer or a great political leader is empathy -- being able to put yourself in the shoes of other people, whether they are your potential allies or your adversaries. You need empathy to size up other people's self-interests and understand their motivations and needs. And you get that through really listening.
Durbin does a superb job of listening to the other members of the Senate Democratic Caucus, understanding their self-interests and aggregating those interests into common positions and unified action.
It would be hard to imagine a more effective Senate Democratic Whip. Most of the leaders of the progressive community I've talked to are glad we don't have to.
Popular in the Community