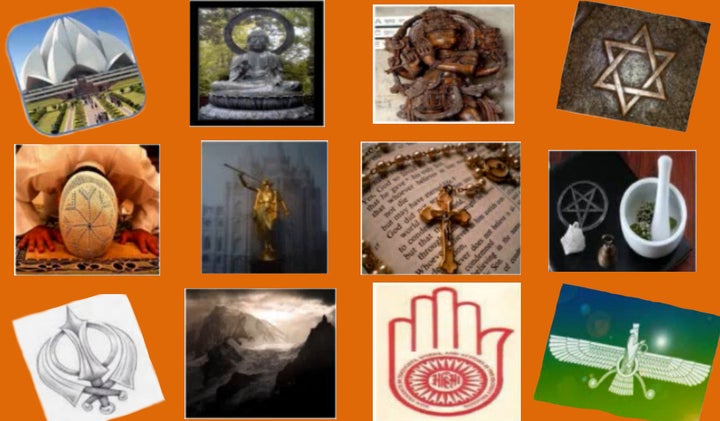 Andrew Bowen, 28, of Lumberton, N.C., is spending the 12 months of 2011 being "spiritually promiscuous," he says with a wry sense of humor. Each month he immerses himself in a different religion, adopting its rites and rituals, learning from its prayers and scriptures, meeting with its believers and sharing what he learns with the world. Bowen calls this yearlong effort "Project Conversion."
"Project Conversion came about because late last year I was at a point in my life where I was spending my time reading and writing about religion, but the rest of the world seemed to be up in flames about it and fighting about it so I was at a crossroads. Do I join this militant atheism to try and expunge out religion or do I try and do something about it?" said Bowen.
Bowen was christened a Baptist and his mother is still a Christian. His parents supported all his activities as he grew up as long as they were "legal, moral and ethical." In junior high school, his best friend invited him to join the non-denominational church where his friend's father was the pastor. "I took hold of the faith with an unfortunate zeal that led to my categorizing everyone as either Heaven or Hell-bound and I discriminated as such."
He was a devout Christian up until his early college years. "I carried my Christian faith into college, however its influence waned into virtual atheism as additional cultural options, such as parties, drugs and alcohol, presented themselves."
The seed for Project Conversion came during the writing of Bowen's first novel. "My love affair with religion began a few years ago as I began research on a new novel I was working on at the time. In the book, the protagonist believes he hears a voice which tells him of an imminent world-wide catastrophe due to religious violence unless he joined the faiths together. In order to do this, he must leave his home to learn from a master of each faith and return with the knowledge to bring them together."
During the first week of the month for each new religion, Bowen focuses on religious practices, worship and ritual; the second week, on art and culture; the third week, on social issues and conflicts; and the fourth week, on personal reflection on what he has learned about the specific faith he has immersed himself in that month. He spent the last three months of 2010 lining up mentors and resources for each of the religions. He assigned the religions to a specific month because during that month there is a holy day or other special observance specific to that faith. This is his 12 month schedule:
January: Hinduism
February: Baha'i
March: Zoroastrianism
April: Judaism
May: Buddhism
June: Fringe
July: Mormonism
August: Islam
September: Sikhism
October: Wicca
November: Jainism
December: Catholicism
Bowen is concerned about the anger and hostility generated by and toward religion in these times. He hopes to get people talking to each other and exploring religious ideas they have not considered before. "You open up the newspaper or cut on the television and there is usually something inflammatory going on about religion in the world."
"What if I do something so completely outrageous that it takes the attention off the fight and it gets people to talk about and share and look into faiths that aren't native to them before they start being indignant about it. The purpose of Project Conversion is to stop people in their tracks. Project Conversion is that shock and awe effort to try and bring some civility back to the table. It's a start," he said.
"It's like Islamophobia. You can chose to fear Muslims or anyone walking around with headgear or a veil on or you can smile and wave and strike up a conversation. The choice is yours. To stereotype people based on an idea rather than seeing them as individuals is wrong and is what's causing all this indignation we have going on now, " he said.
Bowen, husband and father of two young children, attends college and spends a very grueling day immersed in Project Conversion. He spends each day studying and practicing a faith, visiting houses of worship or believers, and learning from his mentors. He maintains a website and a Facebook page for Project Conversion and responds to dozens of e-mails a day.
"Although I'm not pretending to convert to any of these faiths, I am giving myself as fully as possible to their practices, beliefs, rituals and culture. It's 100 mph for a whole month. I have to digest material in 30 days that would take a normal devotee a lifetime. One cannot help but to start thinking, dreaming, acting, sleeping, eating, speaking, singing, even making love differently," he said.
Bowen doesn't see himself belonging to a specific religion in the future. There are just too many temptations. "When asked what my religion is, I always reply that I'm 'spiritually promiscuous.' Aside from trying to be funny, I'm illustrating the point that I love all faiths and believe that each holds a shimmering gemstone which illuminates the mosaic that is human spirituality. There's little chance I could ever fall for just one, because just as I start grooving on one, another walks by with a wink and I just become smitten all over again."
REAL LIFE. REAL NEWS. REAL VOICES.
Help us tell more of the stories that matter from voices that too often remain unheard.