While you are out and about grabbing last minute holiday gifts, why not grab a piece of costume jewelry or some new makeup for the girls helped by Project Glimmer, or you can give a piece of jewelry you already own. Project Glimmer is a nonprofit organization in San Francisco that provides a little piece of hope in the form of a gift to at-risk girls and women. It was founded by a gracious woman, Sonja Hoel Perkins, who in 2009 attended a party for the toy program at the San Francisco Fire Department and was dismayed to discover that the shelves slotted for Girls Ages 10-18 were mostly empty. She learned that most people donated gifts for babies and toddlers, largely forgetting the important demographic of female preteens and teens. She says she thought about "how horrible it would be to be a teenager girl, and to be at risk… and be forgotten." This upset Sonja; she thought about all the costume jewelry she had at home, as well as that of her friends, and she set to work. She collected jewelry, new makeup, and gift cards from her friends, and her friends' friends, and together they donated 800 gifts for those girls in need.
Thus, Project Glimmer was born.
Meet the Founder and Volunteers of Project Glimmer:
Since then, Project Glimmer has donated over 120,000 gifts to young girls and women in 21 states. While all the donated jewelry isn't new, it appears brand new, thanks to the hard work of the volunteers. "Boxing Joy" events are held several times a year where men, women, and children get to work polishing and boxing the donated gifts. Each gift includes a message tag, a pretty red bag, and is boxed in a smart brand new red box topped with a ribbon. It's then gifted to those in need through community partners and nonprofit organizations.
Sonja explains, "We let them know their community cares and we give them dignity and self worth... because when a girl believes in herself, she can change the world."
All ages volunteer at Project Glimmer "Boxing Joy" jewelry events; it's not uncommon to see a 4 year old boxing next to a 80 year old tying bows. The whole community comes together for this great cause, and the joy in the room is palpable. Project Glimmer believes that by giving a small gift, they are also offering these girls and women glimmers of hope. To receive a gift means someone cares about you, someone is thinking about you. It says, "you are not alone," and such a gift cannot be boxed or tied with a bow. It must simply glimmer and grow within the heart and Project Glimmer does just that.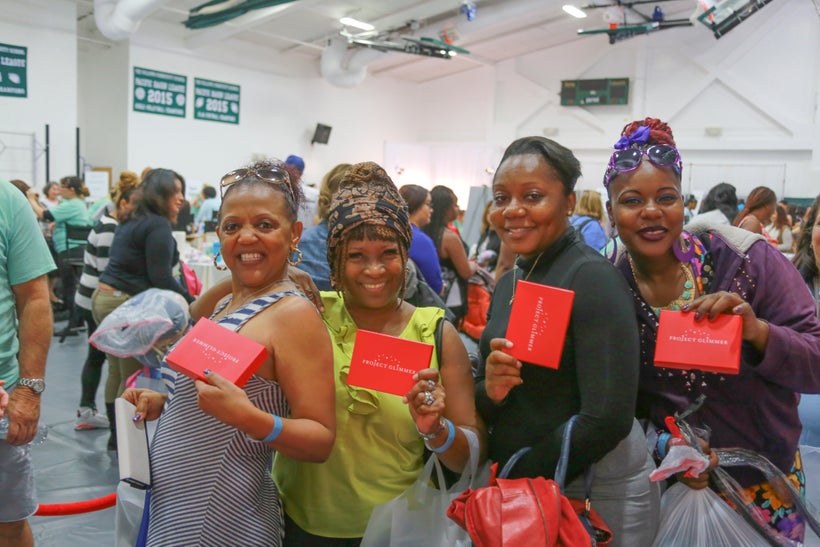 Through Spotlight On Giving, many people ask me for something simple they can do to give back- not only a great opportunity to volunteer, but also something they can donate that they know makes the difference. This one is easy! If you have some costume jewelry at home, new makeup, or you've grabbed an extra gift card at some point, put it in an envelope, seal with a kiss and send it to:
Your gift can make the difference for a girl in need. Project Glimmer accepts gifts anytime, and while it is indeed the Season of Giving, please remember this fantastic organization when you are cleaning out your jewelry box, buying new makeup, or purchasing a gift card for a teenager. Give a little glimmer and give a little love.
REAL LIFE. REAL NEWS. REAL VOICES.
Help us tell more of the stories that matter from voices that too often remain unheard.
This post was published on the now-closed HuffPost Contributor platform. Contributors control their own work and posted freely to our site. If you need to flag this entry as abusive,
send us an email
.