It's not every night that you can walk in the doors of NĒCHE restaurant and lounge in Town Square, Las Vegas and be greeted by a flamboyant flock of queer nuns. But tonight I'm here for a special fashion event hosted by the Sisters of Perpetual Indulgence. Founded in San Francisco in 1979, the Sisters now have 37 fully professed Houses in the United States and are found as far afield as Australia, Uruguay and the United Kingdom. The Sisters are devoted to community service, ministry and outreach to those on the edges, and to promoting human rights, respect for diversity and spiritual enlightenment.
In Las Vegas the Sin Sity Sisters of Perpetual Indulgence have developed the Sisters AIDS Drug Assistance program and are known for hosting popular events such as the annual Red Dress fundraiser. The original Project Nunway event was created by Sister Baba Ganesh of the San Francisco House and inspired by the late Fellini Film "Roma" and Bravo's Project Runway.
The inaugural Las Vegas event pairs Sisters with designers to create a high fashion look based on the theme of Seven deadly sins: vice and virtue. In addition, each designer is required to spend no more than $100 and must work with recycled, reclaimed, or reused materials. Full disclosure – as a guest judge on the six-person panel, I am given a folder with details on the creative process and materials employed by the nine participating designers. They are Chris Cope, Jamie Flippelli, Jim McCoy Joseph Charles Poli, Justin Derrick Liming, Karl Nash Martinez, Matthew Cox, Paradox Bootblack and Reyna Herrera and their backgrounds range from fashion and costume design, to art and interior design.
Before the models hit the 'nunway', guests are treated with a variety of entertainment including drag performers Carnie Asada and Keyska Diva, percussionist Antwan Davis, singers Reishi Shukla and Ricke Beltran, the Gypsy Nation belly dancers and comedian Father Jimmy Cruisin. But once the parade of Sisters showcasing the outfits begins I focus on scoring the designs on multiple points of creative interpretation and technical achievement. Many of the designs have dramatic impact, others are witty and entertaining and all feature innovative use of recycled materials.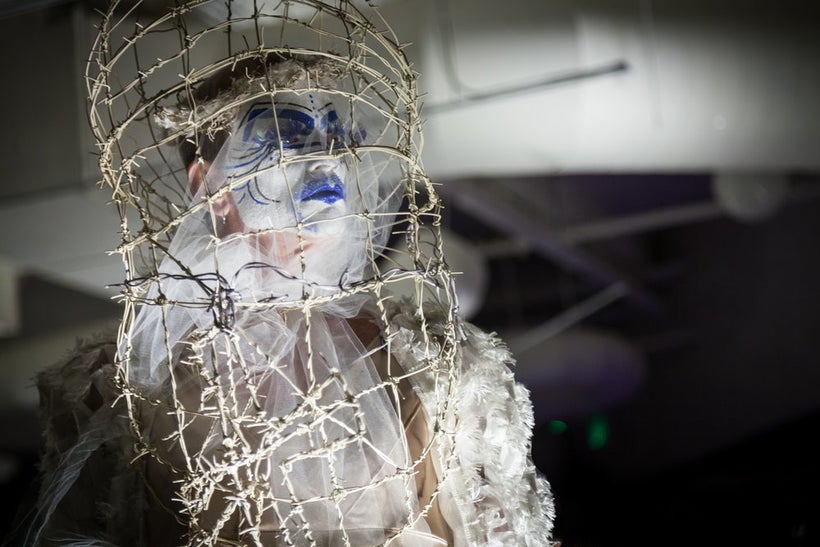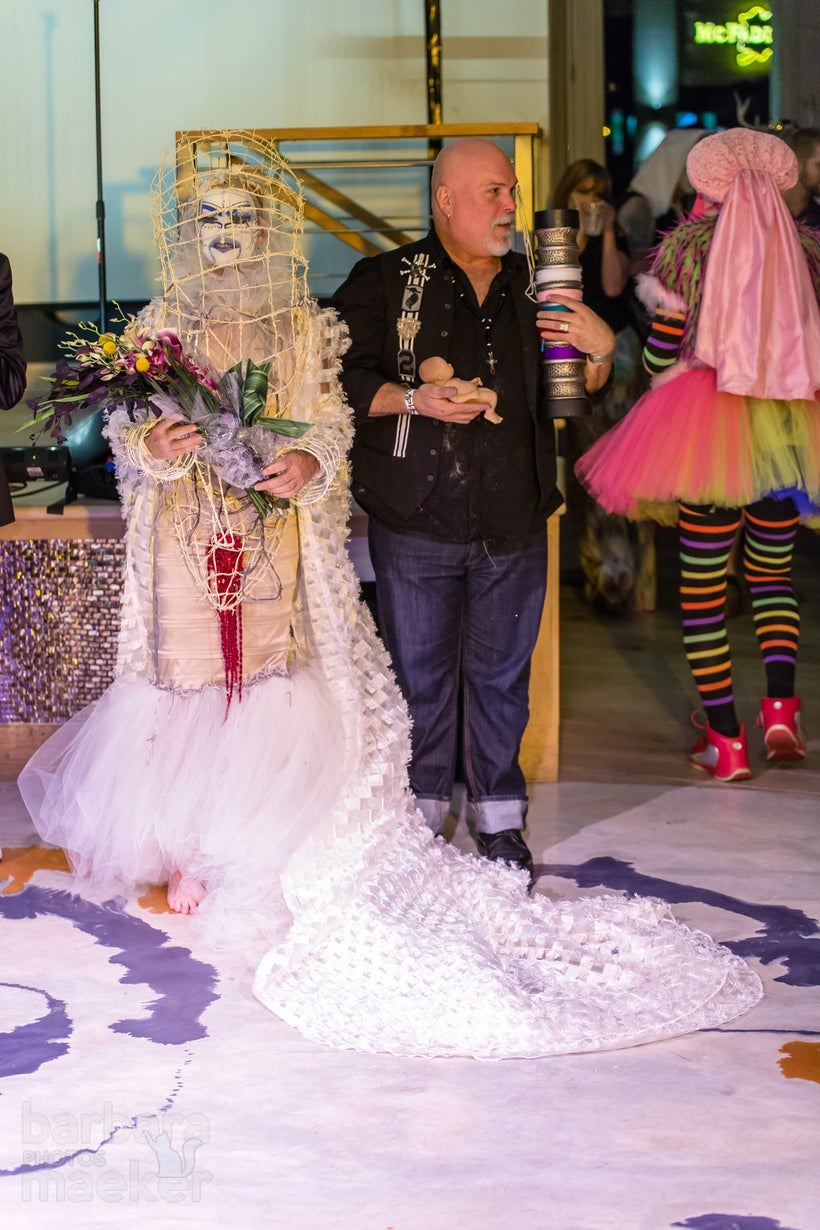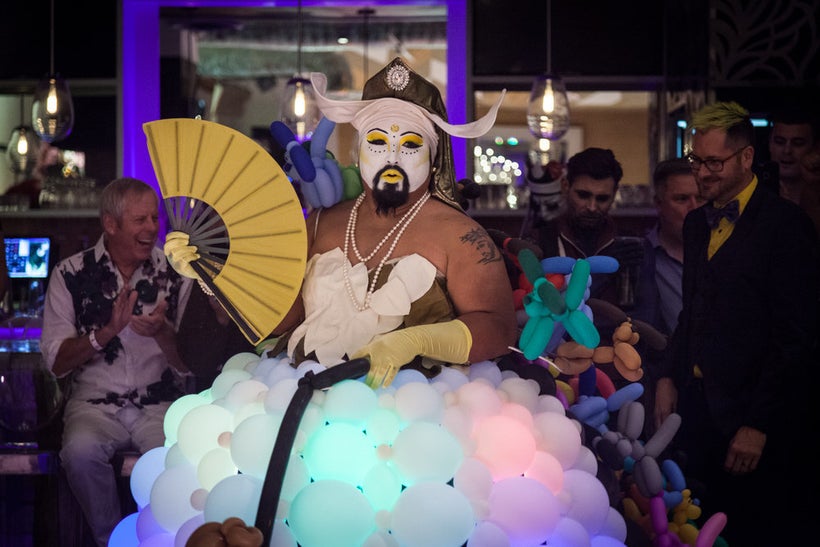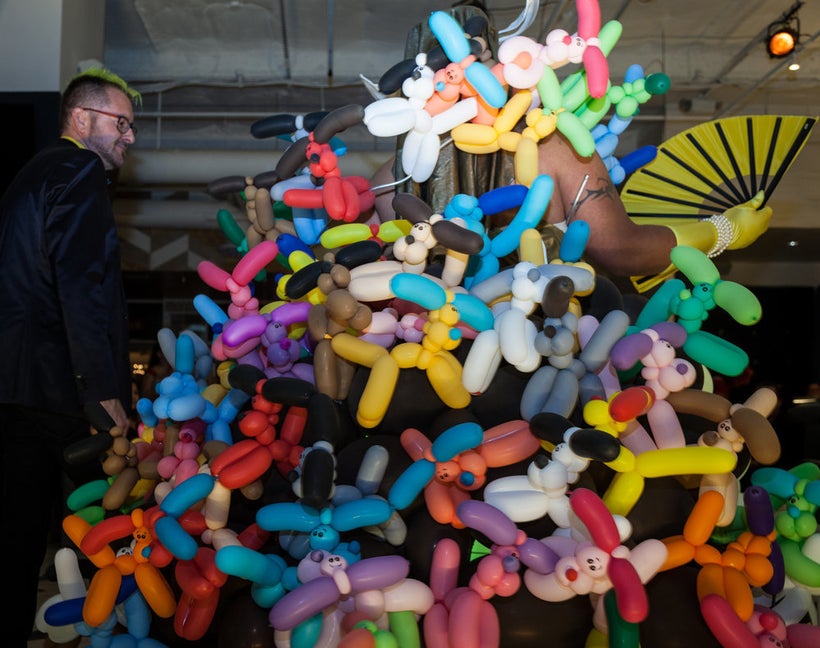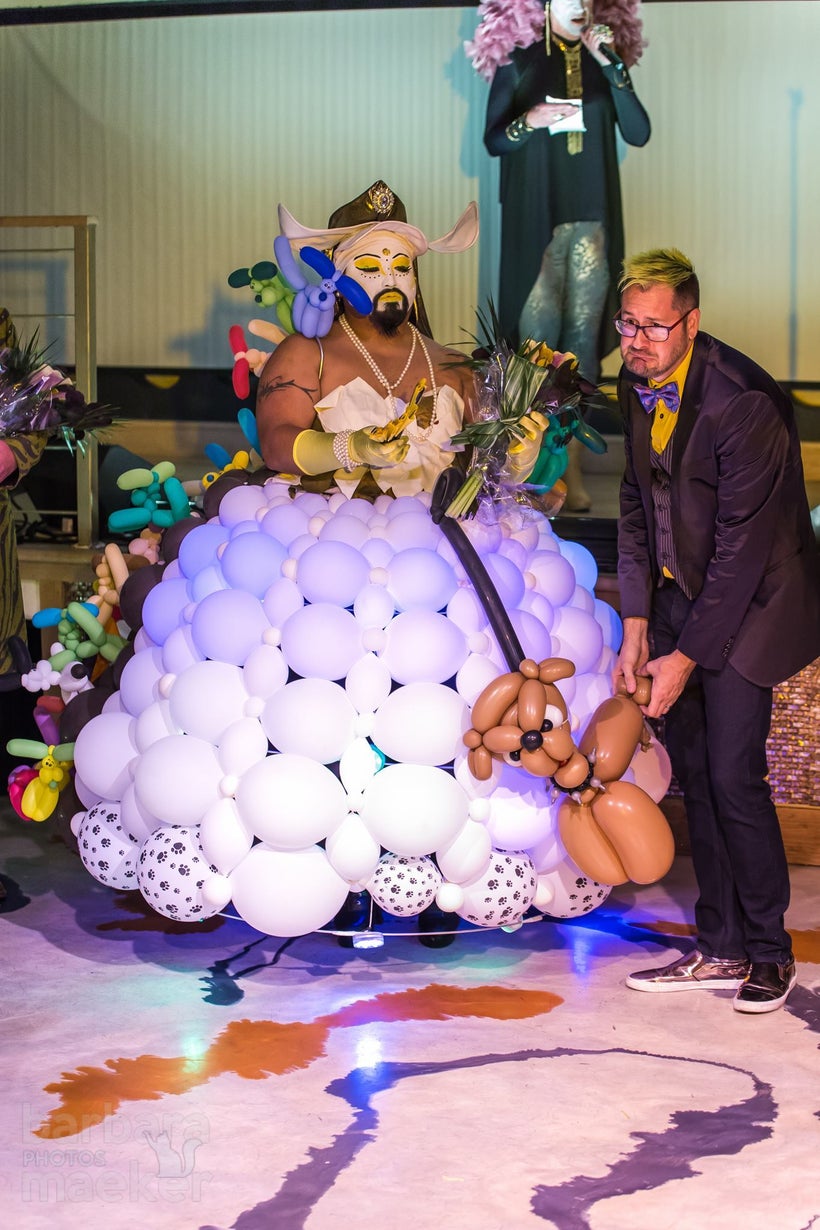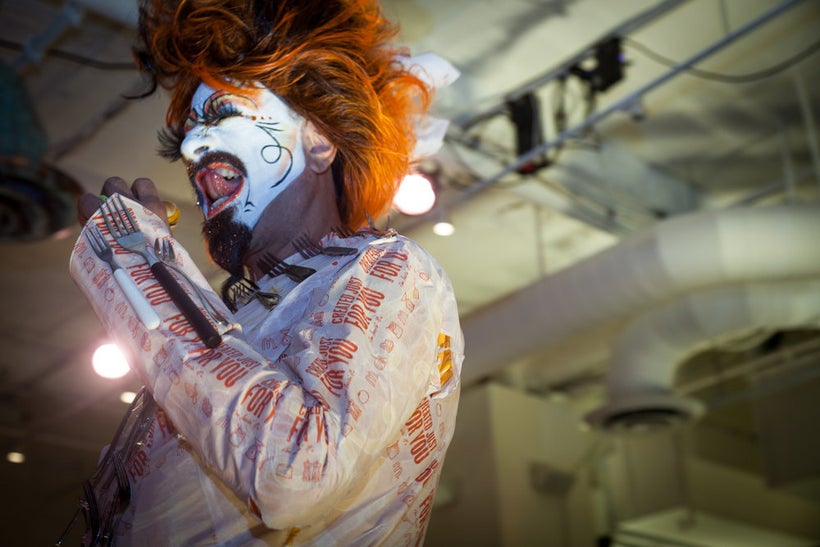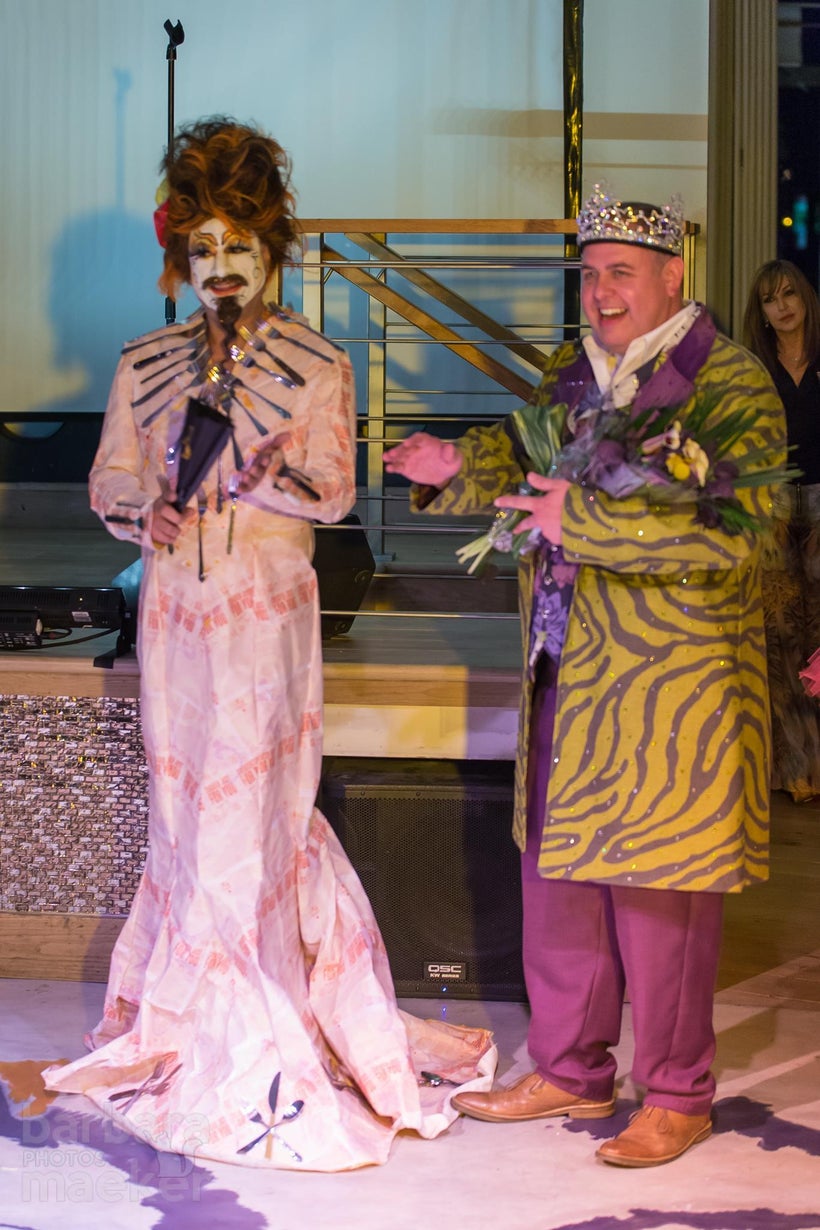 Three designs stand out for their sheer vitality and creative employment of non-traditional items. Once all the scores have been tallied, designer Matthew Cox is announced as second runner up with a fun gown representing the sin of gluttony created from over 300 sandwich wrappers. Sterling silverware accents the neckline, fluted sleeves and hemline. Chris Cope's interpretation of greed wins first runner up with a Jeff Koons-esque balloon-dog ball-dress extravaganza. An ode to out-of-control animal hoarders, the train features numerous balloon dogs tumbling over each other, utilizing Cope's admirable balloon wrangling skills.
The overall winner is inspired by the virtue of chastity. Designer Jim McCoy is described as an eclectic bohemian with a background in theatrical production and his talent for creating dramatic spectacle is evident. The pale dress and trailing sheer coat have an ice-queen aura with sculpted head and codpieces constructed from reclaimed coat hangers and bailing wire. Electrical light covers are incorporated as cuffs and a 'hemorrhage' of vintage beads adds a shock of color.
Bodypaint artists have also worked to the theme of vice and virtue, and their models likewise are popular with the crowd of supporters and photographers. With many Sisters from other Houses joining the Sin Sity Sisters for the event, the elegant venue is abundant with color, flamboyance and unbridled creative expression. The visionary behind Project Nunway Las Vegas, Sister Loosy Lust Bea Lady encapsulates the evening:
"It's been a great new experience bringing different parts of the community together to get to understand the Sin Sity Sisters and what we do in our community and the amazing support that we get from our fellow Sisters around the world. I would like to see Project Nunway Las Vegas grow and grow each year and introduce more designers and to see this event be one of our biggest fundraisers."
With the high level of energy and excitement in the air, I can predict that the future of avant-garde, eco-friendly fashion in Las Vegas is looking bright thanks to the dedicated work of some very inspirational Sisters.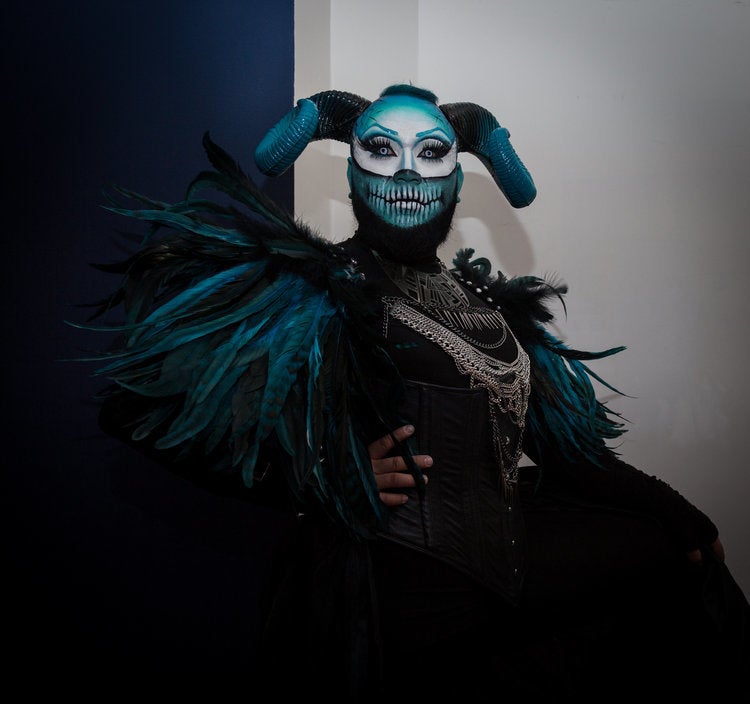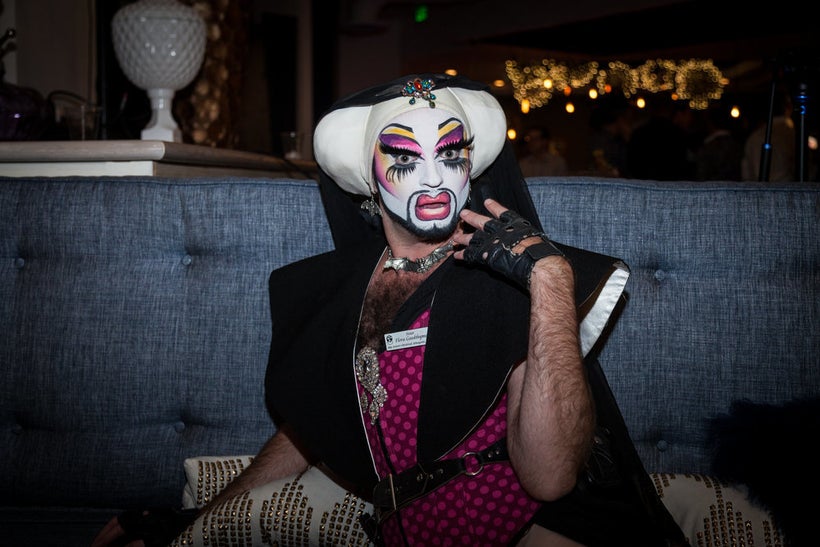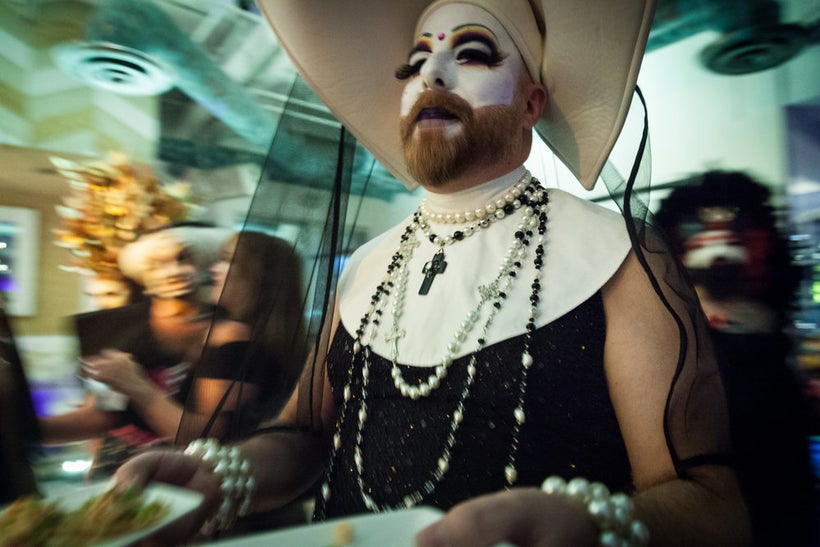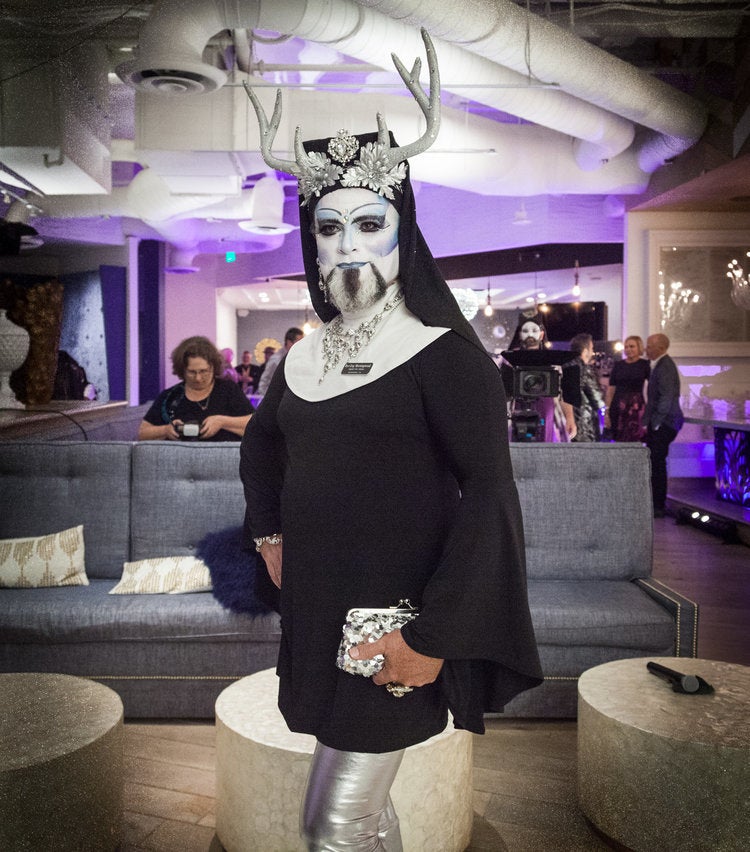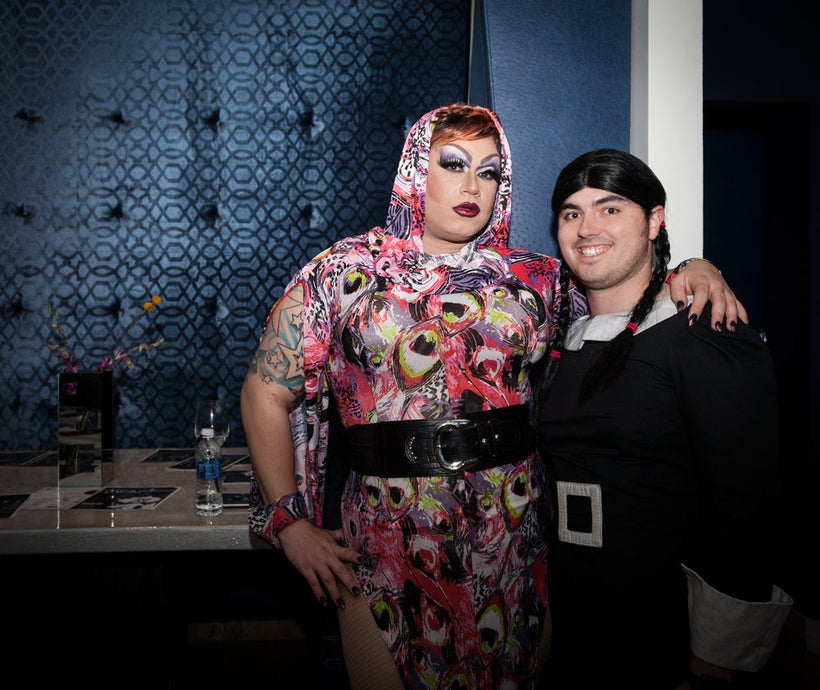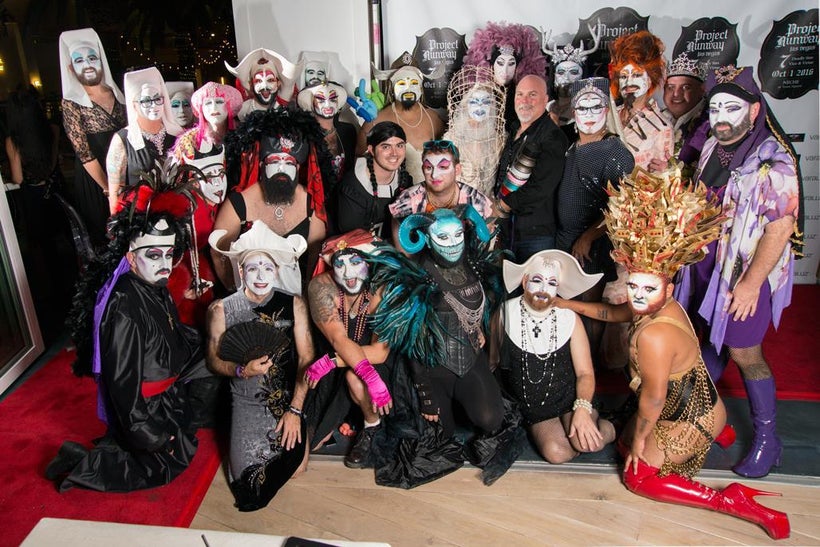 Calling all HuffPost superfans!
Sign up for membership to become a founding member and help shape HuffPost's next chapter
This post was published on the now-closed HuffPost Contributor platform. Contributors control their own work and posted freely to our site. If you need to flag this entry as abusive,
send us an email
.