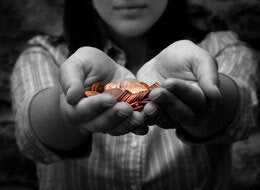 Philanthropy in the form of purchasing and distributing oatmeal might sound strange, but to Noah Lukeman, president of Lukeman Literary Management, it's a way to quench his burning desire to help those who are less fortunate. As Noah says, "in New York City alone, more than one million people are hungry, including nearly 350,000 children and more than 140,000 senior citizens. Living in one of the one of the wealthiest cities in the world, we often don't see the tremendous hunger before our eyes."
In this tough economic times, many people are suffering. Some have watched their savings and 401ks dwindle away, others have lost their homes. We all would agree this is terrible. But there are some families who don't even have enough to eat. What do they do? A few weeks ago, about a hundred or so of them stood in line in the bitter cold waiting to receive food from a food agency. Watching them was Noah, who had spent the morning at a location in the South Bronx waiting for oatmeal to get delivered to feed those hungry people. The oatmeal that arrived was the direct result of funds that were raised through the efforts of Project Oatmeal.
The idea of creating Project Oatmeal came to Noah as he was picking apples to feed the poor with members of City Harvest, New York City's longest running nonprofit food rescue organization. As he filled the heavy bags of apples, a thought came to him. What if we could have a lighter food to transport that contained a longer shelf life? He teamed up with City Harvest and donated a substantial start up fee. It was then that Project Oatmeal was born.
After contacting many oatmeal companies he found that Krasdale Foods out of the Bronx would give the best deal if the oatmeal was bought in bulk. Krasdale graciously agreed to reduce their rate. For a minimum order at $22,100 they would give 50 pallets of oatmeal. This would produce 126,000 meals, enough to feed the hungriest that lived in the five boroughs of New York for two months.
Project Oatmeal's goal is to feed the hungry for the eight coldest months of the year which would cost about $88,000. If you are interested in helping to reach this goal please contact Project Oatmeal at projectoatmeal.org. In this time of economic crisis, this project is a shining source of hope for those who are in need.