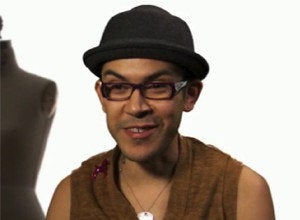 The
Project Runway All Stars
season premieres this Thursday (January 5th).  I'm working on a theory that my favorite designer Mondo Guerra has won. Let me know what you think. Reasons are as follows:
1.) He is literally the best ever. This fact is super indisputable.
2.) Please see his answer to my first interview question below. Going back to normal life was more difficult this time???? Is it because his life has changed drastically???? Am I just putting a ton of question marks at the end of my sentences to imply something???????
3.) He seems like he has something to celebrate, because he's hosting weekly viewing parties every week at Beauty Bar in Denver starting this Thursday (which features a special guest, his Project Runway buddy Michael Costello). Each party has special games and prizes geared around the episode, and February 16th will be a super special benefit for Colorado AIDS project with special guest Peach Carr. Oh, and please donate a dollar or two to Colorado AIDS Project each time you go. It's not required, but you're probably a dick if you don't.
4.)  Everyone agrees that he got robbed with only a runner-up title during Season 8. The only things standing between Mondo and total victory were Michael Kors and Nina Garcia. They are no longer judges on the All Stars season.
So there you have it! Now let's get into the interview, which is more likely what you're here to read instead of my wackadoo theories.
You've returned from filming the Project Runway All Stars season! What is it like to go from that crazy environment and return to your normal, everyday life?
Honestly, this time around, it's a little bit more difficult coming back from filming the of the show because it was a lot more intense. It was more difficult this time; it was an All Stars season. You know, I still have dreams about being on the show -- I'll wake up thinking I have stuff to finish. It's like when people have shell shock coming out of the army, it's like I have fashion shock.
Because you have to produce so much, so quickly, do you think it helps your creative output in general (like boot camp) or does it drain you of all your ideas?
If you're working day after day and having to be creative, and having your art be your only emotional connection, it's not only creatively exhausting, it's emotionally exhausting, and it's physically exhausting. These reality shows are built to break the contestants down as much as they can.
How do you stay sane in that environment?
I just think about my family, my partner, my friends, my teachers growing up, everybody that loves me and supports me and has really encouraged me to do bigger and better things. As much as I want to say that I'm doing it for myself, I'm doing it for so many other people that I care about.
And now it's not only just my family and my friends, there's a -- I don't want to call it a fanbase -- there's a bigger friendbase. Coming off Season 8 with that visibility, I feel like I owed it to so many other people than just my extended family.
There was the scene in Season 8 where you revealed yourself as being HIV positive.
Yeah, after I revealed my HIV positive status, I felt like it was my responsibility to continue the conversation about HIV and AIDS. I joined up with Project Runway alum Jack Mackenroth on a national HIV education campaign called Living Positive by Design, which has a simple message: it encourages people living with HIV such as I am to continue to have a positive outlook on life, and one of the best ways is by remembering to check in with your doctors, and having a close relationship with them; remembering to have a goal of undetectable viral load and increasing your CD4 cell counts; and also considering the side effects that your medicines may cause. Being HIV positive is a huge responsibility, but it doesn't have to define who you are, and it doesn't have to control your life.
For the past ten years, before I came out as being positive, I was allowing it to define who I was, and it was really destroying so much of who I am -- not only as a person, but it was killing me creatively. And when I had the opportunity to talk about it on the show, after creating a textile based on my childhood, it came out a lot easier than I ever thought it would. It's been amazing how much support I've gotten and received from the community.
It translates across all different experiences too, taking something so difficult that defined you and turning it into something positive.
That's just the thing, I was allowing it to be a negative thing in my life, you know. It's scary. And one of the biggest things I learned from opening up and telling my story is everybody comes from a different place, and everybody has a different story. Opening up, and talking about it, and hearing all these different stories, it's really made me learn about myself.
And it helped your creative process, opening up about it?
It's a huge weight, keeping such a secret for such a long time, and now I don't have much fear anymore. Fear is a destroyer. I don't have to live with the fear of hiding, and I don't have to be careful of the disease anymore. I've really taken control of it. It's really a different mindset; if you asked me three years ago about my HIV status, I would tell you that I have HIV. Now if you asked me today, I'd say I'm living with HIV.
You are probably going to make me cry again. Let's talk about the new season. If you had to choose someone besides yourself, who would your favorite All-Star be?
My compadres from Season 8 -- April Johnston and Michael Costello. I love Michael. I talk to Michael probably every other day, we text everyday, we check in with each other. We're real buds. Of course, going back to the show, I didn't know he was going to be there so that was a huge surprise.
Was that weird? Competing against him as a friend now? Or you're probably used to that.
Michael and I have an understanding that yes, we are in a competition with each other, but we also want the best for each other, and we'll do whatever it takes to keep each others' spirits up and help each other.
I feel like Michael got picked on a lot in Season 8. Were people nicer to him during the All Star season?
I think Michael has learned a lot since Season 8. He's really matured, he sticks up for himself a lot more, and he doesn't let people push him around. He has a better sense of self and people recognize that, and they are not going to walk all over him.
Season 8 had a very dramatic ending; was there more drama this season since everyone was an All Star?
I think everyone came back with more of a competitive edge. Everybody there is very deserving to be back on the show. So that's gonna add up to a little ego, and a little bit of entitlement, some more than others, and I think it's gonna be a really exciting season. There's going to be some really great work coming down the runway. And there's also going to be some high end drama.
Were you excited to learn you were coming back, or... not?
I was really excited when I found out I was asked to come back. But there had been so much controversy about what had happened in my season, so there was a lot of pressure, and it didn't really hit me until I got there. So that was very scary.
What's it like to work with Tim Gunn? I love that guy!
I love Tim. He's just like you see him on the show. He could have everybody waiting on him hand and foot, but he takes care of himself. He takes the subway to work; he's a very down-to-earth guy and you have to respect him for that. He's very humble, he's very personable.
In this season, Tim's not actually on the All Stars. We have a whole new judges panel, and we have a new mentor, Joanna Cole, editor-in-chief of Maire Claire.
I read the reactions when people found out it's going to be a new cast of judges and mentors. The problem that I have with it is that in the past two seasons, everyone has been complaining so much about how Nina [Garcia] and Michael [Kors] have gotten so jaded about how they judge. But when they do find new judges -- Isaac Mizrahi, Georgina Chapman, and Angela Lindvall -- they complain about that, so you really can't please anybody.  
It's good for us designers because it's a fresh set of eyes. It's a different show, but it's a really great show. The structure is the same classic Project Runway, "One day you're in, the next day you're out." The only difference is the cast has already been there so they know the ropes, but the judges are new. I think the fans are gonna be really happy with the judges.
So tell us about Thursday's Beauty Bar party!
For our first party, our special guest will be Michael Costello. There will be prizes and activities, games and giveaways. We're trying to really gear each episode up to be interactive with the audience at Beauty Bar so it really feels like a party. It's not all about me being on Project Runway, it's about us having fun as a community and it provides excitement for the Denver Fashion community.
REAL LIFE. REAL NEWS. REAL VOICES.
Help us tell more of the stories that matter from voices that too often remain unheard.