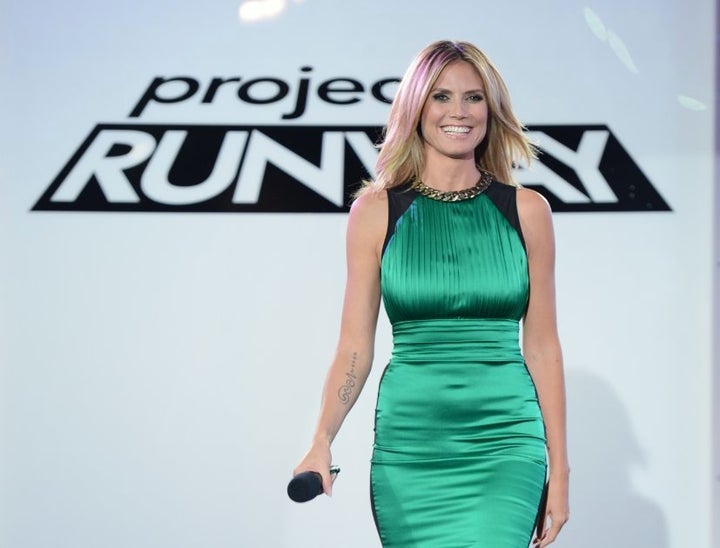 It's hard to believe we've been watching Heidi Klum say "Auf Wiedersehen" to the eliminated designers on "Project Runway" for nine seasons, going on 10. The Emmy-winning series was a pioneer in the reality competition TV landscape, sewing together drama and dresses never before seen on the small screen.
"Project Runway" host, judge and executive producer Klum opened up about the new crop of designers in Season 10 (premieres Thurs., July 19, 9 p.m. ET on Lifetime), which includes a familiar face. She also dished about what happened with those two designers who up and left, which guest judges you'll see (including a "Parenthood" star and a "Heroes" alum) and more of her all-time favorites from the past nine seasons.
Congratulations on Season 10. What stands out to you about the contestants this season?
Well, we had two that left us this year, two designers that couldn't make it work. We've actually never had this happen before, that people would just leave us early and kind of leave in the middle of the night while everyone was sleeping, which was very awkward. We didn't really know what to say. But otherwise, we have a mixture of talented people. They really have amazing sewing skills. They're technically very, very good with some great ideas. We have a few that cry a lot. We have little fights here and there, but we have a great cast.
One Season 10 designer, Gunner, didn't make it on the show last season, but he did this time. What changed your minds?
A lot of designers have come over and over again and shown their new designs and how they have evolved in one year. In the case of Gunner, or others that have gone two years and then come back, they want to show how they've evolved and what they're all about now, and we felt that Gunner has grown in a year. His design aesthetic got much better and we wanted to give him another chance.
Going back to the two designers that left, was there a connection with them? Did they decide to leave together or was it just a coincidence that they both packed their bags the same night?
I don't think they talked to each other and made it a thing. I don't think that was the case. I think they individually just packed their bags and left. It just happens to be that night, both of them left.
That's very odd. Have you or has anyone in the show been in touch with them since?
Yeah. We wanted to make sure that these people are alive so we did go to the places where they live just to make sure that nothing has happened to them and they are fine. But we left it at that. If people don't want to be here, we obviously don't want them to be here either. We just thought it was very strange for grown-ups to do that. You would expect that from a child. It's a very childish move to do that.
People have left the show in the past, but it's been for serious reasons and it's never been done secretly before.
It was very, very strange.
So are there any guest judges you're particularly excited about?
[After asking a "Project Runway" executive producer, she says] Patricia Fields, Lauren Graham, Krysten Ritter and Hayden Panettiere.
And is there a particular challenge you loved this season?
Not to toot my own horn, but the designers have to do something for me, which is hysterical. People will laugh and cry because it is so funny. They had me on the floor laughing. I'm very excited about that. Not everything in fashion is so serious.
Is that your favorite challenge in "Project Runway" history?
The very first one I loved, when the designers had $50 and they went to the grocery store and that was when Austin Scarlett made the very famous corn husk dress. It also kind of set the tone of what "Project Runway" is all about: that these people can work under the strangest circumstances, with the strangest materials, and really come up with something stunning.
Is it difficult to come up with new challenges?
It is. We rack our brains every year trying to come up with something new ... It's hard. I mean, this is a long time.
Out of all of the contestants you've seen on this show, which designer's career are you most impressed by post-show?
I'm very impressed by Chloe Dao. I think we don't hear her enough in the fashion world, but she has a huge following. She sells on QVC and so she sells more mass market. She's doing really, really well so I'm very proud of her.
Mondo is now selling at Neiman Marcus. He has a line that he's introducing there. He also does socks. They're called Sock It To Me. He does eyewear, which has his kind of staple mixed patterns and very vivid prints.
And obviously, Christian Siriano. He's great. He's opening his own store in New York around Fashion Week. I'm very proud of him. It's so hard. He's a great designer but also, he makes things happen. He has that all-around personality. He's just adorable. He's not jaded. He's very humble and he's very lovable. He deserves all of this because he's a hard worker. And I root for him. I wear his clothes, I support him.
Are there any designers throughout the series that you regretted sending home later?
No, because this is the premise of the show: One day you're in and the next day, you're out. Unfortunately, you're only as good as that one episode. So even if you're a great designer, and that episode you were the worst one, I'm sorry, but then that's your time to go. I feel bad sometimes if there's a great designer and he just messed up in that challenge and he was really bad or he had a brain freeze and he couldn't come up with anything great, but it's a challenge-by-challenge design show. I'm always fair with that.
Who was the contestant the judges disagreed over the most?
We have someone right now, for example, but I can't really say his name. But there's one guy, great designer, but then he really couldn't make it work that one challenge so he had to go. It was only fair.
You're one of the only shows that hasn't had a major judging shift after such a long run. What do you think it is about your relationship with Michael Kors, Nina Garcia and Tim Gunn, too?
I have to say, for me, I love going to work because of the people I am with every day. We have a great team with Lifetime, the cameramen, crew, producers, but really it's Michael and Nina and Tim. They make it fun for me to go to work. We laugh. We gossip a little bit during breaks. We just enjoy each other and the time we have together. It's fun. It's fun to talk about fashion because we're all really enthusiastic about it. And every week is something different. It's not like a grind -- we try to really be inventive and come up with new things all the time to also keep us on our toes and keep it fun.
Speaking of Michael specifically, do you every ask him to wear anything other than his uniform?
Of course. I tell him, "Just please take your sunglasses off." When we do the finale, and we're at the tents, he's always posing with his sunglasses on. I'm like, "Come on, Michael. Take the sunglasses off." I can actually tell when he has a new pair of jeans.
You can? That's impressive.
I'm like, "They're a little slimmer and they have not been washed yet." And he's like, "You are freaking me out." I just know because I know his entire wardrobe already. I know every time when he has something new.
That shows how much time you guys have spent together.
Yeah. He judges me when I come out in my clothes sometimes. He's like, "Really? Did you have to pair these kind of shoes with this kind of outfit?" And I'm like, "Yeah. I like to have a little bit more fun. You're more conservative and I'm a little bit more out there." I have more of a fun personality with my clothes.
What has been your favorite moment from "Project Runway"?
I have to say, it was so much fun selling the show, going around and not knowing how this is going to come together. You have an idea that you believe in and every network that you go to, they don't understand what you're talking about and why people would want to witness designers making clothes. It was very hard to sell the show and when we found someone, we were so excited. That is the big moment we don't want to forget.
Is there anything else you can tell us about Season 10?
The premiere is in Times Square, which is another thing that was always a dream of mine: to bring the show outside. I've been whining about Times Square for probably three years now. It was great. I loved it. There were so many fans there and they got to see how we put the fashion show out. The designers were all nervous to have all these people staring at their stuff. You know, I've been in front of a lot of people, but they haven't. They were so nervous. I loved having the live runway show and I hope our fans like that, too.
"Project Runway" Season 10 premieres on Thursday, July 19 at 9 p.m. ET on Lifetime.
PHOTO GALLERY
'Project Runway' Season 10
Calling all HuffPost superfans!
Sign up for membership to become a founding member and help shape HuffPost's next chapter
BEFORE YOU GO