Google on Monday launched Project Sunroof, an online tool that helps people determine whether they should get solar panels for their home. The experiment, part of Google's push to increase awareness of solar energy, analyzes your house's location, roof space and energy bill, and tells you how much solar panels will cost you -- and how much money you could save on electricity.
For now, the tool is limited in scope, showing data for homes in only three general locations: the greater Boston area, the San Francisco Bay Area and Fresno, California.
If you own a home in one of those places, you can input your address, and the tool will draw from aerial mapping technology to check out whether you have room on top of your house for solar panels. It will also calculate the number of hours of usable sunlight your property receives per year, taking into account "factors like roof orientation, shade from trees and nearby buildings, and local weather patterns," according to Google's blog post introducing the tool.
Project Sunroof weighs all this data against your current energy consumption, compares it to solar options, then shows you a guide to leasing, loaning or buying solar panels for your specific needs. It even includes links to your nearest solar panel providers. Google notes, however, that it "may" have been compensated by some of the solar companies it recommends.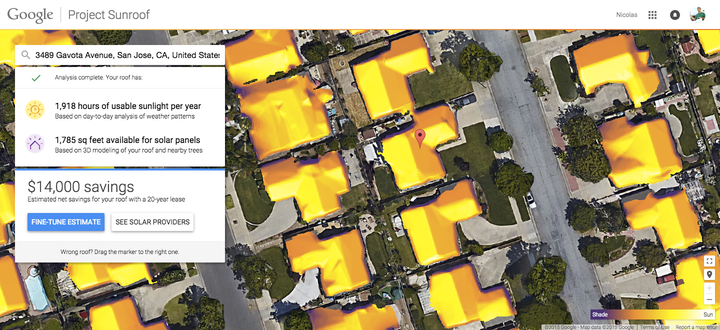 To demonstrate Project Sunroof, Google featured a San Jose, California, residence that spends $125 on monthly electric bills. The analysis found that the property could save approximately $14,000 in bills over 20 years if the homeowner were to lease solar panels.
The tool also recommended that this property install a 4.25 kilowatt-strong, 255 square-foot solar panel, based on the home's average energy consumption. This would cost almost $24,000 to lease, over $25,000 to loan and $12,000 to buy over the course of 20 years (after state and tax federal incentives).
Google -- which has been carbon neutral since 2007 and was the largest corporate purchaser of renewable power in the world in 2014 -- wants Americans to move away from using non-renewable and non-sustainable energy sources like coal and natural gas. But the country has a long way to go. In 2014, coal accounted for 39 percent of the electricity generated in the U.S., while natural gas accounted for 27 percent, according to the Energy Information Administration. Solar power, on the other hand, generated only 0.4 percent of the country's electricity.
That said, more and more Americans are beginning to use solar panels to power their homes. In 2006, about 30,000 U.S. households had solar panels. This number jumped to 400,000 in 2013, per a study by the Union of Concerned Scientists, an advocacy group. The researchers projected, furthermore, that between 900,000 and 3.8 million households would be solar-powered by 2020.
Project Sunroof is not the first online tool that offers people advice about solar power, however. Sungevity and EnergySage, for example, perform the same services as Project Sunroof, offering data for business owners too. Additionally, Sungevity works in 14 states and EnergySage works in over 30, EnergySage CEO and founder Vikram Aggarwal told HuffPost in an email.
This post has been updated.
Related