Stanford GSB's co-lecturers Allison Kluger and Tyra Banks joined by Gary Vaynerchuk help MBA students steal the show
It's that time of year: college graduation.
Commencements are exciting milestones. But they're also anxiety provoking. What opportunities will newly-minted graduates pursue — and what challenges will they face?
Today, graduates need more than a diploma and firm handshake. In a world where every job applicant has a litany of laurels and a professional website, graduates need to be expert (and frequent) communicators with a strong personal brand.
Recently, I had the privilege of seeing this first-hand — personal brands and young professionals — as a guest at the Stanford Graduate School of Business (GSB) "Project You: Building and Extending your Personal Brand," a one-of-its-kind interactive class for MBA students. GSB lecturer Allison Kluger, a former television exec with "The View" and "Good Morning America". Co-lectured by Tyra Banks, the famed supermodel, entrepreneur and CEO and internet personality Vayner Media's Gary Vaynerchuk— a best-selling author and speaker.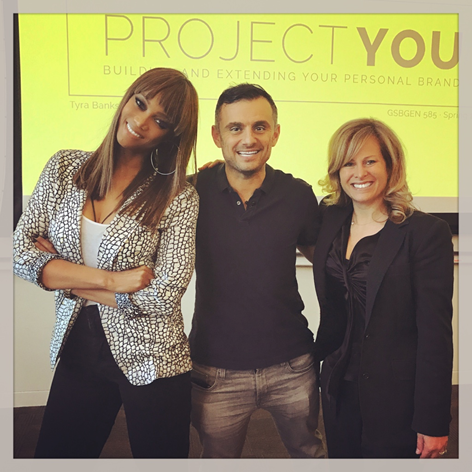 This two-week elective course focuses on how to build, broadcast, maintain and protect one's personal brand. The class culminated with its 25 all-star students sharing their honed personal brand to the public via social media and social media platforms.
Few people have the personal branding and social media insight of these three trailblazers. During class, they offered the following invaluable tips to the graduate students:
It's All About the Message
Kluger kicked off the class by discussing the importance of messaging. After all, messaging is how you make a successful pitch, ace the interview, deliver a stunning keynote or grow your social media following.
Messaging should always be clear, accurate, relevant and memorable, Kluger explained.
"Your 90-second elevator pitch needs to make an impact and convey the soul of you," Kluger continued. "You need to articulate what makes you different."
Two of the many remarkable students Cyril Berdugo, an entrepreneur and investor in real estate technology (Cyril's elevator pitch) and Shruthi Baskaran, an engineer and business woman also known as the "feisty food fairy" (Shruthi's elevator pitch) generously shared their respective elevator pitches.
Another tip from this veteran broadcaster: Always be prepared. "A prepared guest is a good guest," she noted. Strong messaging draws on statistics, case studies and third-party endorsements. Curiosity is good, too: "Offer up your own interview questions to hosts or interviewers," Kluger suggested.
One reason to take Kluger's advice? Early on in her career, Kluger was an on-air host for Q2/QVC, where she compelled viewers half-a-world away to take action and make a purchase. It was here that she mastered the verbal and visual cues of successful messaging. She's all at once authentic, persuasive and entertaining.
Don't forget to constantly evolve and customize your messaging. It needs to be regularly reviewed and updated. Practice it with a trusted business colleague, family member or friend.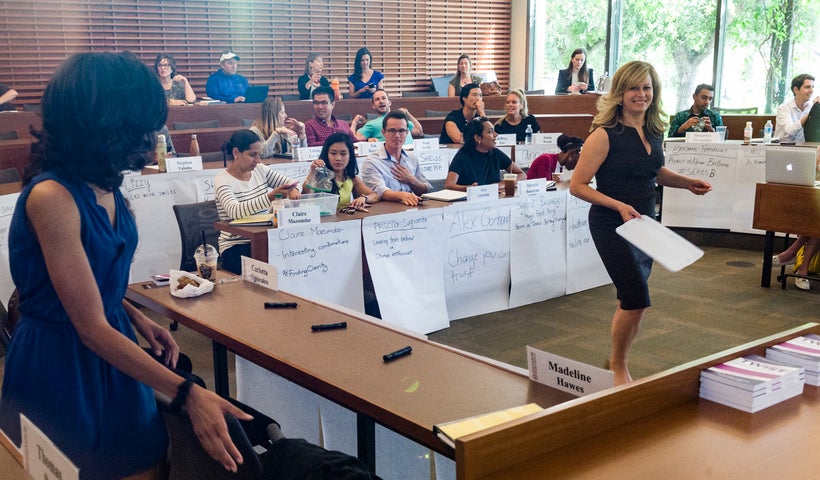 Just as important as the messaging? Who you're delivering it to. In a word: audience.
Think about your audience often. What do they need? How do they function? And what drives them to take action? You should be able to answer competently when they ask "What's in it for me?" Or, "Why should I hire you?"
This is where Vaynerchuk jumped in. "Every single post, I think about my audience," he said. "Give, give, give and ask." The best place to reach your audience? "Social media," Vaynerchuk said. "It's purity — there is nobody in between you and your audience."
"Audience begins with self-awareness," Kluger added before launching into a strategic exercise to encourage her students to come up with fresh descriptors for their personal brand. She broke the students into groups and had them describe their fellow peers in response to creative prompts. Like, "if they were a crayon, what color would they be?" Or, "if they were an animal, what would it be?"
By now, you're articulate. And you know who you're speaking to. But what really makes you stand out?
Always hone what makes you different. Maybe that's a skill set, a point of view or simply your creativity. For Banks, it's partly how she expresses herself on social media. She loves to experiment with what her followers see or do not see. For example, she shares photos of her son — but only from behind.
One of the students in the class, Anna Frances Wood, agreed. "There are many times in my life that I've been encouraged to blend in or stick with the status quo," she said, but noted it doesn't pay off. So instead, Wood weaves her uniqueness into her personal brand. (And so too do some of the best personal brands around. Think: Miley, Rihanna, Kanye.)
"Tyra frequently reinforced in class that when it comes to personal branding — different is better," Wood added. She is currently developing a lifestyle platform, Brains Over Blonde, for the woman who does it all. She plans to provide digital content, coaching courses, and an online community to support and empower women in all areas of life. "This class was a big help", she said: "It taught us to use our personal brand to our advantage, to control the narrative and to look at personal branding as an opportunity to share our voices and world views."
During your time on social media, pay attention to what content your followers are most drawn to. "It's important to mine for data," Banks says.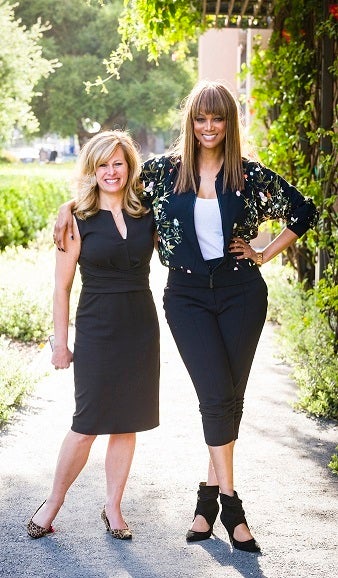 Actions to Match Ambition
The fourth and final tip from this roundtable of master branders? Go all in.
"If you dip your toe in, you will get dip-your-toe results," Vaynerchuk said. "You need to reverse engineer your ambitions. Knowing where you are going has an enormous upside."
Vaynerchuk said success requires a relentless effort. Always be self-aware, always bolster your profile and always seek new audiences. He offered tactical advice, too — like starting a podcast. "They allow you to stand out," he said. Vaynerchuk also likes Facebook Live, but feels it's often "reserved for a select few, as it's very hard to keep attention."
(On that note, here's a clip of a Q & A segment with Banks and Vaynerchuk on Facebook Live: http://bit.ly/2svE7Mv.)
This class gets high marks. In fact, there's no doubt it should be replicated at institutions across the globe — from business schools to middle schools.
Calling all HuffPost superfans!
Sign up for membership to become a founding member and help shape HuffPost's next chapter
This post was published on the now-closed HuffPost Contributor platform. Contributors control their own work and posted freely to our site. If you need to flag this entry as abusive,
send us an email
.