This article is part of HuffPost's Project Zero campaign, a yearlong series on neglected tropical diseases and efforts to fight them.
AMAOBU, Nigeria ― When Ndidi Ekeanyawu's husband saw her severely swollen legs, he would turn away.
"He gets angry with me when he sees my leg and says it puts him off me," she said, gingerly raising her long skirt to show hardened scars covering legs twice their normal size.
The 37-year-old mother of two went to a traditional healer in Nigeria's Imo state. The healer would make cuts all over the swollen flesh, then pour on a tonic that made her legs burn.
Someone from her village, Amadou, had told her the method worked, and she feared her husband's rejection. So, despite the extraordinary pain, Ekeanyawu returned to the healer every fortnight for six years.
Ekeanyawu was suffering from a painful and horribly disfiguring disease called lymphatic filariasis ― commonly known as elephantiasis, because it can cause people's limbs to grow, harden and fold like an elephant's.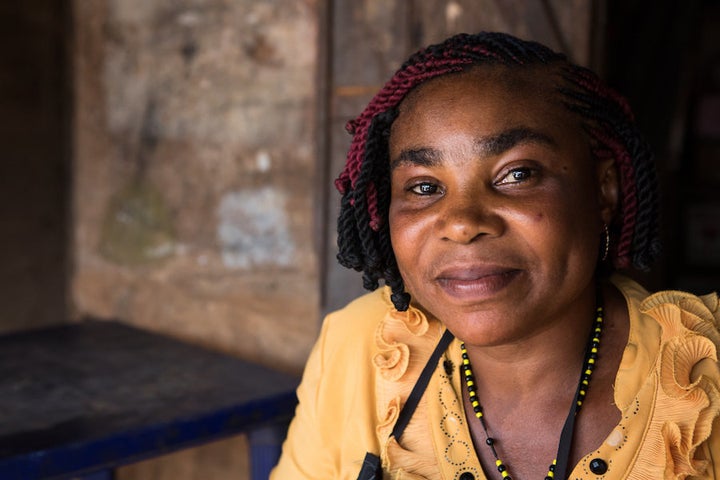 The disease is transmitted to and between humans by parasites carried by mosquitoes. Once in the body, the parasites turn into worms that block the lymphatic system, causing fluid to build up in the body's lower limbs or genitalia.
Elephantiasis currently affects an estimated 120 million people worldwide, but 1.1 billion people living across 54 countries are at risk of contracting it.
Nigeria is one of the most affected countries in the world, with two-thirds of its 183 million people at risk.
But many victims don't understand that this is a parasitic disease. Instead, they waste precious time and money on alternative therapies, including traditional remedies to try to drain or burn off the fluid and prayers to lift what some people consider a curse.
"For elephantiasis, when your limb begins to swell, in the early stages, it looks just like you have a bag of water on your ankle or lower leg," said Frank Richards, a health expert working for The Carter Center, a U.S. nonprofit run by former President Jimmy Carter that works alongside the Nigerian health ministry to stop the spread of the disease in parts of this country.
"It would seem logical that you would do an incision and the water would come out, as though you were popping a balloon," Richards explained. "That's not the case, but still people go to traditional healers who are always ready to do an incision, or several incisions, at high cost."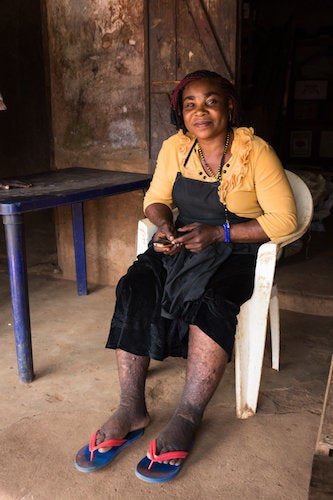 Draining fluid from the limbs by making incisions is not something that even a trained surgeon could master.
"If you start cutting, you're likely to also cut veins and arteries, and the blood starts pouring and you're set up for getting infections," Richards said.
Ekeanyawu's fortnightly treatments were physically crippling, with the cuts leaving her so wounded she had to take a motorbike taxi home. But the disease took a greater emotional and financial toll on Ekeanyawu as the 4,000 Naira (roughly $10) treatments fortnightly mounted and the swelling showed no signs of going down.
"I complained to the doctor that I didn't see any improvement, and he kept assuring me that I'd be well," she said.
"My husband is not happy about this whole thing, both how much it costs and how it looks," she added.
Richards said he has often seen "the social and economic disaster that results from people having a leg that swells four to five times its normal size" and plenty of rejection or divorces resulting from this deforming disease.
"Elephantiasis is one of the greatest causes of disability in terms of its crippling effect, but unmeasured are the depression and social stigma that go along with it," he said.
"I've seen young, beautiful girls with a swollen foot, and you'll see line after line of incisions of where they've gone to traditional healers and a story of: 'My mother and father have spent everything they could so that I can get married and have a normal life, and nothing worked.'"
Once the worms have stretched the lymphatic vessels and fluid has rushed to the lower limbs, causing swelling called lymphedema, there is no way of reversing it. If fluid builds up around the groin, forming a swelling called a hydrocele, it can be removed with surgery.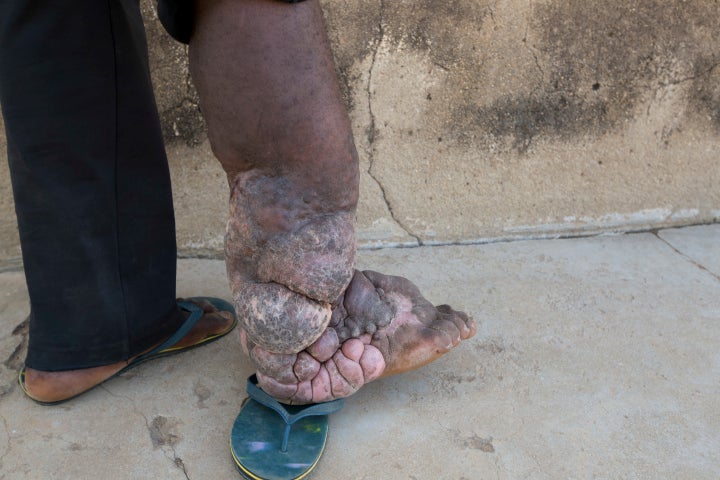 The only way to stop further swelling is to take yearly doses of deworming drugs that kill the baby worms and phase out the parasite as the adults die off, usually after four to six years.
"Once the lymphatic system has been destroyed, treating at that point will have little impact, so the purpose is to prevent progression to elephantiasis" by catching cases early, Richards said.
Mass distributions of mosquito nets and preventative drugs in highly at-risk communities help stop the disease from spreading.
Efforts to bring medicines to everyone in at-risk areas of Nigeria have been carried out since 2000. Organizations like The Carter Center work with the government and community volunteers to get these medications, which are donated by international pharmaceutical companies, to the right people.
In October, The Carter Center announced that two Nigerian states with particularly bad elephantiasis problems had managed to eliminate the disease as a public health problem. Earlier this year, Togo became the first sub-Saharan country to fully eliminate the disease within its borders.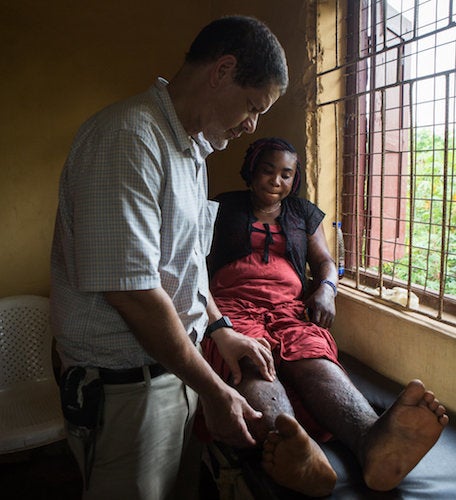 But there is much work still to be done around the world, and it will require governments, donors and drug companies to do their part.
"If the international community can't come up with 20 percent of the cost to have such a major impact on such an age-old condition that we can do something about, then we will have a huge tragedy that will go down in the annals of history of not caring for our fellow mankind," Richards said.
"The next generations, ad infinitum, should not have to worry about swollen legs and elephantoid changes that are so terrible to behold."
Ekeanyawu's chance meeting with doctors from The Carter Center, who were visiting a neighbor with elephantiasis, finally put an end to six years of trauma and confusion over her condition. They took her to a clinic with her two daughters to get examined and receive the right drugs.
"This has really affected my life, physically and emotionally," she said. "Now, I will make sure my daughters take these medicines."
The Carter Center is a recipient of grants from the Bill & Melinda Gates Foundation, which also partly funds Project Zero. All content is editorially independent, with no influence or input from the foundation. If you'd like to contribute a post to the series, send an email to ProjectZero@huffingtonpost.com.
Before You Go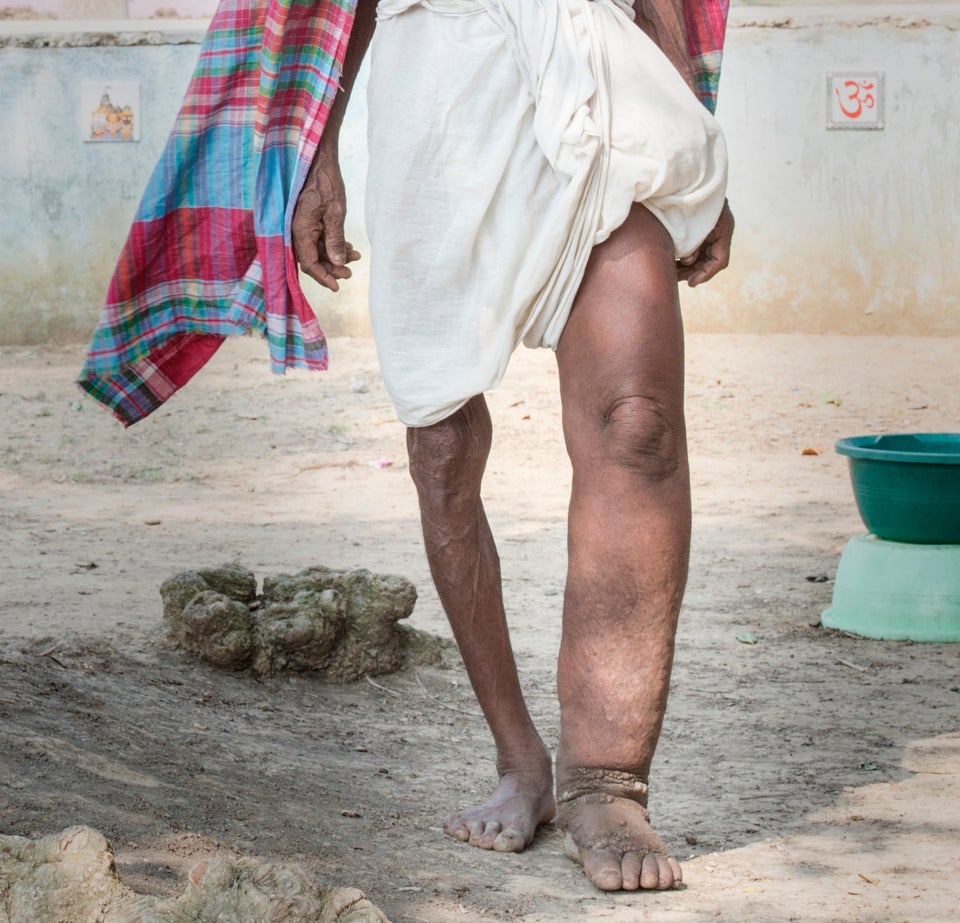 Neglected Tropical Diseases
Popular in the Community