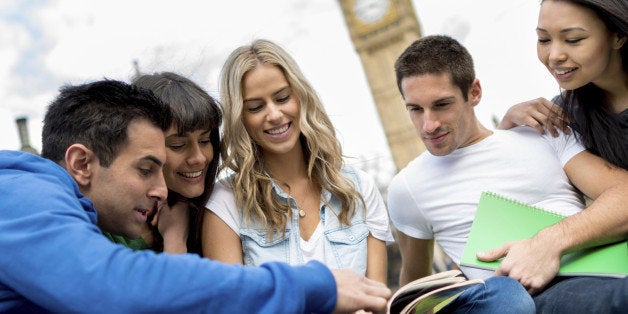 Talk to Americans who studied abroad and chances are you will hear some version of the same story.
"I understand the world a little more intricately, in its frailty, generosity and humility."
"My mind is broader and more opened to other opportunities outside of the boundaries of America."
"When I'm intimidated or scared, I tell myself: 'Well, I did it in another country, so I can for sure do it in my home country.'"
I have heard variations on each of these remarks from the hundreds of American students studying abroad who I've met during my travels as Under Secretary of State. What I've heard over and over is not only how the experience of studying abroad has made them global citizens, but how it has changed their lives.
Today marks the end of International Education Week 2014, when we celebrate the benefits of educational exchanges and the myriad programs that make studying abroad possible. Over the past 15 years, the number of Americans studying abroad has more than doubled -- but the number is still too low. According to the annual Open Doors Report on international and U.S. student mobility, about 300,000 American students studied in foreign countries last year and fewer than 10 percent studied abroad before graduating. Many of those who didn't said they worried that there would be limits to what they could study and feared they wouldn't graduate on time, or they were concerned that it would cost too much.
Here's the good news: when you go abroad, you can study just about anything. Last year, almost a quarter of Americans abroad studied STEM subjects -- Science, Technology, Engineering, and Mathematics; 22 percent studied social sciences, 20 percent business, and 10 percent humanities. There are so many programs and opportunities, it's easier than ever to study abroad and stay on track to graduate.
I've heard many students say they fear the cost of studying abroad. It's true that foreign travel can be expensive, but there are dozens of government and non-profit programs that help fund foreign study. Boren Scholarships provide up to $20,000 for undergraduate students to study in areas that are critical to U.S. foreign policy. The U.S. government funds summer programs for the study of 13 critical languages, including Arabic, Chinese, Russian, and Urdu. The Benjamin A. Gilman International Scholarship Program is one of my favorites: it provides money for students to study abroad for credit, with the aim of attracting diverse students and underserved communities that would not normally think about studying abroad. And there's no need to wait until college. The National Security Language Initiative for Youth funds high school students and recent graduates for a summer or even a full academic year to study less commonly taught languages like Korean, Hindi, and Turkish.
One of those students is Jeffrey Wood. Growing up in Petworth, a neighborhood in Washington, D.C., Wood had long been interested in China when a high school teacher encouraged him to apply for the D.C. China Scholars Program.Jeffrey spent a summer in Beijing, taking intensive Mandarin courses. "It educated me and helped me grow into the person I am now," Wood said. He enrolled at George Mason University and returned to China as a Gilman Scholar. When First Lady Michelle Obama traveled to northern China last spring, Wood interviewed her for the Discovery Education Network. Now a senior at George Mason's Honor's College studying Global Affairs and Chinese, Wood's studies and travels have gone far beyond piquing his interest in China. "This experience reminded me that I am not alone in this world and that people actually do support me and really care," he said.
The benefits of international study go well beyond having a great experience. Americans who studied abroad earned on average $7,000 more in starting salaries than their peers who didn't go overseas. In a recent 50-year survey of study abroad alumni, three-quarters said they acquired skill sets that influenced their career path, 80 percent reported more interest in their academic studies, and 96 percent said their time abroad increased their self-confidence. Research shows that studying abroad might even make you smarter. A recent study found that engaging with and adapting to new cultures helps students become better problem solvers, think more complexly, and demonstrate more creativity -- all traits that pay off in any career.
I studied abroad as a graduate student in England and it was the first time I'd ever been to Europe. It was an eye-opening and mind-expanding experience. While studying in England, I also traveled around Europe, Russia and Asia. Studying abroad not only allowed me to visit many other countries, but the perspective from abroad helped me understand America better.
Thanks to the digital revolution, we're now more connected than at any time in history. Information, enterprise, and commerce fly around the world at speeds we never thought possible. In the 21st century's global economy, the leaders will be the ones who reach outside their immediate sphere, immerse themselves in other cultures, and build networks as large and robust as the hyper-connected world. International study is an investment in that more globalized world. It is a recognition that our future is intertwined with the rest of the world. Studying abroad is not only an investment in an individual student's future; it's an investment in our future as Americans.
Related
Popular in the Community