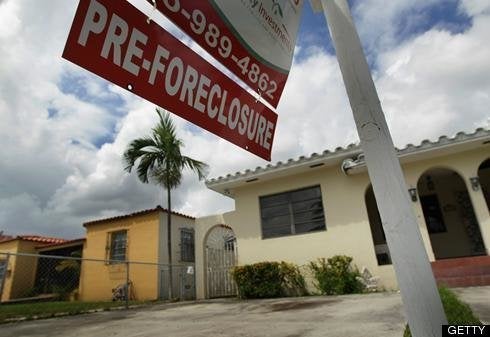 If it is true that housing leads the economy into recession and similarly leads the way out, then the hard times are likely to continue for several more months. Dr. Doom, New York University professor Nouriel Roubini, told an American Enterprise Institute forum Wednesday that even though the recession technically ended in June 2009, he believes home prices will fall another 10% and that there is now a 40% chance that the economy will fall back into recession over the next 12 months. Home prices nationwide have already declined nearly 30% from their 2006 peak.
Thomas Zimmerman, a housing specialist at UBS Investment Bank, told the AEI forum that the government's home buyer tax credit pulled sales forward and that since its expiration in April the market has gotten worse. Worried by the huge inventory of foreclosed properties coming onto the market, Zimmerman foresees further price declines of five to 10%. Even with mortgage interest rates at record lows and homes more affordable than at any time in recent memory, Zimmerman says, "nobody is buying."
Christopher Whalen of International Risk Analytics is similarly worried about housing. "Only 25% of pending foreclosures have actually occurred," he says, putting additional downward pressure on prices as more distressed properties come onto the market. Another speaker at AEI, Mark Fogarty of National Mortgage News, says that in the current depressed market banks are now selling more homes than builders.
Housing experts worry that if prices do resume their downward trajectory, a steadily increasing number of home owners will find themselves underwater--owing more than their home is worth--and thus unable or unwilling to service their mortgage. First American Core Logic estimated that 25% of home mortgages were underwater at the end of 2009. Roubini predicts that number could grow to 40% if growth is as anemic as he predicts it will be.
According to the National Bureau of Economic Research, America's great recession began in December 2007 and ended in June 2009. Aided by the $750 billion government stimulus, recovery initially advanced at impressive levels with growth reaching a 5% annual rate in the 4th quarter of 2009. Since then growth has steadily slowed to 3% in the first quarter of 2010 and to 1.7% in the second quarter. Roubini says in the current 4th quarter, we'll be lucky to get 1% growth. Adds Roubini, "the economic tailwinds of 2009 have become the headwinds of 2010." Gone, he says, are the effects of fiscal stimulus and tax credits, replaced by the heavy constraint of excessive government debt. The economy, he believes, is slowing and approaching stall speed.
Jan Hatzius, chief economist at Goldman Sachs, is equally pessimistic. On Tuesday he told a Washington forum that he foresees either a "fairly bad" 1.5% to 2% growth in the 4th quarter, or a "very bad" no growth quarter with unemployment soaring well above 10%. He puts the chance of a double-dip recession at 25%.
The International Monetary Fund, which Wednesday released its semi-annual economic forecast, does not foresee a double-dip. But in part because of the prolonged housing slump it has downgraded its growth forecast for the US to 2.6% this year and 2.3% in 2011. Unemployment, says IMF chief economist Olivier Blanchard, is likely to remain above 9.5% well into the coming year.
REAL LIFE. REAL NEWS. REAL VOICES.
Help us tell more of the stories that matter from voices that too often remain unheard.