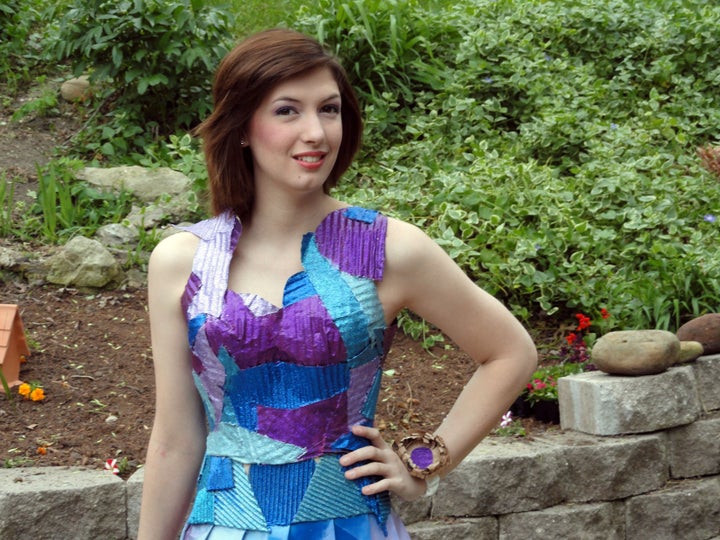 Maura Pozek always had an eye for fashion, and she showed off her latest creation at her senior prom.
The Missouri high school student created a cardboard prom dress just in time for her high school dance, KY3-TV reports.
The creation consisted of corrugated cardboard, hot glue, tacky glue, spray paint, brown shopping bags, and, of course, glitter, dad Steve Pozek told The Huffington Post in an email.
Maura's handmade dresses weren't always well-received among school officials, though.
"[The school principal] needed a parent's reassurance that the [Doritos] dress would be appropriate for prom," Steve Pozek told HuffPost. "Once he and I came to an agreement, Maura was good to go."
Despite the minor controversy, the dress was Maura's favorite for a simple reason.
"I got to eat a lot of Doritos," she said.
In addition, the gown took only a few afternoons to put together, unlike her cardboard dress, which took roughly four months and a lot of patience.
"It was quite possibly the most evil thing I've worked with," Maura said of the cardboard's inability to easily bend or fold.
Construction difficulties aside, Maura's dress was the probably the highlight of her prom night, she said as she recalled the DJ's lame music.
"It was fun wearing it; everyone was telling me how good it looked," she said.
With the prom industry valued at nearly $4 billion, the teen's imaginative, yet thrifty concoctions might just be the way to go.
According to USA Today, the cost of prom dresses and other expenditures, including prom hairstyles, prom limousines and prom dinner, can balloon up to $1,000 to $2,000. And that's not to mention costs for miscellaneous items, such as prom queen campaigns, in which one Texas mother spent nearly $1,300 on fliers, ads and a billboard promoting her daughter.
To cut down prom costs, some suggest borrowing a dress, splitting bills with friends and nixing unnecessary extras, such as professional prom photos.
Besides, no matter how great the outfits might seem at the time, prom usually winds up being an event adults later look back on and laugh.
Need proof? Just watch Ellen DeGeneres and Michelle Obama reflect on their prom dances. And if you're still not convinced, just click through pictures of some HuffPost editors and their dashing dates.

Click through the slideshow below for a peek at some of Maura Pozek's unique dresses.
PHOTO GALLERY
Cardboard Prom Dress
Calling all HuffPost superfans!
Sign up for membership to become a founding member and help shape HuffPost's next chapter